Researcher takes aim at dengue fever
Research by MSU AgBioResearch entomologistZhiyong Xi has found that a bacterium can stop dengue viruses from replicating in mosquitoes and could have ramifications with other mosquito-borne diseases.
January 21, 2013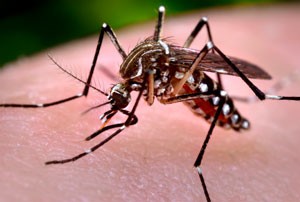 Dengue fever is among the most important reemerging infectious diseases, with an estimated 50 million to 100 million cases around the globe annually and resulting in more than 20,000 deaths, according to National Institutes of Health (NIH). It's caused by a virus transmitted by mosquitoes, and there is no vaccine or treatment.
Research by Michigan State University (MSU) AgBioResearch entomologist Zhiyong Xi has found that a bacterium can stop dengue viruses from replicating in mosquitoes and could have ramifications with other mosquito-borne diseases.
"Breaking the link between the mosquito vector [carrier] and the dengue virus is the best option for protecting people," said Xi, an assistant professor in the MSU Department of Microbiology and Molecular Genetics, who specializes in vector biology.
"In nature, about 28 percent of mosquito species harbor Wolbachia bacteria, but the mosquitoes that are the primary transmitters of dengue fever, Aedes aegypti, have no Wolbachia in them. We found that Wolbachia is able to stop the dengue virus from replicating. If there is no virus in the mosquito, it can't spread to people, so disease transmission can be blocked."
Dengue fever is rare in the continental United States, but in 2010 there was a dengue outbreak in Florida — the first time dengue had shown up in the continental United States since 1934. Overall, about two-fifths of the world's population is at risk of contracting dengue fever, and up to 100 million people are infected each year (NIH). Most people recover in about two weeks, but the infection can turn into dengue hemorrhagic fever, which causes bleeding from the nose and in the gums and can be fatal.
Aedes aegypti is often called the yellow fever mosquito and can spread not only dengue fever but also Chikungunya (a viral disease that causes severe joint pain and fever), yellow fever viruses and other diseases. The mosquito can be recognized by white markings on its legs and a lyre-shaped marking on the thorax. It originated in Africa and is now found in tropical and subtropical regions throughout the world.
Funded by the National Institutes of Health, Xi's lab uses a number of functional genomics tools to dissect interactions among dengue viruses, Wolbachia and mosquito hosts to understand the mechanism of Wolbachia-mediated resistance to dengue virus and develop novel genetic strategies for blocking viral transmission by mosquitoes.
"Only when we know the mechanisms underlying the Wolbachia-mediated viral interference will we be able to determine why it's happening and further improve the efficiency of the viral interference," Xi said.
Xi and his colleagues introduced the Wolbachia into Aedes aegypti mosquitoes by injecting mosquito embryos with the bacterium such that Wolbachia were forced to form a symbiosis with this mosquito species. They have been able to maintain the bacterium in the mosquitoes in the lab for nearly 8 years because it is passed from mothers to offspring.
When a Wolbachia-infected male mates with an uninfected female, the bacterium causes a reproductive abnormality that triggers early embryo mosquito d triggers early embryo mosquito death, called cytoplasmic incompatibility (CI).
"Wolbachia doesn't affect embryo development when a female mosquito contains the same Wolbachia as a male, so the bacterium can spread quickly, infecting an entire mosquito population," Xi said. "However, the Wolbachia bacterium can't be passed from mosquitoes to humans."
The research team, including research associates Drs. Guowu Bian, Xiaoling Pan, Guoli Zhou, Deepak Joshi and Fengrui Zhang, PhD student Peng Lu, and master's student Shawna Ryan, has deciphered how Wolbachia infection affects theAedes aegypti host in inducing resistance to dengue virus. They are working to identify factors that enable Wolbachia-based population replacement to succeed in a way that reduces vector capacity to dengue virus.
"The ability of Wolbachia to boost immunity and block dengue proliferation in a newly acquired host, Aedes aegypti, makes it a potential mosquito vaccine, which could be used efficiently to prevent pathogen transmission," Bian said.
As the first author of a paper published this year in the Proceedings of the National Academy of Sciences, Pan further discovered how Wolbachia activates mosquito immunity and which molecular effectors induced by Wolbachia can kill dengue virus.
The team is also doing more investigation on mechanisms of CI, funded by another NIH grant. The long-term goal of this research is to understand the links between Wolbachia and its host which results in the occurrence of CI. That research could break new ground and lead to solutions for other vector-borne diseases.
In 2011, Xi developed the Sun Yat-sen University–Michigan State University Joint Center of Vector Control for Tropical Diseases in China. As a director, Xi will test the Wolbachia-based approach for dengue control in the field sites. This will be undertaken after getting regulatory approval by the China government and having community authorization to release mosquitoes.
Led by Xi, this project is an international collaborative effort involving Michigan State University (USA), Sun Yat-sen University (China), Guangzhou Center for Disease Control and Prevention (China), and Monash University (Australia). It is initially funded by the Foundation for the National Institutes of Health/ Grand Challenges in Global Health. Starting this year, funding from the Chinese government will also co-sponsor this project.
In another project funded by the Bill and Melinda Gates Foundation, Xi collaborates with his colleagues at the University of Kentucky to develop Wolbachia as a novel tool to eliminate lymphatic filariasis in the South Pacific. This has led to a recent registration approval of Wolbachia as a microbial pesticide for experimental use by the U.S. Environmental Protection Agency (EPA).
These projects have huge public health relevance, Xi said.
"The anticipated findings from our research will aid in the development of improved genetic methods to block the transmission of mosquito-borne infectious diseases, including not only dengue fever but also malaria and West Nile virus." he said. "Moreover, there is a large potential to develop Wolbachia as a tool to control agriculturally important insect pests as well, with a principle concept similar to what is used for mosquito control."