Spilling the beans: Research yields answers for organic bean growers
MSU AgBioResearch scientists improve production systems, boost nutrients and increase variety selection.
January 7, 2013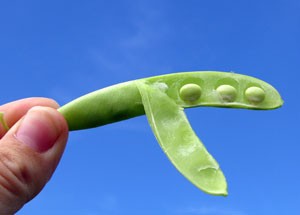 Demand for organic products is growing, and as a result, the need for information to help organic farmers improve production is increasing. Michigan is the top organic dry bean producing state in the United States, accounting for 37 percent of the acres planted and 47 percent of the sales, according to the latest U.S. Department of Agriculture data. Michigan State University (MSU) AgBioResearch scientists, aided by two doctoral students and MSU Extension agents, are working with organic bean growers to maintain and enhance that status.
A key focus of this effort involves research on organic dry bean production systems. This includes development of organic dry bean varieties, particularly black and navy beans, and research on the overall production system, which includes cover crops and their impacts on nutrient and pest management. Because organic beans are produced and processed without the use of synthetic fertilizers and pesticides, growers must employ a high level of pest and nutrient management.
"It's a system," said Karen Renner, an AgBioResearch scientist and a professor in the MSU Department of Plant, Soil and Microbial Sciences. "You cannot work with one part of the production system and expect your research results to benefit the organic farming community — you have to look at the whole system because that's what the farmer is looking at." Renner is the project leader for this research.
Other AgBioResearch scientists on this project are James Kelly, professor in the MSU Department of Plant, Soil and Microbial Sciences; Christy Sprague, associate professor and Extension specialist in the MSU Department of Plant, Soil and Microbial Sciences; and Chris DiFonzo, professor and Extension specialist in the MSU Department of Entomology. Doctoral students Erin Taylor and Jim Heilig are coordinating and carrying out many aspects of the project.
"Farmers are going on word-of-mouth when it comes to organic bean variety choices and management," Heilig said. "There is no central resource on what are best practices for Michigan producers. We want to gain information to support their farming operations."
Kelly and Heilig are evaluating 36 lines of beans to see how they perform in organic systems at the Saginaw Valley Research and Extension Center (one of 14 AgBioResearch centers located across the state) and in two growers' organically certified fields.
"Beans fix nitrogen in root nodules to supply some of their nitrogen needs," said Kelly, who has 30-plus years of expertise in bean breeding. "The top five bean varieties may be the same for both organic and conventional farming, but we need to study interactions to see if some varieties are better suited for organic. We are searching for beans that fix nitrogen well because it is a key nutrient in plant growth and/or partitioning nitrogen into seed. This could increase the protein content of the beans and make them more desirable to processors and consumers."
Organic bean varieties also need to withstand multiple trips through the field by mechanical weeding devices. Researchers are evaluating various weed management techniques in organic production systems because weeds compete with the crop for water, nutrients and light, and reduce crop yield and quality. In addition to comparing these two weed control implements, the research also looks at utilizing environmental information to make weed management operations more efficient.
Cover crops are an important component of organic production systems because they suppress weeds and insects, improve soil quality and release nutrients for crop growth. Researchers are finishing their third season evaluating medium red clover, rye and oilseed radish as cover crops on farms across Michigan to improve bean yields and pest and nutrient management.
The research team has partnered with MSU Extension staff members, including Dale Mutch, at the W.K. Kellogg Biological Station (another of the statewide AgBioResearch centers), and Dan Rossman, Extension educator in Gratiot County, to help locate organic growers for farm trials, collect data and harvest some sites.
"These people are knowledgeable and will be an integral part of getting the final information out to growers," Sprague said.
The researchers see the results of their project contributing to sustainable farming practices across all farming systems.
"To me, 'sustainable' can be a conventional system or it can be organic," Renner said. "All of us believe in the land-grant system and are working to provide information that will benefit the state's food producers. MSU has had successful partnerships with agricultural producers for the past 150-plus years, and this research is an example of collaboration with our producers to support Michigan's No. 1 industry – agriculture."