Watch out E. coli, Streptococcus – there's a serious Spartan on your heels!
MSU AgBioResearch scientist Shannon Manning focuses on fight against E. coli and Streptococus.
September 14, 2012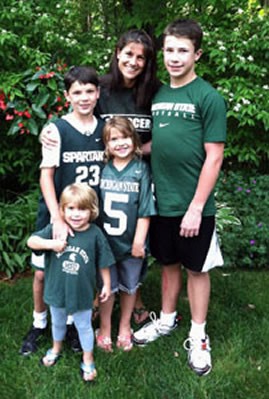 Don't let her three degrees from that other Big Ten University in Michigan fool you -- Shannon Manning is a diehard Spartan. All you have to do is spot her four kids, ages 3-13, on a Michigan State University (MSU) game day, and you'll see them sporting her true colors – green and white – from head to toe.
"My husband, Peter (an MSU undergraduate), is a serious Spartan fan, and my kids are, too," she said. "They dress to the 'T' in Spartan gear – green hair and all."
The AgBioResearch scientist became affiliated with MSU in 2004 as a research faculty member. She worked closely with the late Thomas Whittam in the National Food Safety and Toxicology Center and H. Dele Davies in the Department of Pediatrics and Human Development. A combination of solid mentoring and teamwork prompted Manning to realize shortly after coming to MSU that she had found a new home.
"I've always been a Michigan State fan -- even when I lived in Ann Arbor -- but I'm a true Spartan now," said Manning, who became an MSU assistant professor in 2010 and an AgBioResearch scientist in 2011.
A former college soccer player, Manning clearly has a competitive spirit and thrives on being part of a unified effort. She is a past recipient of an emerging infectious diseases research fellowship through the Centers for Disease Control and Prevention and the Association of Public Health Laboratories.
"I'm a very collaborative person," she said. "Not all collaborations work, but I'm all about being part of a team -- it's consistent with my background of playing on many sports teams growing up. In research, it's about bringing together different perspectives to answer an important research question. That is one of my favorite things about MSU - everyone here is very collaborative."
One of her main focuses is figuring out why some types of bacteria cause more severe disease than others.
"If we can find those features in bacteria that are important for causing disease, then we can try to identify new ways to block them, such as a vaccine or a drug," she said. "I like to think that some of my findings will have an impact on future disease prevention practices and will ultimately reduce the number of people who are affected by these bacterial infections."
Manning works with Shiga toxin-producing Escherichia coli (STEC), which contains a highly potent toxin that can cause diarrhea and sometimes kidney failure and death. She also works with group B Streptococcus, which causes severe infections in newborns. One of her main objectives is to determine why some cows, a common source of the E. coli, are more prone to carry it than others.
"We need to identify ways to prevent fecal carriage and shedding of E. coli by cattle to prevent the subsequent contamination of beef products," she said. "We can't do this until we understand why it's there and which factors are important for fecal shedding."
Question-and-answer profile:
Q: What's your title?
A: Assistant professor in the MSU Department of Microbiology and Molecular Genetics
Q: What's your hometown?
A: Northville, Michigan. I'm proud to say that I've always been a Michigander. (Manning currently resides in Howell with her husband, Peter, and their children: Jackson, 13; Ian, 10; Keira, 6; and Lila, 3.)
Q: Who's your muse or source of inspiration?
A: In most recent years at MSU, it was Tom Whittam and Dele Davies. Honestly, I have always had a really good mentor. Every step of the way, even as an undergraduate, someone has been there for me. Everybody needs somebody to talk to and to look up to, and even now, there are several people who I confide in and consider great mentors.
Q: What's your favorite food?
A: My biggest weakness is probably ice cream, but I love Mexican food, too.
Q: Best song or group?
A: In my lab, I generally let the students decide. Sometimes there are battles between classic and alternative rock and R&B, but it usually depends who gets hold of the radio first. I tend to prefer alternative and classic rock.
Q: A book you'd recommend?
A: I like to read if I have the time. When I finally do find time, I feel that I should be reading something work-related, so I tend to read journal articles. But I have to say I love the Harry Potter books. My kids weren't allowed to see the movies until they read the books. I didn't want them to miss out on what I loved so much about the books and knew that they would never read them if they watched the movie first.
Q: What do you think is the coolest gadget?
A: The iPad for sure, but it's not great for getting work done. I love the games, though!
Q: What's the best invention?
A: I could not survive without my computer. The older I get, the more I realize how much it has changed my life. I used to print everything and organize it all in the three-ring binders filling my shelves. Now I don't have to do that. Of course, I also love my cell phone. I actually get panicky if I happen to forget it. I really have no idea how I survived college without it.
Q: The worst invention?
A: High heels, because they're ruining my feet. Nylons are also terrible, but many younger people might not even know what those are.
Q: What's one thing on your bucket list?
A: After I earned my undergraduate degree, I backpacked through Europe with a friend and stayed at youth hostels. That was my wonderful little whirlwind tour of Europe. Someday I'd like to go back to Europe – to the places I really liked -- with my family. I'd also like to get a paper published in Nature or Science. It would be nice to have work important enough to be recognized in one of these leading scientific journals. Of course, getting tenure would be great, too!
Q: Who's someone you'd like to meet?
A: I'd like to have tea with Queen Elizabeth. I'd probably end up knocking over her tea set, though, since I'm not the most graceful person in the world.
Q: What was your best vacation or favorite trip?
A: I'm a big traveler. I love to travel. I've hiked to the bottom of the Grand Canyon and have driven cross country from Michigan to Oregon with the kids. My youngest child, who was 18 months old at the time, said "out" the entire way.
Q: On a Saturday afternoon, where are you most likely to be found?
A: At a swim meet, a soccer game, a basketball game, gymnastics practice or in my backyard tending to my garden. Gardening is my therapy – it's one of my favorite things to do.
Q: What's a research breakthrough you'd like to see in the next decade?
A: I am hopeful that we can figure out how to decrease the worldwide burden of infectious diseases. To date, we have only been successful at eradicating one infectious disease -- smallpox -- and for some infections, disease frequencies are increasing. I am also hopeful that we will see major breakthroughs in the identification of novel cures for the many types of cancer. It's extremely difficult to watch the people you know and love so dearly go through the cancer treatment process, which can ultimately result in a lower quality of life.