Working to simplify regional food systems without compromising value
Get up close and personal with MSU AgBioResearch's Jason Rowntree.
August 2, 2013 - Author: Holly Whetstone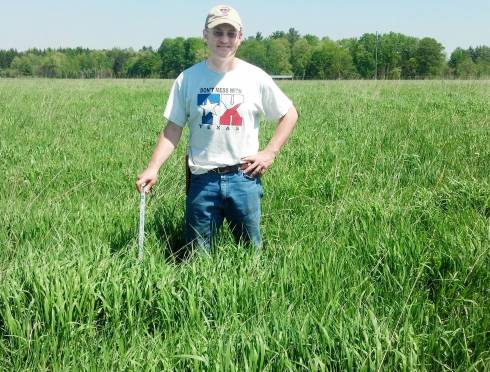 Michigan State University (MSU) AgBioResearch scientist Jason Rowntree refers to himself as a "simple man" – a fitting description for the Texas native who is committing much of his career to simplifying the relationship between humans, animals and the land they rely on for sustenance.
Rowntree, an assistant professor of beef cattle and forage utilization, worked as a faculty member and beef cattle Extension specialist at Louisiana State University (LSU) for six years after earning his doctorate degree in livestock nutrition from MSU. It was during this period at LSU that his career focus sharpened.
"We would teach producers and students about nutrition, genetics, animal reproduction, forages and soils, but we always had them separated," he said. "Whenever I would try to put together a packet of management strategies at the on-farm level, I felt like I was bankrupting people. I would try to take all of the best recommendations from each area, but they were all input laden and too costly. So while we got a great output, the costs were too high. What occurred to me is that because we kept all of these disciplines in a silo, we had to be more systematic and more holistic in our approaches to make the overall system profitable."
This was supported by another realization born of the great strife Louisiana faced following hurricanes Katrina, Rita, Gustav and Ike, said Rowntree.
"I was seeing in the blink of an eye that we could go from a very comfortable, well-supplied way of life to what felt like a third-world country," he said. "It dawned on me: a grocery store is empty without trucks coming to fill it within a couple of days – that really showed me that we are much too dependent on petroleum and oil in our food systems."
Rowntree was prompted to shift his approaches in research and outreach – an adjustment he's implemented in his current role as faculty coordinator at the AgBioResearch research center in Lake City.
"The first thing we did at this center was to make as many decisions as we could that lowered the amount of exogenous energy in our production systems," he explained. "We make it a goal to be regenerative, versus extractive, in our farming practices.
"Concurrently, I've been working to develop streamlined local and regional food distribution systems to simplify the global food delivery system. If there are very high fuel costs and trucking becomes too costly, the cost of food will subsequently rise. We need to have other strategies that can help supply food to consumers."
Rowntree has made it his life's work to see regional food distribution systems simplified, stressing the importance of finding ways to more adeptly link local producers with local consumers, thus lowering input costs while adding value to the system. "That's what I'm passionate about," he said. "The multiplier effects on our local agriculture and economy are huge."
Question-and-answer profile
Q: What's your title?
A: Jason Rowntree, Assistant Professor – MSU Department of Animal Science
Q: When did you join MSU?
A: 1998-2003; 2009-present
Q: What's your educational background?
A: BS, Texas A&M University
MS, Mississippi State University
PhD, Michigan State University.
Q: What's your hometown?
A: Kingwood, Texas
Q: What's your favorite food?
A: A medium-rare rib eye
Q: Best song or group?
A: Chris Tomlin; Casting Crowns
Q: A book you'd recommend?
A: "The Watchman's Rattle: A Radical New Theory of Collapse" by Rebecca Costa
Q: What do you think is the coolest gadget?
A: iPhone 5
Q: What's the best invention?
A: Electric fence
Q: The worst invention?
A: Email
Q: What's one thing on your bucket list?:
A: One day when my kids are older, I would like to work in an outreach setting in some of the world's grasslands.
Q: What was your best vacation or favorite trip?
A: Fly-fishing in the Yellow Stone for five days; I was with my dad and I love to fly-fish – we fished seven rivers in five days.
Q: On a Saturday afternoon, where are you most likely to be found?
A: Working on our family farm
Q: What's a research breakthrough you'd like to see in the next decade?
A: I believe we have enough knowledge and resources to feed Michigan with considerably lower inputs and with considerably less energy, providing we adopt the technologies that are currently available. I would like to see that happen.