Our Worldly Impact
Students of Michigan State University's School of Packaging have received the very best educational experience from the same faculty that perform cutting-edge packaging research. Upon graduation, their role focuses on meeting the needs of the packaging industry by creating sustainable packaging solutions that have a positive impact on people's lives, as well as, the bottom line of their organization. With over 10,000 alumni educated in the science of packaging from MSU, their expertise proves to be invaluable as the packaging profession continues to grow and become established globally as a discipline. Around the world, our students and alumni strive to exemplify MSU's charter as graduates who have "the will to make a difference."
Students, Faculty and Alumni of the School create packaging that:
Saves lives through tamper-evident and child-resistant packaging, maintains sterility barriers and ensures food safety
Protects and prolongs food from the field to the table through innovative material design and intelligent packaging solutions
Makes life better with accessible closure systems and flexible pouches that protect the product but allow a life-style for on the go conveniences
Enables e-commerce for Business to Business and from Business to Consumer ensuring client satisfaction and damage-free products
Protects the earth with implementation of reusable packaging and renewable packaging solutions that enhance the packaging system for the betterment of the environment
Brings the world to our doorstep by enabling global supply of food, clothing, electronics, toys, and more to be distributed and shared with every person on the planet
The School of Packaging at Michigan State University is the leader in teaching, research and outreach focused on packaging containers, materials, and their functionality and improvement opportunities for over 65 years.
Established in 1952 as a discipline within the MSU Department of Forest Products and in 1957 became an independent school within the College of Agriculture and Natural Resources. The MSU School of Packaging (SoP) is the pioneer and leader in its field. As the first program of its kind, the SoP has a substantial track record of providing high quality undergraduate, graduate and continuing education to students and conducting research that advances the science and technology of packaging. Key to the continuing success of the MSU School of Packaging is an overarching commitment to research, innovation, sustainability and stewardship. According to Universities.com, Best Colleges 2017 ranks MSU's School of Packaging as rated #1 in the U.S. and notes that MSU is the only program that offers a PhD
Looking for information on the School of Packaging career fair or hiring a student? Find details here!
Majors
Bachelor of Science
Master of Science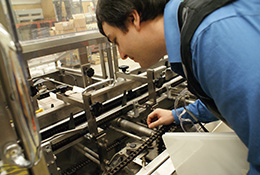 Doctor of Philosophy