Welcome to the School of Packaging at Michigan State University. The School of Packaging, affiliated with the College of Agriculture and Natural Resources, is the first academic program of its kind in the science of packaging. We comprise of over 751 undergraduate students, 54 graduate students and highly distinguished faculty. The School has a substantial track record of providing high quality undergraduate, graduate students, continuing education and conducting research that advances the science and technology of packaging. The School has an overriding commitment to research, innovation, sustainability and stewardship.
Current Open Facutly Positions at the School of Packaging:
Tenure-Stream Faculty position in Distribution Dynamics: the successful candidate will be expected to develop an externally funded research program with a focus on ensuring package integrity, product quality and waste reduction during distribution. Potential topics of interest include: compression , shock, fragility, vibration, environmental factors (altitude, temperature, static electricity) and standardized performance testing of packaging systems. To learn more and apply please visit the MSU faculty position search page: https://jobs.msu.edu/applicants/jsp/shared/frameset/Frameset.jsp?time=1482180010970 Search for posting # 4588.

Looking for information on the School of Packaging career fair or hiring a student? Find details here!
Majors
Bachelor of Science
Master of Science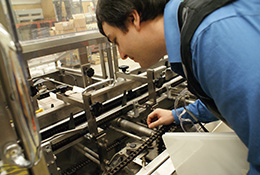 Doctor of Philosophy