Saverio Krätli
Editor in Chief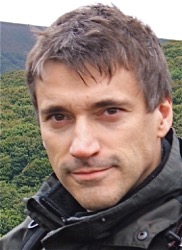 ---
Location:
Nomadic Peoples, the journal of the Commission on Nomadic Peoples, International Union of Anthropological and Ethnological Sciences (IUAES).
http://nomadicpeoples.info/NP_journal

---
Department of Community Sustainability

---
Trained first in Philosophy (University of Bologna), and Anthropology of Development (University of Sussex). Ph.D 2007 at the Insititute of Development Studies (IDS) with a dissertation on the cattle-breeding system amongst the Wodaabe in Niger. Since 2009, honorary editor of Nomadic Peoples and freelance researcher/consultant. Specialising in the interface between pastoralists, science and policy. Fieldwork in Kenya, Ethiopia, Uganda, Sudan, and Niger. Currently working in Omorate. Long-standing interest in Turkana.