2022 Host Community

Location: Alma, Michigan
Date: September 14-15, 2022
The 2022 Connecting Entrepreneurial Communities (CEC) conference will take place in person September 14-15 in Alma, Michigan. This conference will be jam-packed offering local keynote speakers, networking opportunities, and numerous breakout sessions designed to spur ideas of entrepreneurship and business growth.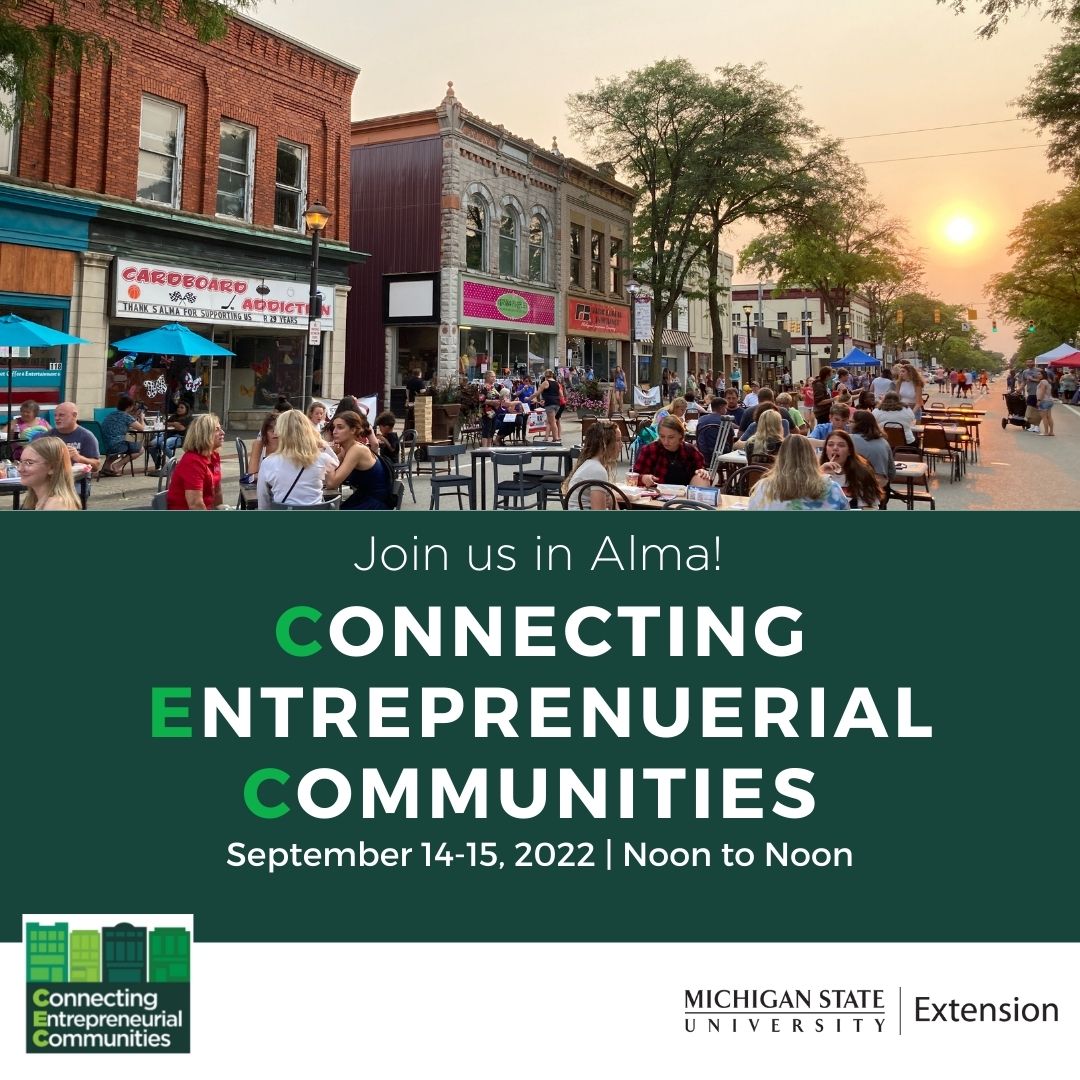 Discover Alma
"Located in the heart of the mitten, the City of Alma provides a unique community experience for locals and visitors alike. With a population just shy of 10,000, Alma provides many characteristics of a mid-sized city while maintaining the close-knit, small-town vibe that has been the fabric of the City for over 100 years. Alma has a nice blend of chain stores and locally-owned "mom and pop" businesses that serve your every need, from shopping to food to entertainment to community wellness services. Affectionately nicknamed "Scotland, USA," Alma is best known nationally for its Scottish Heritage. This is highlighted by the annual Alma Highland Festival & Games held each Memorial Weekend and the renowned Highland Arts program at Alma College, whose impact extends throughout the City. Alma takes pride in being a community where people of all stages and walks of life choose Alma for its plethora of opportunities, unique charm, and community connectedness. In cooperation with Greater Gratiot Development Inc., Alma continues to value and support local entrepreneurship."
Things to Do In and Around Alma
The Gratiot Area offers many diverse entertainment options to choose from including recreational activities, amazing dining and plenty of shopping.
We offer luxurious hotels and lodging to choose from; so stay for a night or longer to enjoy everything we have to offer.
Eat, Sleep, Shop and Play in Gratiot County