Small Animal Association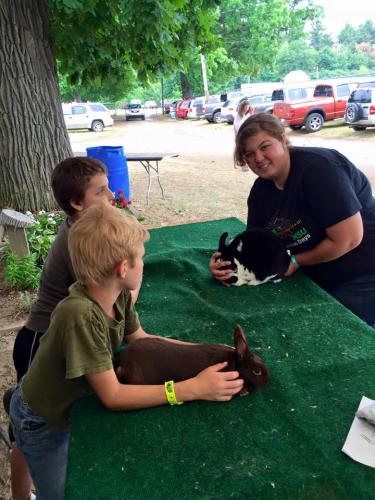 The Small Animal Association provides educational opportunities for all youth involved in the birds and poultry, rabbits and cavies, and goat projects. The association also coordinates and holds the SAA Sale at fair.
SAA meetings occur the first Thursday of every other month starting in September at 7 p.m. in the PMR (basement of the Extension office). The May SAA meeting is no longer mandatory, but will still feature the buyer's workshop and it is strongly encouraged that first time sellers attend this workshop.
SAA By-laws (includes sale rules) (revised 9/2018)
SAA Minutes
SAA Sale – See you in 2021!
SAA is not coordinating a small animal auction for 2020. Any questions regarding a 2020 small animal auction should be directed to the Eaton County Fair or Eaton County Agricultural Society. See you in 2021!
Details for 2021:
Eaton County Fairgrounds
Poultry – Rabbits - Goats
Buyer refreshments beginning at 12 p.m., sale begins at 1 p.m.
SAA Sale Frequently Asked Questions
SAA Sale Luncheon
2021 Food List for Clubs, Luncheon and Silent Auction Work Shift Schedule - TBD
Luncheon and Silent Auction Club Rotation Schedule

Note: It was voted in 2018 that all clubs with youth in small animals (as of 2018) will rotate on a 5 year basis to be in charge of the SAA Luncheon and Silent Auction.
Volunteer shifts - TBD for 2021
Click link to sign up in SignUp Genius. An email reminder will be sent to you one day prior!
Counter Help
Filing Help
Runner Help
Tech Help
Sale Forms

Proxy Form (for buyers who cannot attend the sale)
Premium Form


Due to the Extension office by Wednesday TBD for 2021. Premium log sheets can also be filled out on sale day. All SAA premiums must be turned into the Back 4-H Office by the end of the SAA sale.

Buyers passes – Handed out at the buyer's workshop or pick up from the Extension office (two per youth for new buyers; last year's buyers are mailed passes in June).
Buyer Brochure