Applications for the 2024 Organic Farmer Training Program are now open :)
August 18, 2023 - February 25, 2024
Registration Deadline: February 21, 2024 - 12:00AM
---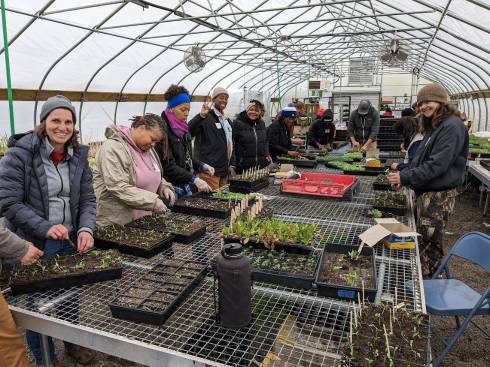 To apply for the Organic Farmer Training Program you will need the following:

Email scans/photos of documents & questions to oftp
We are still accepting applications!
Scholarship deadline: November 15:

Applications will be accepted on a rolling basis until the cohort is full.

The 2023 program takes place on Mondays from 9am-5pm fromFebruary 26th-November 4th (NO CLASS Memorial Day, Juneteenth, Labor Day or Indigenous Peoples' Day) There is one weekend trip to Chicago (Saturday through Monday, July 20-22. You can see the full schedule .

How much does the program cost?
Program fees for 2024 are $3,900 plus the cost of books and materials (~$200).
Are there scholarships?
There are need and merit-based scholarships for BIPOC farmers from Detroit, Hamtramck and Highland Park of up to $3,150. Scholarship application is and financial need form is .
Scholarship options:

How do I pay for the OFTP?
Do I get credit for the program? Will I be considered an MSU student?
Program participants do not get college credit for completing the OFTP. You will receive a Certificate from the Michigan State University Student Organic Farm, Department of Horticulture, and Center for Regional Food Systems upon completion of the program. Program participants are not technically enrolled at MSU. You can access the libraries, campus dining halls, fitness facilities, computer labs.

Occasionally, a current student will choose to have the OFTP count as 3 credits of Independent Study with Katie Brandt or another professor. You would pay for both the OFTP and the college credits through MSU or through your college or university.

Can I use GI Bill funds or Veterans Benefits to pay for the OFTP?
Historically, GI Bill Funds and Veterans Benefits could not be used to pay for the OFTP. However, there have been some changes and may be options depending on the type of benefits you are attempting to use. Post 9-11 GI Bill Benefits (Ch. 33 benefits), Montgomery GI Bill Benefits (Ch. 30 benefits) or Vocational Rehabilitation Benefits (Ch. 31 benefits) may offer some options. Also, the Farmer Veteran Coalition's fellowship fund awards up to $5,000 to veterans working in or transitioning to careers in agriculture, which may be used for OFTP.