Perspectives: Culturally Responsive Place-Based Education Series: A Latinx Lens: Incorporating Latinx Perspectives through Place-Based Education
April 7, 2022 6:30PM - 8:30PM
Online
---
Contact: koehle43@msu.edu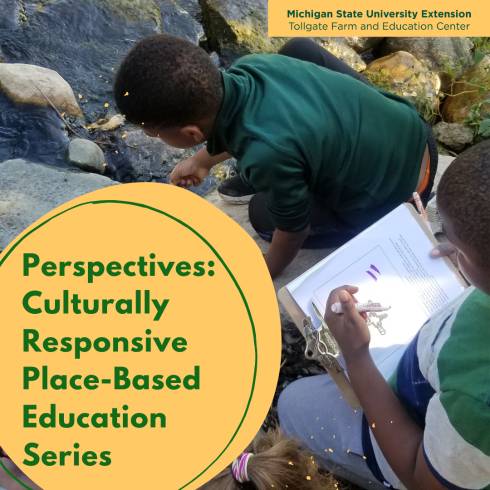 MSU Tollgate Farm Perspectives: Culturally Responsive Place-based Education Series 2021-2022
First Thursdays, 6:30 - 8:30 p.m. ET
Join other educators for this virtual series to explore ways to responsibly incorporate the perspectives, principles, and people of communities we serve through place-based teaching and learning.

MSU Tollgate Farm is hosting a professional development series for formal and non-formal educators about learning to better incorporate the perspectives of those with whom we work in schools and educational programs. Educators have a chance to deepen their teaching practice in a safe online space for open conversation and community.
A Latinx Lens: Incorporating Latinx Perspectives through Place-Based Education
How can formal and non formal educators better incorporate Latinx perspectives and voices into our place-based teaching and learning? Where are the intersections of action-oriented place-based education and the Latinx community? Join us for a panel discussion moderated by Marisol Teachworth of GOAL Line in Detroit with panelists, Antonio Cosme, member of the beekeepers' cooperative called Southwest Beetroit, an organizer with Black to the Land, founder of Southwest Grows, and Detroit Leadership and Environmental Education Program (D-LEEP) Education Coordinator for the National Wildlife Foundation, and Lucas McDiarmid, an Outings Leader with the Western Massachusetts Region of Latino Outdoors who spearheaded efforts to support Latino Advocacy Week 2022 at Latinos Outdoors in Western Massachusetts.
Series will be virtual. Preregistration required. A link will be sent prior to the session. Recorded lectures will be sent to paid registrants. SCHECHs will be available. To receive SCECHs, participants must be on the zoom during the session.
Group discount available for groups of 10 or more who register at the same time. Email koehle43@msu.edu to arrange for group discount. Financial aid process is available. https://events.anr.msu.edu/financialaid2021/
Event Location
28115 Meadowbrook Road Novi, MI 48377
248-347-3860
Get Directions
---