Sustainable Wood Recovery Initiative
Sustainable Wood Recovery Initiative and the MSU Shadows Collection
We all have an emotional connection to MSU trees… whether it's tailgating under their shade or strolling to class beneath a breathtaking autumn canopy. Our memories of MSU are forever linked to the verdant landscape.
Through the MSU Shadows Collection, you can take these cherished memories of campus home with you. The MSU Shadows Collection partners with Michigan artisans to repurpose campus trees into handmade, heirloom-quality works of art. Find live-edge furniture, diploma frames, engravings, executive pens and more products at the MSU Shadows Collection website.

Sustainability
The MSU Shadows Collection is a program of the Sustainable Wood Recovery Initiative, SWRI. In the past, when trees were removed from campus due to decline, safety concerns, storm damage or construction, they were converted into wood chips, used as biofuel or sent to a landfill.
The SWRI promotes environmental responsibility and creates an enclosed loop of sustainability. After campus arborists remove trees, they undergo a three-month process of milling and drying. Then, the lumber is categorized and made into products by artisans. Proceeds from sales help plant new trees throughout campus, completing the cycle and providing an even greener MSU.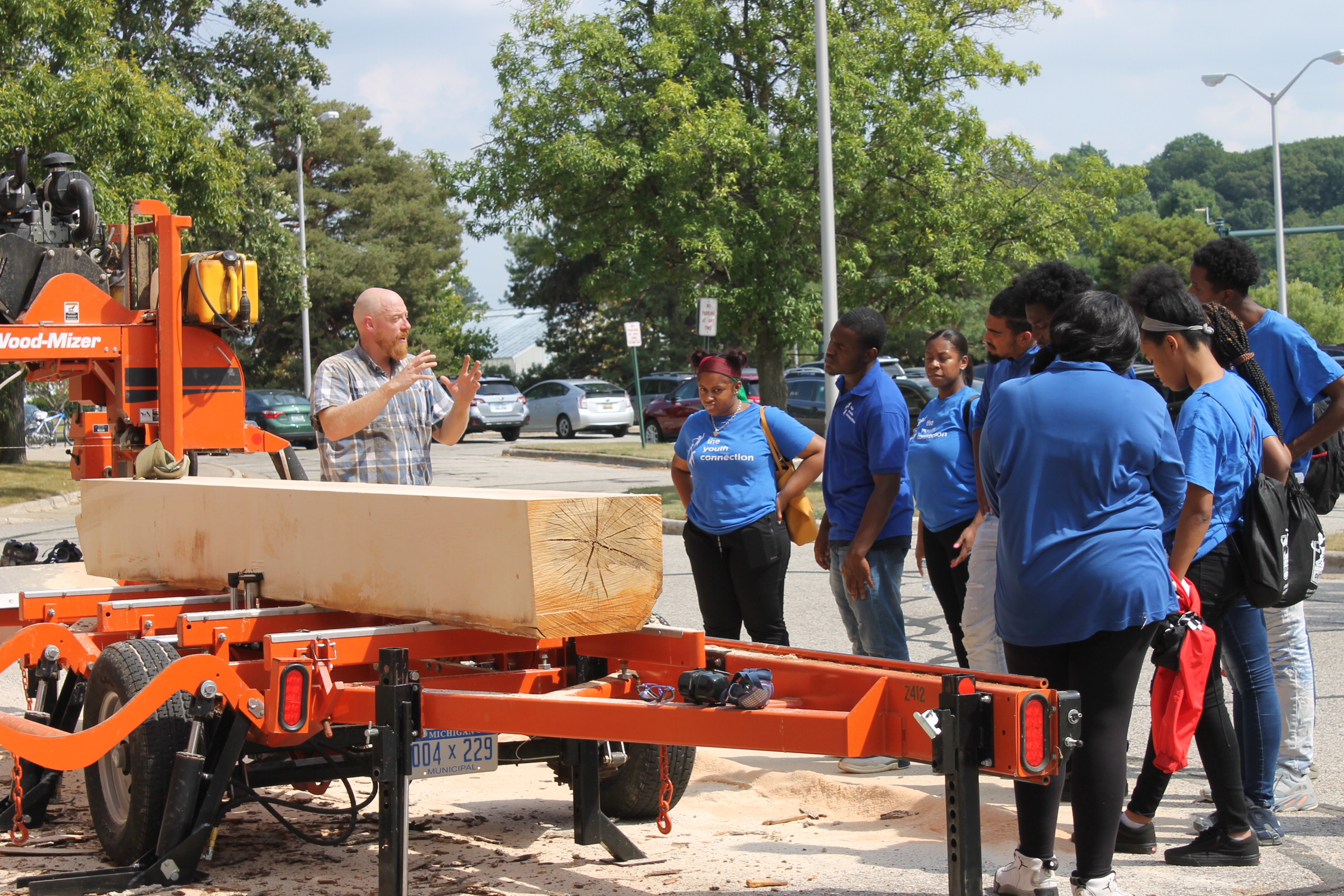 Education
MSU students gain hands-on learning experiences working with urban wood management, processing, repurposing, and marketing. Students like Andy Netter have gained new opportunities and life skills through the SWRI. "It's about taking something that is thought to no longer be of benefit to the community and turning it into something that can be a long-term benefit for a whole number of people," he says.
The SWRI is also utilized in the classroom and the community for activities on urban wood management and utilization. Students learn why trees are removed, how to process wood for maximum value, determine the best use of lumber and how to market urban wood products. The portable wood mill is also used as an outreach tool with community groups.
Preservation
There are more than 30,000 trees on campus and some of them are more than 250 years old, says Frank Telewski, professor of plant biology and curator of the W.J. Beal Botanical Garden and Campus Arboretum at MSU. "We have wood species that you won't find anywhere else," says Dan Brown, former MSU sustainable bioproducts specialist. Each Shadows item is one of a kind and tells a unique story about MSU history, including markings from lightning strikes and maple syrup tap holes.
The MSU Shadows Collection celebrates the diversity of these trees and showcases their distinctive qualities. "Every piece of wood looks different. Sometimes they have character marks that you can turn into something beautiful," says Amy Gless, artisan woodworker and co-owner of GlessBoards.
Collaboration
The SWRI began in 2014 and is a project of MSU Forestry, Landscape Services, Surplus Store and W. J. Beal Botanical Garden and Campus Arboretum. It is an interdisciplinary effort to: develop a recovery and repurpose system for campus trees, increase urban wood educational opportunities for students, produce lumber and create products that provide economic, environmental and social benefits to the greater MSU community.
The MSU Shadows Collection can be seen throughout campus. Shadows wood was used to craft countertops in Sparty's Cabin, MSU's first tiny house build. The collection is also improving the permanent structures within MSU. Now, anyone who visits the Natural Resources Building is welcomed by live-edge benches. These provide visitors with a space to study, share ideas and build community.
The SWRI reaches beyond MSU to provide employment opportunities to Michigan artisans. Program partnerships include GlessBoards, Urban Ashes, Flowerday Crafts, Nathan Shaver, and Pete Jordan (wood turner and Lansing School teacher). The SWRI invested more than $35,000 in employing Michigan artisans from 2014-2015. The SWRI will continue to increase collaborative and outreach efforts to promote urban wood recovery throughout Michigan and beyond.
Contact
For inquiries about SWRI or the MSU Shadows program, please contact shadows@msu.edu.