Agricultural Industries
Agricultural Industries is an innovative and flexible program that provides students with in-depth agricultural industry and business knowledge to apply to their own operation or launch a career in the industry.
The program consists of both on-campus learning and hand-on experiences through a professional internship. Courses provide a background in crop and soil sciences and agribusiness management. Then students are able to focus the program based on interests and electives.
Agricultural Industries has a long history at Michigan State University and continues to prepare educated, experienced graduates who are often recruited by agricultural businesses.
Request information about the Agricultural Industries program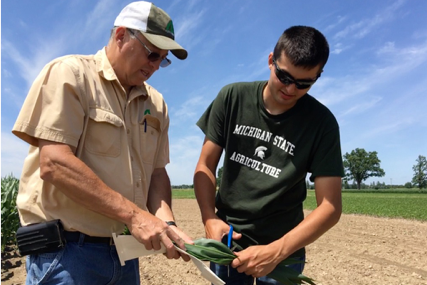 Areas of study include:
Farm management
Agricultural communications
Crop and soil science
Agribusiness and food industry sales
Finance and technical mathematics
Students can also get involved in a variety of clubs and organizations including the MSU Agronomy Club, National Agri-Marketing Association and Block and Bridle. There are also opportunities to compete in national collegiate competitions and help with the Michigan FFA Crop Skills Contest.
---
---
Career Opportunities
Following graduation, students earn a certificate preparing them for the job market. If interested, students can also transfer into Michigan State University to earn a bachelor degree in crop and soil sciences or another related major.
Graduates find careers in a variety of agricultural sales, management, farming and processing industries based on their interests.
Some career paths include:
Crop production management.
Agricultural retail management.
Agricultural sales (seed, fertilizer, chemicals, feed).
Crop and agricultural processing or manufacturing.
---
Academics
The Agricultural Industries certificate program is based in East Lansing on the campus of Michigan State University. Courses vary from lecture, lab and online delivery.
In addition to earning their MSU certificate, students can take extra credits at Lansing Community College to earn an associate degree in Applied Science.
Program requirements:
48 credits
3-4 semesters of classroom instruction
1 semester internship (primarily during the summer from May to August)
Learn more about the MSU requirements and courses in the Agricultural Industries certificate program.
Class sizes are small and students receive individualized instruction in addition to access to Big Ten facilities and experiences.
Some learning facilities include:
MSU Agronomy Farm.
MSU Plant Pathology Farm.
MSU Plant and Pest Diagnostic Center.
MSU Soil and Plant Nutrient Lab.
MSU Greenhouses.
Pavilion for Agriculture and Livestock Education.
Plant, Soil and Microbial Sciences Research Laboratories.
---
Internships
IAT coordinators help students find and secure organizations to mentor them as part of their required certificate program internship. Not only does this provide immediate on-the-job experience, but internships also help with networking and industry connections.
Some internship locations include:
Nutrien Ag Solutions.
Michigan Ag Commodities.
CropWatch LLC.
AgroLiquid.
Various MSU research programs.
---
Request Information about the Agricultural Industries Program