Landscape and Nursery Management
The Landscape and Nursery Management program at MSU combines classroom instruction in the production, selection, use and management of landscape plants with applied learning experiences through hands-on field laboratories and a required internship.
This program offers students interested in working with plants, people, and in the outdoors, specialized training to pursue a career in the multi-billion dollar horticultural industries.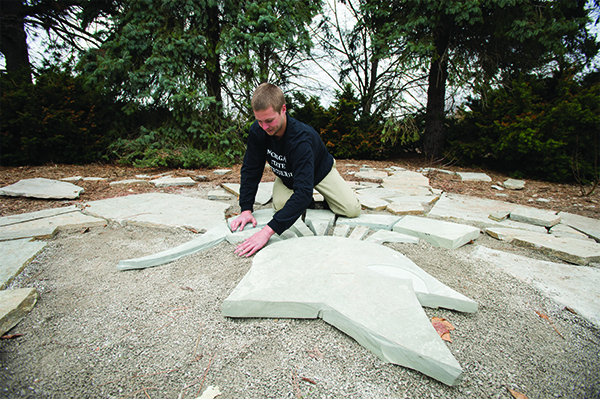 Areas of study include:
Plant identification
Greenhouse/nursery production and management (ornamental plants)
Soil sciences
Pest management (entomology, plant pathology)
Landscape design, installation and management
Irrigation design, installation and management
Students can also get involved in a variety of clubs and organizations including the MSU Student Horticulture Association and the National Collegiate Landscape Competition (NALP).
---
Career Opportunities
Following graduation, students earn a certificate preparing them for the job market. If interested, students can also transfer into Michigan State University to earn a related bachelor's degree in horticulture or another related degree.
Graduates find careers in a variety of horticultural industries based on their interests. The landscape and nursery industry provides opportunities throughout Michigan, across the United States and abroad. Additional information about what landscape professionals do can be found at landscape industry careers.
Some career paths include:
Landscape design
Construction and management
Nursery and greenhouse management
Garden center management/sales
Irrigation design, installation and management
Public gardens and arboreta
Urban tree care
The MSU Department of Horticulture lists job opportunities that may be of interest to Landscape and Nursey Management IAT students.
---
---
Academics
The Landscape and Nursery Management certificate program is based in East Lansing on the campus of Michigan State University.
Program requirements:
48 credits
3-4 semesters of classroom instruction
1 semester off-campus internship (primarily during the summer from May to August)
Learn more about the MSU requirements and courses in Landscape and Nursey Management certificate program.
Class sizes are small and students receive individualized instruction in addition to access to Big Ten facilities and experiences.
Some learning facilities include:
MSU Clarence E. Lewis Landscape Arboretum and Horticulture Teaching & Research Center
MSU landscape design lab
MSU teaching greenhouse complex
---
Internships
IAT coordinators help students find and secure organizations to mentor them as part of their required certificate program internship. Not only does this provide immediate on-the-job experience, but internships also help with networking and industry connections.
Some internship locations include:
Everett's Landscape Management
Great Lakes Landscape Supply
Guardian Tree Experts
Henry Mast Greenhouse
Landscape Design Services
Old Mission Associates
---
Program Coordinator
For more information or to schedule a visit, contact the Landscape and Nursery Management program coordinator.
Coordinator for Landscape & Nursery Management; Fruit, Vegetable & Organic Horticulture Management
duckmarc@msu.edu
517-353-0351