General Info
Welcome to the Kalamazoo County 4-H Youth Development Program. Our Kalamazoo County youth are busy each year with projects and community service programs. They prepare and show their projects for the annual county fair as well as displays of horsemanship and showing their livestock.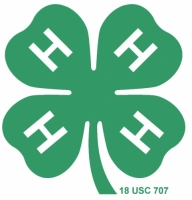 Kalamazoo County MSU Extension 4-H staff:
Veronica Bolhuis, 4-H Program Coordinator
bolhuisv@anr.msu.edu
269-383-8867
Visit the links on this page to view local 4-H events, the meeting calendar, Kalamazoo County 4-H newsletter and links to the State 4-H office for statewide events, project guidelines and various forms for projects and workshops.
Newsletters and Calendars
2018 - 2019 Calendar
2018 Newsletters
4-H Club Pages

4-H Friends
VB Wild Mustangs
Kalamazoo 4-H Councils
Kalamazoo County has four 4-H Councils:
The Leaders Council consists of adult and teen representatives of each community club. The council sets county policy and fundraises to support the overall 4-H program.
Livestock Superintendents Association (LSA) consists of superintendents of each market animal species. They are responsible for setting policy concerning market animals and hosts the annual livestock auction at the fair.
Horse Council consists of horse leaders who set policy for the horse project. They are responsible for hosting the annual tack sale and open horse show.
Dog Council consists of dog leaders who set policy for the dog project.
Please click on the following links for further information on each of the councils.
Dog Council (coming soon)
State 4-H Opportunities
Other Websites of Interest