4-H around the world: Nepal – Part 1
Let's explore 4-H in Nepal and what it looked like before the April 2015 earthquake.
The "4-H around the world" series continues as we explore 4-H in Nepal. Did you know 4-H existed in Nepal? Did you know they have a very special-shaped flag? The flag of Nepal is the only national flag that is not rectangular. Did you know there is a 4-H Nepal Facebook page? Have you wondered how the people are doing since the April 25, 2015, earthquake? Part 1 of this two-part series will share how 4-H looks in Nepal and Part 2 will focus on how it looks after the earthquake.
4-H Nepal is a youth occupied and youth lead non-governmental, independent and not for profit organization of Nepal. The organization is registered under the Nepal Organization Registration Act 1977. 4-H Nepal is the first organization of its kind in South Asia, although 4-H is a global organization and is well recognized in many countries. 4-H Nepal aims to lead the organization's campaigns in South Asian countries: India, Sir Lanka, Pakistan, Bangladesh, Bhutan, Maldives and Afghanistan.
Positive youth development, youth-adult partnership and inspiring, empowering and engaging approaches are main techniques of 4-H Nepal applied for youth development. To ensure youth participation in communities to national level activities, 4-H Nepal is partnering with the Government of Nepal, as well as private sectors and civil society of the country.
More than 600 young volunteers are serving and 13 youth leaders are leading 4-H Nepal. Of particular focus are the districts most affected by the 2015 earthquake (see Part 2 of this series for more information on these efforts).
Objectives of 4-H Nepal
To promote the 4-H culture implying young people as the agents of social change.
To establish the 4-H club in the country to implement 4-H model of youth empowerment and development in communities and country.
To promote positive youth development and youth-adult partnership approach in government agencies to ensure youth participation in community and national development.
To promote youth awareness programs for self-employment and self-sufficient at household and community level through the agricultural economy, including livestock and agro-product marketing.
To encourage extracurricular activities in schools particularly in life skill, capacity building, personality development and self-reliance.
To conduct civic education for youth ages 16 to 24, and prepare them to contribute to the betterment of the country.
To promote national and international youth exchange programs through "Youth to Youth" programs.
Main programs within 4-H Nepal
National Youth Farmer Entrepreneurship conference
4-H Nepal organized a two-day conference July 2016 at Auditorium Hall, Department of Agriculture, Hariharbhawn, Pulchowk. They brought together diplomats, representatives of Nepal government agencies, agricultural experts, dignitaries from civil societies, agriculture students, youth representatives from political parties, members of parliaments from different political parties and elected 150 delegates from agriculture students, agro-entrepreneurs as well as farmers.
Training on "Youth Empowerment through Entrepreneurship Development"
4-H Nepal organized a 10-day training on "Youth Empowerment Through Agriculture-based Entrepreneurship Development" in Ramechap, March 2016. USAID, F2F, Winrock International supported and organized training where young agro-entrepreneurs participated.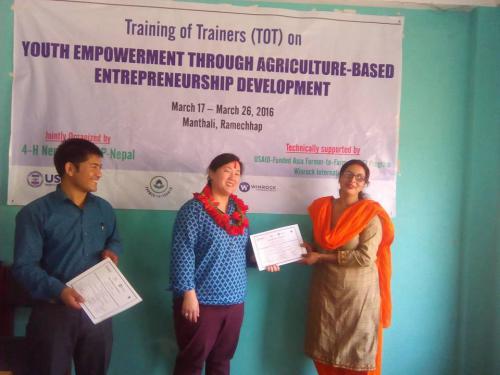 Socio-Psycho counseling
4-H Nepal has been supporting school children to normalize their daily activities such as studying and playing as well as care for them from after the earthquake caused fear and mental disturbance. During counseling, they discuss mental refreshes, positive learning attitudes, lessons learned, knowledge about the earthquake and mental therapy exercises. Eastern philosopher Dr. Chinta Mani Yogi is the main expert of the counsel program. He is famous for mental therapy in Nepal, India and all over the world.
Youth to Youth (Y2Y) sharing program
4-H Nepal has organized a motivation and interaction program for teachers, parents and students. Predominately, the program was focused on good nutrition, role of parents, teaching methods and educational improvement.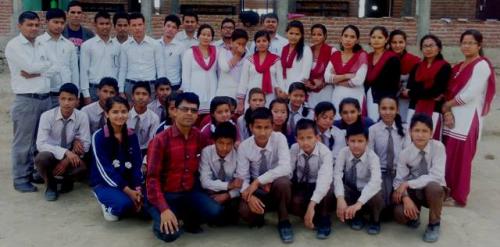 Celebrate Democracy Day
4-H Nepal celebrated Democracy Day with stakeholders, political parties, sister wings, and civil society.
Bagmati (River) Cleanliness Campaign
Nepal government organized 100 weeks of Bagmati cleanliness campaign, which was initiated from May 2013 and celebrated in April 2015 with 27 kilometers of a unified human chain in the Bagmati River. This campaign is a consecutive program of the government of Nepal. 4-Hers celebrate the Bagmati cleanliness campaign by coordinating with the government of Nepal, Nepal police, Nepal Army, APF and other civil society organizations.
A summary from Nepal 4-H president Lok Raj Awasthi
4-H stands for making positive change in the world through applying approaches, methods and models. It has a center of attention in positive youth development, agriculture development and adult-youth partnership approaches.
4-H Nepal is established to uphold agriculture, make capable manpower for the nation, upgrade youth confidence and decrease the cynic youth. It is focusing on enhancing the community developing work and positive development, as well as kid's positive development through sharing, caring and learning methods. This is the developing model and it will apply towards kindergarten, school, college and the community through facilitating to youths, kids and age groups.
If you would like to learn more about Nepal, contact Michigan State University Extension educator Sarah Keinath at skeinath@msu.edu. Keinath lived in Nepal while she was a Peace Corps volunteer.
4-H is around the world! To follow this MSU Extension article series exploring 4-H around the world, refer back to the list of other articles below.
MSU Extension and the Michigan 4-H Youth Development program help to prepare youth as positive and engaged leaders and global citizens by providing educational experiences and resources for youth interested in developing knowledge and skills in these areas. To learn about the positive impact of Michigan 4-H youth leadership, citizenship and service and global and cultural education programs, read our 2016 Impact Report: "Developing Civically Engaged Leaders". Additional impact reports, highlighting even more ways MSU Extension and Michigan 4-H have positively impacted individuals and communities in 2016, can be downloaded from the MSU Extension website.
Other global educational opportunities can also be found on the MSU Extension Global and Cultural Education webpage. For more information about 4-H learning opportunities and other 4-H programs, contact your county MSU Extension office. Visit the Michigan 4-H International Exchange Programs page for information on international exchange hosting or traveling.
Other articles in this series