4-H around the world: Nepal — Part 2
Let's explore 4-H in Nepal and what it looked like after the April 2015 earthquake.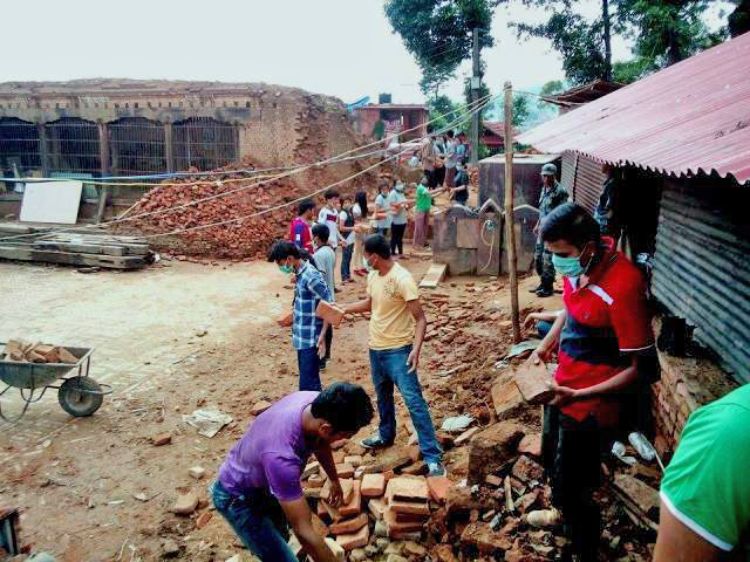 "4-H around the world: Nepal – Part 1" focused on what 4-H in Nepal looked like before the April 25, 2015, earthquake. This country, with its unique-shaped flag, has a very unique group of 4-H volunteers. After reading Part 1, did you notice how 4-H Nepal has the same main tools applied for positive youth development as in Michigan 4-H? 4-H Nepal president Lok Raj Awasthi shared what 4-H looks like in Nepal with volunteers serving, leading and working in different earthquake-affected districts. In Part 2, he will share and answer the question of how the people in Nepal are doing since the April 2015 earthquake.
Earthquake and 4-H Nepal
A massive earthquake of 7.8 intensity (Richter scale) hit Nepal April 25, 2015, with epicenter 77 kilometers northwest of Kathmandu at 11:56 a.m. local time. This was followed by another major earthquake May 12, measuring 7.4 on the Richter scale. These earthquakes left a major trail of destruction affecting millions of people in approximately 40 percent of the country.
Due to the devastating earthquake, around 9,000 people died, 160 disappeared (including 22 foreigners) and 23,000 people sustained injuries. Almost 800,000 houses were fully or partially destroyed. Major shock and aftershock damaged 5,000 schools and directly affected one million children.
In the months following the quake, 4-H Nepal focused on rescue, relief, construction and quake awareness programs. Lok Raj Awasthi stated that their national team focused rescue efforts in 14 districts with the most damage. 4-H volunteer teams rescued injured people from the debris, children from damaged houses and senior citizens from the road. 4-H Nepal partnered with the Ministry of Youth and Sport to mobilize youth volunteers in 12 affected districts. They have signed an agreement to mobilize 567 youth on behalf of 4-H Nepal.
Volunteer mobilization
4-H Nepal has been mobilizing volunteers for immediate relief support from the day after the first earthquake occurred. The main aim of 4-H Nepal is to support children, affected people, people of disability and organizations where volunteers are needed. Fortunately, there are more than 567 dynamic volunteers who are dedicated in their support.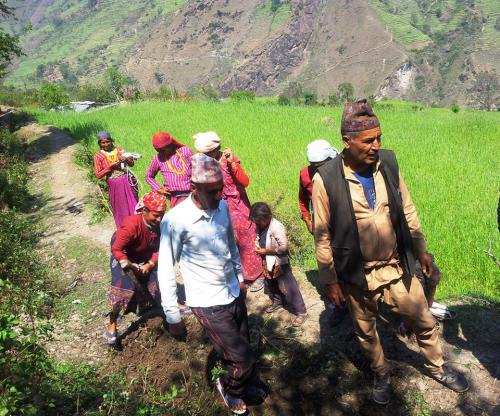 Relief program
4-H Nepal has been in touch with local businesses and the private sector for collecting relief materials such as food, drinking water and shelter. Many people were living out in the open, so they coordinated with the Nepal army to provide tents.
Constructing schools and buildings
At first, 4 -H Nepal focused on distributing rescue and relief materials. In the second stage, 4-H Nepal mobilized over 500 4-H'ers to build temporary shelters at schools and heritage sites. 4-H'ers contributed their valuable time for several months. During this time of construction, they focused on various sectors including schools, houses, toilets and communities.
Eighty 4-H volunteers built eight classrooms in Durbar High School, the first high school of Nepal. 4-H teams also constructed 14 damaged houses in Kathmandu. Temples and cultural heritage sites were also damaged. After the earthquake, 4-H volunteers managed a debris and cleanup program at Chagunarayan temple with the local police force.
Tentative yearly activities for 2017
Socio-psycho-counseling
More than 15,000 children lost their family and many children were displaced. Motivational counseling classes are helpful for those in this situation. Socio-psycho-counseling is a nation-wide mass counseling and motivational campaign. This campaign will focus on remote areas.
Farming therapy
Farming therapy is a new and innovative idea in Nepali context. This program is prepared for young people and will apply international knowledge, skills and technology to traditional livelihoods.
Volunteering in Nepal
One of the most important programs of 4-H Nepal is to promote volunteering and mobilize young people. 4-H Nepal already mobilized many young volunteers in the earthquake-affected area, as described above. Now they are trying to build capability and training. After this rainy session, they will mobilize volunteers for school construction, teaching programs and other agriculture awareness programs.
Youth to Youth (Y2Y)
Youth to Youth is a program that focuses on youth sharing their experience, knowledge, expertise and skills with other youth. This program will build on the foundation of sharing and caring, one youth to another youth, one place to another place (national and international ideas will also be shared). This activity will build self-reliance, life skills and learning methods, and address agriculture issues.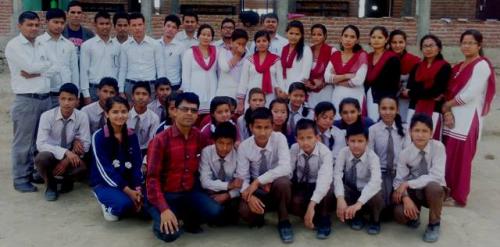 Development Dialogue Forum (D2F)
D2F is a platform to bring together youth, policy makers, expert developers and donor agencies. In this program, Nepalese development models and the impact on country making will be discussed. Mainly the program will emphasize youth development, policies and programs of Nepal government.
Lok Raj Awasthi shared in "4-H around the world: Nepal – Part 1" how 4-H stands for making positive change in the world. It was an honor to personally visit and talk with him at the July 2017 Global 4-H Network Summit hosted by 4-H Canada in Ottawa, Ontario. The work continues in rebuilding after the earthquake and with a focus on the emotional health of the youth.
If you would like to learn more about Nepal, contact Michigan State University Extension educator Sarah Keinath at skeinath@msu.edu. Keinath lived in Nepal while she was a Peace Corps volunteer. You can also visit the following websites: 4-H Nepal, 4-H Nepal Facebook, 4-H Nepal Twitter.
4-H is around the world! To follow this MSU Extension article series exploring 4-H around the world, refer back to the list of other articles below.
MSU Extension and the Michigan 4-H Youth Development program help to prepare youth as positive and engaged leaders and global citizens by providing educational experiences and resources for youth interested in developing knowledge and skills in these areas. To learn about the positive impact of Michigan 4-H youth leadership, citizenship and service and global and cultural education programs, read our 2016 Impact Report: "Developing Civically Engaged Leaders". Additional impact reports, highlighting even more ways MSU Extension and Michigan 4-H have positively impacted individuals and communities in 2016, can be downloaded from the MSU Extension website.
Other global educational opportunities can also be found on the MSU Extension Global and Cultural Education webpage. For more information about 4-H learning opportunities and other 4-H programs, contact your county MSU Extension office. Visit the Michigan 4-H International Exchange Programs page for information on international exchange hosting or traveling.
Other articles in this series