4-H'ers practice responsibility while learning in court teen program
Unique after-school 4-H club promotes responsibility, learning and giving back to the community at court teen program.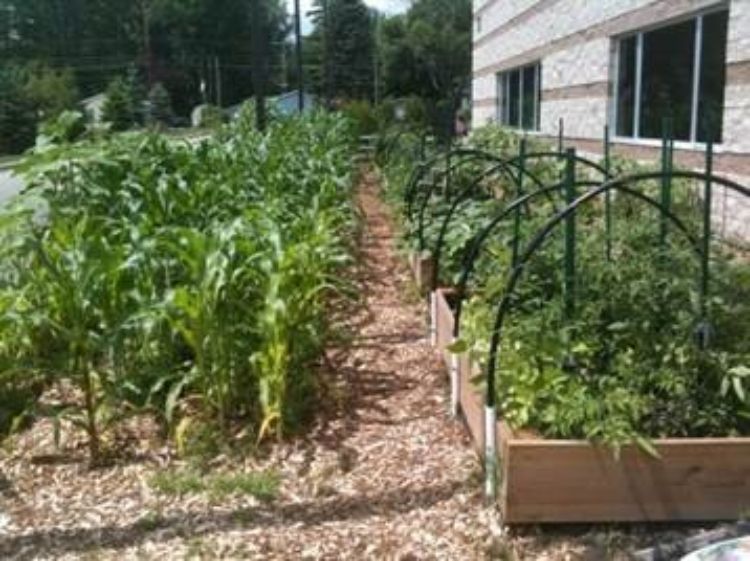 A group of kids who may have had trouble being responsible in the past are learning responsibility and much more by taking part in an after-school 4-H club. The teens are part of the St. Clair County Circuit Court Day Treatment Night Watch (DTNW) Program in Port Huron, which serves high school- and middle school-aged young people on probation who are court-ordered to participate in the program. The youth live at home, but attend school at the St. Clair County Learning Academy. The "night watch" part of the program involves surveillance monitoring through home visits and phone calls.
The DTNW 4-H Club formed as an outreach of Michigan State University Extension 4-H's work with youth at risk. Approximately 25 boys and girls ranging in age from 13 through 17 are learning responsibility through planting vegetable and herb gardens, raising chickens and running a farm stand through the after-school program.
DTNW staff members assist with the program as well as 4-H and Master Gardener volunteers.
The kids start growing the produce indoors from seed in the grow lab in the school. Then they transplant the plants into raised beds in hoophouses. They tend these gardens as well as pitch in once a week to tend a Habitat for Humanity plot a half-mile away, raising everything from corn and watermelons to chives and rosemary.
For the second year, the club members will run a farm stand one day a week to sell the harvest of their own produce as well as food gleaned from a local farmer. The kids run the stand themselves, setting up tables and displaying the produce. They're learning how to participate in the food system and how to be entrepreneurs, starting and operating a business.
The kids earn a share of the profit from the hours they spend working in the program. Half of the profit from the farm stand goes to running the 4-H program and half goes to the kids. The teens learn to work hard for a reward and to handle money responsibly. These are skills they can take with them as they move into adulthood and become productive citizens.
They also learn to give back to the community. The kids donate 25 percent of the yield to one local food kitchen and two food pantries. In fact, last year the DTNW Club donated more than 750 pounds of food.
The kids often take the produce home with them, allowing them to share what they're learning with their families, opening up communication at home and even spreading the word about healthy eating.
Joe Bixler is the volunteer 4-H leader of the DTNW 4-H Club who also happens to be an MSU Extension district coordinator.
Bixler believes that the kids are learning to give back to the community by donating part of their efforts.
"In giving back, they're learning to be more responsible for their own behavior," he said.
These 4-H'ers have joined the 4-H Revolution of Responsibility, a campaign in which young people are taking the lead to be more responsible and give back to their communities.
Having been successful at growing produce, the club members added chicken raising to their repertoire. With assistance from staff and volunteers, the teens built a chicken coop to house their egg-laying hens. Both the gardening and chicken raising is incorporated into the school science program.
A key component to 4-H is experiential learning in which kids learn by doing. These 4-H'ers are definitely learning as they actively participate in the program.
Bixler said, "We are now able to provide hands-on education that complements the school science program. Kids are not just reading about it – they are doing it the 4-H way!"
A Community Foundation Grant of $1500 from the Youth Advisory Council of the St. Clair County Community Foundation supplied the raised beds, gardening tools and grow lab. An additional $500 made the chicken operation possible.
Working closely with volunteers has changed some of the teens' attitudes about adults. Kids are feeling there's someone who believes they are worth spending time with, worth getting to know.
"I have seen evidence of these kids understanding there are other caring adults out there who are volunteers who want to spend time with them and do stuff. These adults are not just part of the staff. Toward the end of last year I could see that kids realized we just wanted to hang out with them," said Bixler.
The teens are also learning they can be responsible and have fun in the process. They're looking forward to their fall harvest pumpkin patch project, which culminates in a festival that includes food and face painting.