A learning year: High infestation of wheat disease gives researchers plenty to study
This year, stripe rust reached epidemic proportions, exceeding historic levels to become the most significant yield-reducer on Michigan's 500,000 acres of wheat.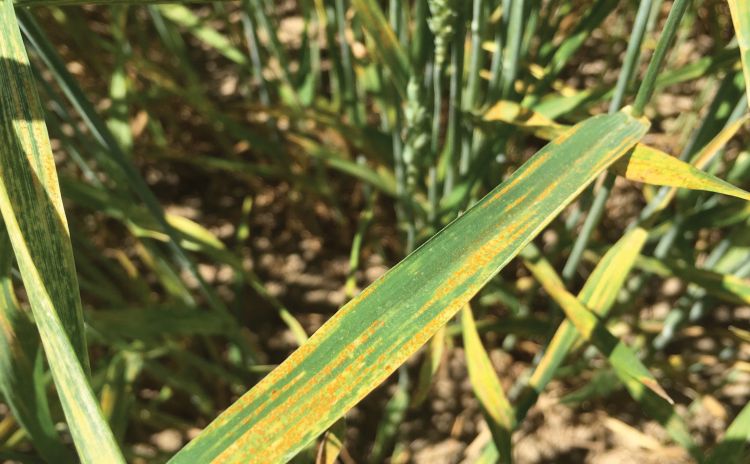 Storms and strong winds out of the west often herald the return of spring to Michigan and the rest of the Midwest, bringing with them warm temperatures, refreshing rains and the promise of a new growing season. This welcome end to frigid conditions, however, is not all that accompanies these westerly gales.

The fungal pathogen Puccinia striiformis f. sp. tritici, more commonly known as wheat yellow or stripe rust, is often a passenger of these wind gusts. This year, the parasitic disease reached
epidemic proportions, exceeding historic levels to become the most significant yield-reducer on Michigan's 500,000 acres of wheat. Wheat, the third largest cereal grain in Michigan, contributes more than $388 million to the state economy annually, according to the Michigan Wheat Program. This makes the threat of stripe rust a significant problem.

Fortunately, Michigan State University (MSU) researchers are developing new tools and tactics that can be applied in the field to mitigate the effects of stripe rust and keep the wheat supply healthy and secure.

First described in 1777, stripe rust is one of three rust diseases that afflict wheat plants, alongside the more common leaf and stem rusts. Stripe rust, which takes its name from the highly visible rust-colored pustules it leaves in streaks on wheat leaves, is an obligate parasite, meaning it mines nutrients from its host plant. Initially taking root beneath the plant's epidermis, it destroys the chloroplasts necessary for photosynthesis, effectively starving the plant of needed energy, after which it reproduces by erupting the pustules through the epidermis and onto the
surface of the leaf.

Particularly, and most destructively, stripe rust infects the flag leaf – the large leaf that provides the majority of the plant's energy and is responsible for as much as 80 percent of its final yield. Without a functional flag leaf, the plant simply cannot survive.

Dennis Pennington, wheat systems specialist with MSU Extension, has witnessed firsthand the destruction stripe rust has had on Michigan farms.

"We're seeing anywhere from 10 to 15 percent yield reductions across the state, and up to 50 percent in fields where we have very severe infections," Pennington said. "It came about a month early this year when temperatures were moderate and nights were cool, which really allowed the disease to get going. We also had a lot of acres planted with wheat varieties that were susceptible to it. It was the perfect set of conditions for the epidemic that we saw to develop."

The reason stripe rust arrived as early as the first week of May remains a matter of scientific debate. Hypotheses range from a mild winter that allowed the pathogen to survive in Michigan for the entire year, to strong weather systems moving up from the south early in the year, bringing more stripe rust than usual. Whatever the cause, the fungal pathogen is capable of dispersing and spreading to new fields rapidly.

Pennington said there are two important measures farmers can take to protect their crops. The first is diligent field monitoring and appropriately using fungicides. One reason the disease is particularly challenging is that by the time the distinctive rust-colored stripes appear in the field, the disease has already been developing for about two weeks. This makes proactive applications essential.

"If you see stripe rust in the field, you have to have already been doing something for it," Pennington said. "We have about 40 varieties of wheat that are susceptible to the disease, and if a farmer is growing one, they need to be proactive about it so they can protect the flag leaves and keep their crop growing."
A SILVER LINING
The sudden prevalence of stripe rust in the state this year also brought with it a silver lining. With so much of the pathogen present, collecting data in wheat test plots on MSU's East Lansing
campus became more feasible than in previous years. MSU AgBioResearch plant pathologist Martin Chilvers, along with graduate student Mikaela Breunig, conducted experiments to determine which fungicides were most effective against the disease.

"Before this year, we wouldn't have even considered spraying for stripe rust," Chilvers said. "But this year, with how prevalent it was across so many fields, is causing us to change our mentality some. We're working on ways to allow farmers to better manage for the disease and protect their crops."

By planting multiple small wheat plots and treating each with a different fungicide application, Chilvers and his team were able to measure the impact of different products, concentrations and
application times on stripe rust. Chilvers expects to have the field trial data available to the public later this fall. The opportunity to collect further data on stripe rust in Michigan has yielded benefits for the second major tactic for combating stripe rust – choosing the right variety.

Usingresistant wheat varieties, farmers can reduce their fungicide costs without risking losing their crops to stripe rust. There are currently 40 wheat varieties susceptible to stripe rust used in Michigan. MSU AgBioResearch wheat breeder Eric Olson is working with his team to bring more resistant varieties to the table.

"We don't get stripe rust like this every year, so we don't always have the opportunity to work on it like this," Olson said. "That's been the real impact this year. By having a lot of stripe rust available, it's putting a lot of selection pressure on our variety trials in the field. We're going to have a very good idea of which varieties are resistant after this."

Olson's team has discovered that over half of the elite, high-yielding wheat breeding lines carry genes for stripe rust resistance, a fact that was unknown until the researchers were able to record accurate observations of plants in the field. The MSU team is currently mapping the genes associated with stripe rust resistance and transferring them into wheat varieties grown in Michigan.

Developing a new wheat variety can take up to nine years, despite the cutting-edge genomic technologies available at MSU. Olson has also taken steps to help farmers with more immediate needs. Conducting variety trials this past summer, his team discovered several varieties currently available that showed high levels of immunity to stripe rust.

"Two of the top varieties – Venus and DF105R – showed near-immunity to stripe rust," Olson said. "Not only do they have high resistance, they are very high yielding. Stripe rust is probably
the most persistent problem of the three wheat rusts and can cause the most damage, so it's important that growers have the right tools to manage it."

MSU researchers approach problems such as stripe rust from a variety of angles, whether that means improved cultivars, effective chemicals, the best field practices or, more likely, a combination of them all. Their goal is to provide growers with the right tools for each of their unique farms.

"The high infection we had this year was a blessing as well as a curse," Pennington said. "While it made a lot of trouble for farmers, we were able to learn a lot more about it —how it behaves in our state and how our varieties and fungicides interact with it. Nobody could have predicted this epidemic, but if it happens again, our farmers will have better information and tools to handle it."
This article was published in Futures, a magazine produced twice per year by Michigan State University AgBioResearch. To view past issues of Futures, visit www.futuresmagazine.msu.edu. For more information, email Holly Whetstone, editor, at whetst11@msu.edu or call 517-355-0123.