Six MSUAFRE undergraduate students attended the annual Agriculture Future of America (AFA) Leaders Conference, in early November, 2018.
Six Department of Agricultural, Food, and Resource Economics undergraduate students attended the annual Agriculture Future of America (AFA) Leaders Conference, in early November, 2018.
The conference, held in Kansas City, draws students from across the country to practice and improve their leadership skills within the context on the agricultural and food industry. 24 students from Michigan State University attended, with AFRE participation from Holly Pummell, Izzy Morton, Jacob Stehlik, Sarak Lokey, Emma Rice, and Elizabeth Venema.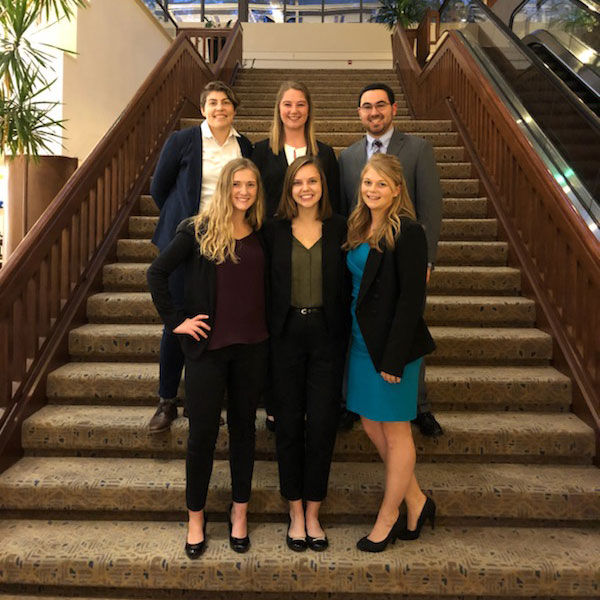 "I was so proud to represent MSU and the AFRE department at the conference this year," said AFRE senior Izzy Morton. "I participated in Track 4, which was an incredible experience of learning and exploring."
AFA holds several targeted conference each year, with the Leaders Conference acting as a four-track program, designed to offer college students different personal and professional development opportunities matched to their year in college. The program bridges the gap between academic, leadership and work experiences while helping students understand the impact of their decisions. AFRE students were spread out amongst the different tracks, and were given the opportunity to network with peers and leaders in the agriculture industry as well as increase their excitement about the future of agriculture by gaining awareness of career opportunities in food and agriculture.
"The conference is very diverse. We had various speakers on inclusion, communication, diversity, presenting, and facing adversity," said AFRE sophomore Holly Pummell. "All the speakers were able to engage the students from many different universities all over the country."
Along with the scheduled learning sessions, AFRE students were able to participate in the Opportunity Fair, to explore jobs, internships, and professional organizations they might be interested in. Additionally, students are matched up with an industry partner, usually a company in the food industry, to tell them more about their roles and potential paths.
"My industry partner was Syngenta." said Pummell. "I had the opportunity to share several meals with representatives from the company — it was a great experience to sit down with these individuals and learn how they worked their way to their positions."
"Overall the conference was an incredible learning experience," continued Pummell. "The conversations I had with professionals from all over the country made me excited for the future leaders of agriculture."
Learn more about our AFRE undergraduate students and programs.