AgBioResearch scientist uses $1.9 million USDA grant to battle bean root rots in African soils
A Michigan State University AgBioResearch scientist has received one of five grants issued by the U.S. Department of Agriculture to develop varieties of common bean that are resistant to soil-borne pathogens found in East and Southern Africa.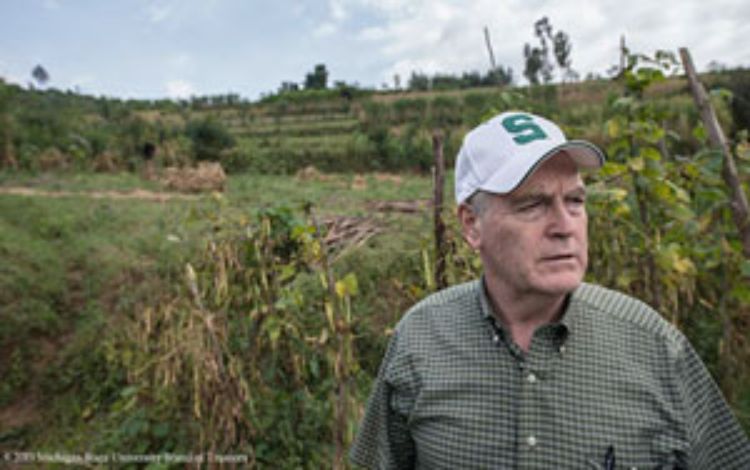 A Michigan State University (MSU) AgBioResearch scientist has received one of five grants issued by the U.S. Department of Agriculture (USDA) to develop varieties of common bean (Phaseolus vulgaris) that are resistant to soil-borne pathogens found in East and Southern Africa.
The project will be led by MSU plant, soil and microbial sciences' James "Jim" Kelly, who has been breeding beans for more than 30 years. With the $1.9 million award – the largest of the five granted – Kelly will focus on improving the bean's genetic resistance to root rot diseases. His research is part of a federal initiative to combat common bean production challenges in least developed countries (LDCs).
"As small farmers in Rwanda and Uganda, many women strive to produce more beans to meet their food needs," Kelly stated. "Problems with bean root diseases have increased because of limited crop rotation options and small land holdings. Our research is targeted to identify the actual disease organisms that are causing the problem and provide local farmers with solutions in the form of new, resistant bean varieties and better farming systems to manage and alleviate this constraint."
The common bean is a chief staple produced in food-insecure areas of the world, and it can play a critical role in the nutritional and economic stability of many LDCs. Because so much importance is placed on the success of this crop, farmers desperately need improved bean varieties and integrated root rot technologies that are readily accessible.
"At this stage in the project, we do not have good estimates of the extent of the problem in each country," Kelly explained. "Our first goal is to determine the severity of the problem in various bean production regions of Rwanda and Uganda; with that information, we can better target key producers in these regions to implement new management systems and test new varieties."
Kelly and his team hope to communicate their findings in the form of tutorials, Slide share presentations and videos developed in partnership with the Plant Breeding and Genomics Community of Practice (PBG) and the Integrated Pest Management Pest Information Platform for Extension and Education (ipmPIPE). This information will then be made available to the public througheXtension.org in formats that utilize Africa's emerging smart phone networks.
Members of Kelly's research team are Martin Chilvers, MSU assistant professor of plant pathology and AgBioResearch scientist;Linda Hansen, MSU USDA Agricultural Research Service (ARS) plant pathologist; Karen Cichy, MSU USDA-ARS plant geneticist; and researchers from Ohio State and South Dakota State universities, Rwanda, Uganda and Colombia.
This project is part of the Feed the Future Initiative, President Obama's global hunger and food security initiative which supports country-driven approaches to address the root causes of hunger and poverty, and to forge long-term solutions to chronic food insecurity and under-nutrition.
The award was made by the USDA National Institute of Food and Agriculture (NIFA) in coordination with the U.S. Agency for International Development (USAID).
For more information, visit the USDA Newsroom.
MSU AgBioResearch engages in innovative, leading-edge research that combines scientific expertise with practical experience to generate economic prosperity, sustain natural resources, and enhance the quality of life in Michigan, the nation and the world. It encompasses the work of more than 300 scientists in six MSU colleges – Agriculture and Natural Resources, Communication Arts and Sciences, Engineering, Natural Science, Social Science and Veterinary Medicine – and has a network of 13 research centers across the state.