Heroes to Hives program teaches beekeeping to U.S. military veterans
Registration is open for current and former U.S. service members to enroll in the Heroes to Hives online course.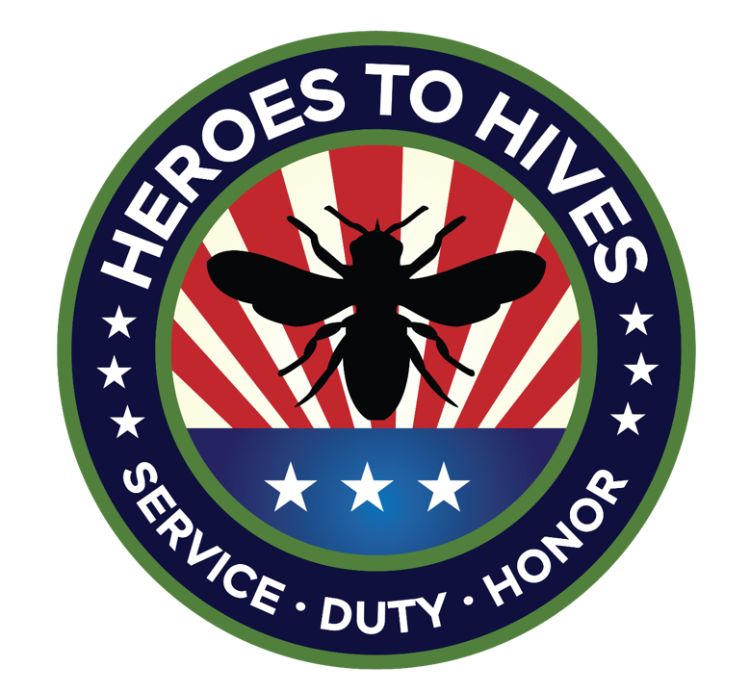 Veterans and honey bees might seem like an odd couple, but Michigan State University Extension's Heroes to Hives (H2H) program continues to show that many military service members are ready to continue serving their nation by protecting our national food security through support of the most important pollinator in American agriculture: the honey bee.
For the past six years, the Heroes to Hives program has been leading the nation in arming veterans, active duty personnel, National Guard members, reservists and their dependents with the knowledge, experience and connections to be successful beekeepers. Since the program began in 2015, Heroes to Hives has trained over 5,000 new beekeepers.
Heroes to Hives students participate in nine modules of a free, comprehensive, online beginning beekeeping course. Additionally, hands-on beekeeping workshops are offered in Michigan, Minnesota, Missouri and Nebraska.
Heroes to Hives alumni and Air Force veteran Torrie Condet reports, "Heroes to Hives has helped me increase my knowledge about bees, make lifelong connections with other beekeepers, and reconnect with the spirit of family I felt while I was enlisted in the Air Force."
Heroes to Hives was initially designed for service members residing in Michigan. After receiving an overwhelming number of requests from service members across the country, the program opened its online programming to out-of-state participants in 2019.
Heroes to Hives national education partnerships
In 2021, the Heroes to Hives program took a major step towards reaching more learners across the nation with hands-on education opportunities to compliment the Heroes to Hives online education program. Partnerships with University of Missouri Extension and the University of Central Missouri, University Nebraska-Lincoln and the University of Minnesota offer students hands-on training opportunities and serve as the basis for partnerships with other universities to launch in-person educational programming across the U.S.
In Missouri, Heroes to Hives students can engage in hands-on training at University of Central Missouri's Mitchell Street Farm in Warrensburg and receive region-specific management education provided by University of Missouri Extension's beekeeping experts. The Heroes to Hives Missouri program also provides Heroes to Hives students with in-state support, networking opportunities with regional beekeeping organizations, like the Eastern Missouri Beekeepers Association, and direct connections to service providers, such as the Missouri AgrAbility program.
In partnership with the University of Nebraska-Lincoln's (UNL) Great Plains Master Beekeeping program, all 2021 Heroes to Hives students can apply their completed Heroes to Hives coursework to the educational requirements for completing the Apprenticeship level certification of Great Plains Master Beekeeping. Great Plains Master Beekeeping is a regional network of beekeeping professionals, researchers and hobbyists that provides training, education, outreach and mentoring for beginning and advanced beekeepers.
The Great Plains Master Beekeeping program is structured with multiple tiers (Apprentice, Journeyman, and Master) through which students may advance at their own pace to refine their knowledge and management skills. This partnership also offers Nebraska-based Heroes to Hives students the opportunity to engage in hands-on learning experiences as part of University of Nebraska-Lincoln's open apiary hours hosted monthly at the University of Nebraska-Lincoln Bee Lab Research Apiary.
Heroes to Hives also joined forces with the University of Minnesota Bee Veterans Extension program, which provides free beekeeping education for Minnesota veterans through real-world beekeeping training and promotes the recreational and professional benefits inherent in working with honey bees. The Heroes to Hives-Bee Veterans partnership allows Minnesota based Heroes to Hives students to participate in educational workshops at Bee Veterans apiaries in Minneapolis and Rochester. This key partnership serves as a coordination center for Heroes to Hives national programming and allows Heroes to Hives and Bee Veterans educators to work together to support the national expansion of Heroes to Hives through the development of state partnerships, shared resources, veteran focused curriculum, Heroes to Hives conferences, and supporting research on the benefits of beekeeping for veterans.
How to apply
Current and former service members, their spouses, and their adult children can register for the Heroes to Hives online course. Students enrolled in the online course will receive information about in-person trainings when schedules are available. Those interested in learning more about the program are encouraged to visit the Heroes to Hives website and follow us on Facebook. Questions about the program can be directed to H2H@msu.edu.
Interested in supporting Heroes to Hives?
Heroes to Hives is funded primarily by donations and grants. All donations made to the program support valuable education and community development opportunities. This year, your contributions can help improve accessibility of Michigan State University's Pollinator Performance Center. Donations can also be made to directly support the Heroes to Hives program.