Award-winning graduate student in MSU forestry connecting the dots and bringing new light to history of forestry
Jasmine K. Brown, a doctoral student in the Michigan State University Department of Forestry, is quickly becoming a standout in her field.
Brown was recently awarded the Graduate Student Emerging Leader Scholarship by the MSU Black Faculty, Staff, and Administrators Association (BFSAA). Brown was nominated by Dr. Asia Dowtin, assistant professor in the Department of Forestry, as a student who embodies the BFSAA criteria of someone who "maintains academic excellence and serves as a leader and change agent within their department... and the local community."
"The BFSSA opens doors for all, and they provide support for all. The nomination was motivated by knowing that they create spaces for us to get recognition that carries weight in our community and weight outside the community. With Jasmine where she is, let's shine a spotlight in a way that has weight," said Dowtin.
In regard to whether or not Brown sees herself as a "change agent" in the field, she is conflicted. "On the surface, being a change agent resonates with me. But I'm also grappling with that label. I'm humbled when it comes to my work recognizing that I stand on the shoulders of giants, who put down roots before me," said Brown.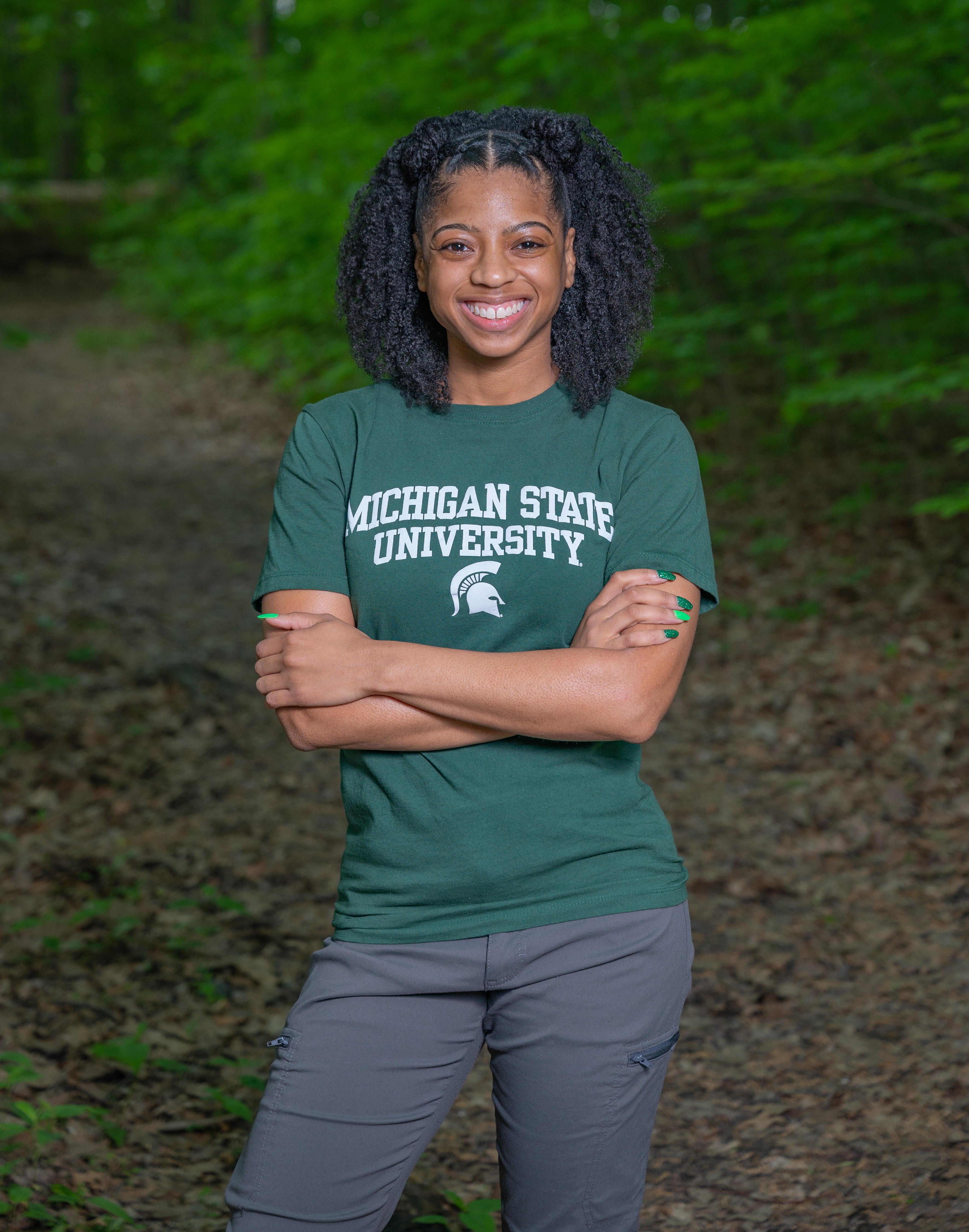 Brown's research is social science based, while being intricately connected to forestry. By studying histories of African Americans and forests and the forestry profession as a whole, her research draws connections between race, nature, and culture. Her work explores the multitude of ways to access forests and nature, and the historical limits to accessibility and inclusion.
"There are extensive histories of the connections between African Americans and farming, both in rural and urban contexts. However, there is very little mention of the enduring histories of African Americans in forests. I want to connect the dots by considering how Black communities across the U.S. were, and still are, in relationship with forests over time," said Brown.
Brown has dedicated countless hours to seeking information not readily available to the average researcher, regularly doing deep dive searches for historical data. "I have to go to the basement to get information to bring to the surface to tell these stories. They have existed for hundreds of years, but these stories are not as well-known as they should be," said Brown.
Dr. Dowtin sees Brown not only excelling but revitalizing the forestry field with her work. "With Jasmine's research, in the past, folks may have doubted the benefit of her work or its true relation to forestry. I'm equally optimistic with her work as we are coming into this new age in urban forestry, that there's going to be a new age of awakening for folks really embracing the benefits black people have brought to the field of forestry and the United States," said Dowtin.
The recent BFSSA award is only one of Brown's many accomplishments and affiliations. She also serves as a board member to the American Forest Foundation, a Steering Committee member of the Women's Forest Congress, and is a participant in the 2023 Environmental Leadership Program – Great Lakes Regional Fellowship.
"Seeing Jasmine getting these awards and being invited to leadership positions makes me excited. She might be carving out a space for these stories to be told, voices to be elevated, and opening the door for a new cultural shift for this sector," said Dowtin.
Brown is grateful to Dowtin for her support, guidance and direction throughout her graduate career. "Working with her side by side helps me rethink what it means to be compassionate. She doesn't make me doubt or second guess myself," said Brown.
For anyone interested in going into the field of forestry, Dowtin urges individuals to avoid limiting yourself. "Go for whatever pathways allow you to pursue your interests and learn about yourself. Do what you want to do. It doesn't have to look like anyone else's preplanned path for you, or your own preplanned path for yourself," said Dowtin.
Brown says being in a PhD program was never a part of her plan, and never imagined herself where she is today. Previously trained as a traditional forester, she is now considering a career in academia. "There is a place and home for complex stories about African American forest history, and they are stories worth being taught, within courses," said Brown.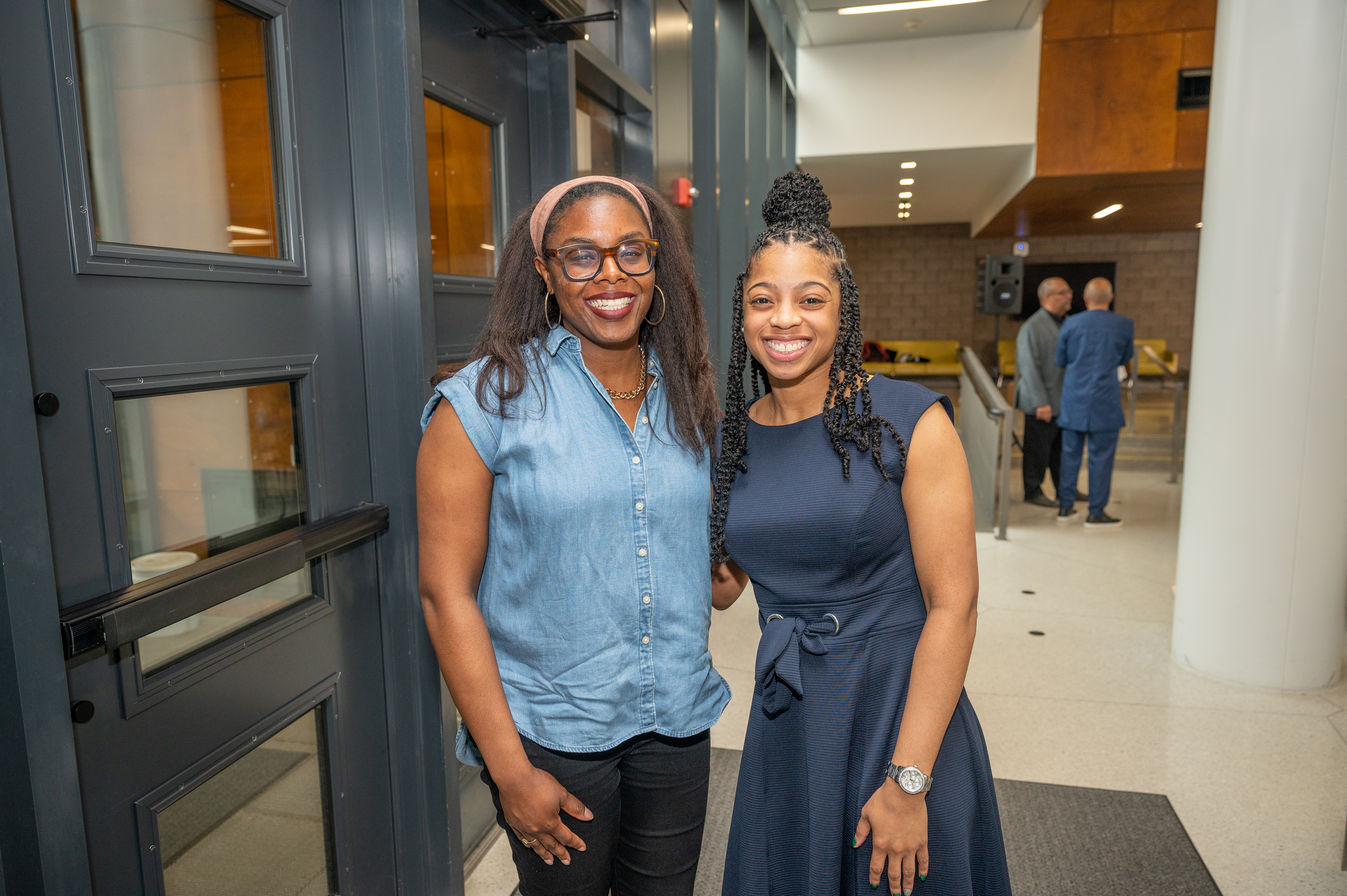 "I am exploring what it means to teach history within the field of forestry that has intentionally overlooked questions of race, power, and discrimination. These questions largely shape and inform the Black environmental experience along with current representation in the forestry and natural resources field. Thus, we must consider the importance of historical context to the ongoing discussions we're having about diversity, equity, and inclusion in environmental fields."