AFRE alumnus Dustin Baker spoke on a live CNN interview on November 20, 2018 as the Director of Economics & Domestic Production at the NPPC, on the effects the trade disputes are having on pork.
Agribusiness Management alumnus Dustin Baker spoke on a live CNN interview on November 20, 2018 as the Director of Economics & Domestic Production at the National Pork Producers Council (NPPC). In the interview, Baker touched on the effects the trade disputes are having on pork — and why consumers might be buying more than normal.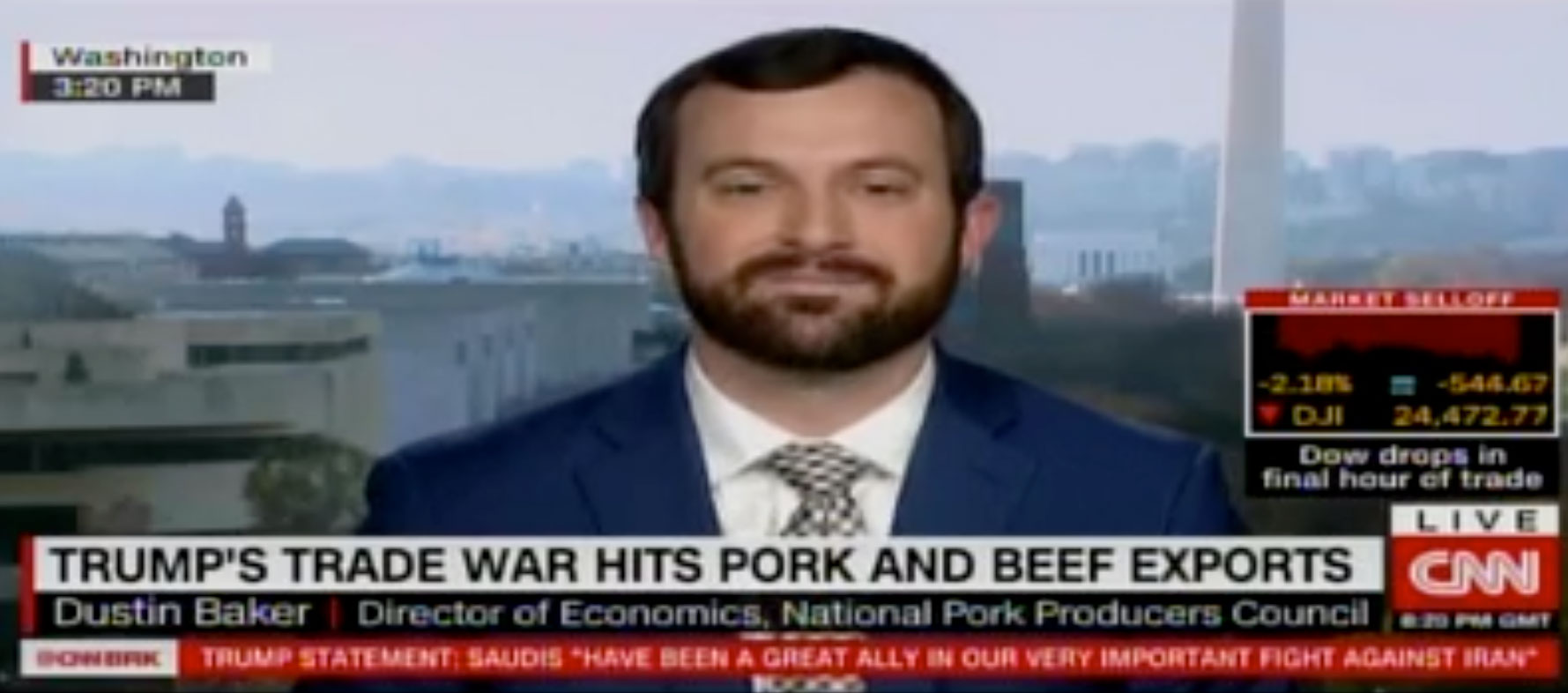 "I engage with media on a fairly frequent basis, whether it's focused on current trends in the pork industry, labor issues our farmers face, or the status of legislation pieces, but speaking live on a national network was a new one for me," said Baker. "But what's happening here in DC is affecting farmers and consumers across the country, so it was important to get the information out there."
Gaining Skills
Originally from St. Louis, Michigan, Baker was heavily involved in agriculture before coming to Michigan State University, to study Agribusiness Management (ABM) in the Department of Agricultural, Food, and Resource Economics (AFRE). Throughout his student career, Baker had meaningful off-campus experiences, serving as the FFA President for the state of Michigan, interning with Senator Debbie Stabenow, and working in Chicago at the CME Group with a brokerage firm in the livestock futures and options pits.
"I knew I wanted to somehow meld my my passions for agriculture, economics, and politics into a career," said Baker. "I took a few policy-focused classes offered across campus, but found an incredible home in AFRE to develop that necessary business and ag background."
After graduating in 2012, Baker attended Cornell University and obtained a Master of Science in Applied Economics and Management. There, he conducted research focused on dairy markets and policy in the 2014 Farm Bill. Baker then worked at the National Milk Producers Federation as an economic analyst, before moving to his current position at the National Pork Producers Council.
Leading an Industry
"In my role, I help others understand trends occurring in the pork industry and the issues our farmer members are facing," said Baker. "I not only work with farmers and stakeholders across the country to understand what's keeping them up at night and impacting their businesses, but also get to lead industry coalitions that further objectives of the nation's 60,000 pork producers."
Baker has had plenty to talk about recently, as trade disputes have greatly impacted the flow of pork out of and within the United States. It's this issue that lead him to the live TV interview on CNN.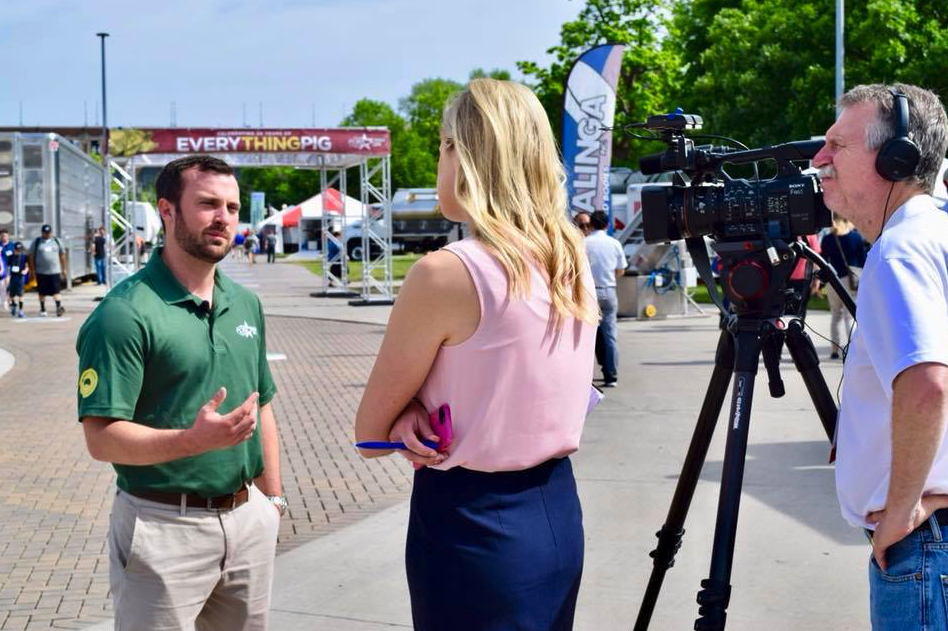 "Given the trade disputes occurring, there has been some displacement of pork and beef product that otherwise would have been exported. As a result, domestic retail prices for beef and pork have fallen and there has been some evidence of consumers switching their purchases from poultry products to the newly relatively more affordable beef and pork," said Baker. "CNN wanted to discuss this phenomenon heading into the holiday season. Basically, consumers are switching their purchases to pork not only because it is more economical today than it once was, but also because it is delicious."
"I moved to DC in the first place because I wanted to make a difference for farmers across the country and represent their interests," said Baker. "So it was an honor and achievement to represent our organization and our industry to a larger audience who may not otherwise think of the unintended consequences of broader geopolitical events."
Whether it's analyzing data or working with individuals with a diverse and different background from his own, Baker draws from his AFRE education daily to understand, educate, and collaborate with other industry leaders in Washington D.C.
"Working directly with decision makers, but with the perspective of the people affected by those decisions, is what I love to do," said Baker. "I hope to continue sharing the voices of farmers across the country and making real change at high levels."
Learn more about the National Pork Producers Council and AFRE alumni.