BASF Living Acres to make donation to Heroes to Hives in honor of Pollinator Week
Help double the impact — the company will donate an additional dollar, up to $5,000 for every like or share of the post on Mon., June 22.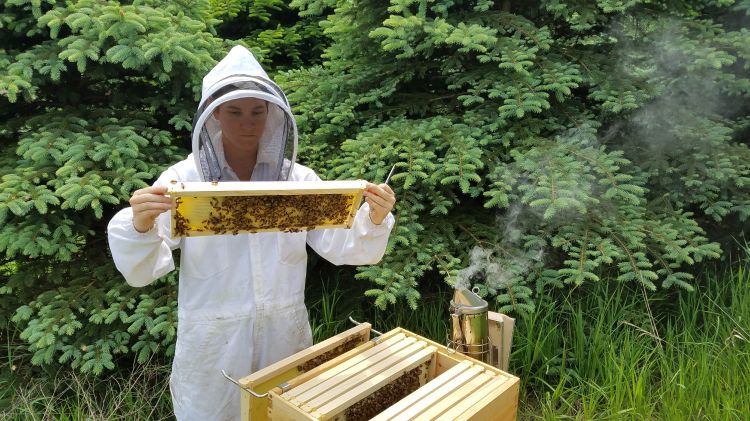 In honor of Pollinator Week, BASF's biodiversity initiative, Living Acres, is making a donation of up to $10,000 to Heroes to Hives, a Michigan State University Extension program that helps veterans transition from protecting our country to protecting our food. Through this program, veterans learn to become the next generation of small-scale beekeepers. Participants receive free professional training and community development centered around beekeeping.
"Heroes to Hives seeks to offer veterans a chance to continue serving their country by protecting honey bees and our nation's food security," said Adam Ingrao, MSU Extension specialist and founder of the Heroes to Hives program.
BASF Living Acres will donate $5,000 to Heroes to Hives. Bee enthusiasts have an opportunity to help double the impact. On June 22, for each like or share of the post that mentions Heroes to Hives on BASF's Ag Solutions Facebook page, the company will donate an additional dollar, up to $5,000.
Pollinator Week, June 22-28, aims to celebrate and educate about pollinators like honeybees, and their impact on the ecosystem and food supply chain.
"Honeybees and veterans are both facing unprecedented challenges," Ingrao said. "Bees are facing the highest levels of annual loss in our nation's history, and veterans struggle with transitioning from service and finding careers that are rewarding and serve a greater purpose."
Heroes to Hives also provides an entry into the agriculture and sustainability fields for veterans with a desire to go into farming who wouldn't otherwise have the ability or know-how.
"As veterans, our students understand the importance of serving causes greater than themselves and they have the tools necessary to be effective farmers like self-motivation, a dedication to duty, and a desire to serve their country," said Ingrao. "Through Heroes to Hives, we give these individuals the knowledge and tools necessary to face the decline of honeybees head-on through management of small-scale sustainable apiaries across Michigan and the U.S., and offer our veterans an opportunity to start their own small business or work for a commercial beekeeper."
Heroes to Hives aligns with the mission of BASF's Military Veterans Employee Resource Group, developed to strengthen the bridge between veterans and agriculture career opportunities. By supporting and educating veterans on the importance of pollinators and enabling them to make an impact on sustainability in their community, Heroes to Hives shares in this mission.
There are over 400 Heroes to Hives alumni operating more than 2,000 beehives in the nation.