Bean counters: Ensuring economic benefits of research
The Legume Innovation Lab at MSU conducts impact assessments to determine if the program is creating higher yields, improved resistance to pests and diseases, resilience to unfavorable climatic conditions and improved nutritional content.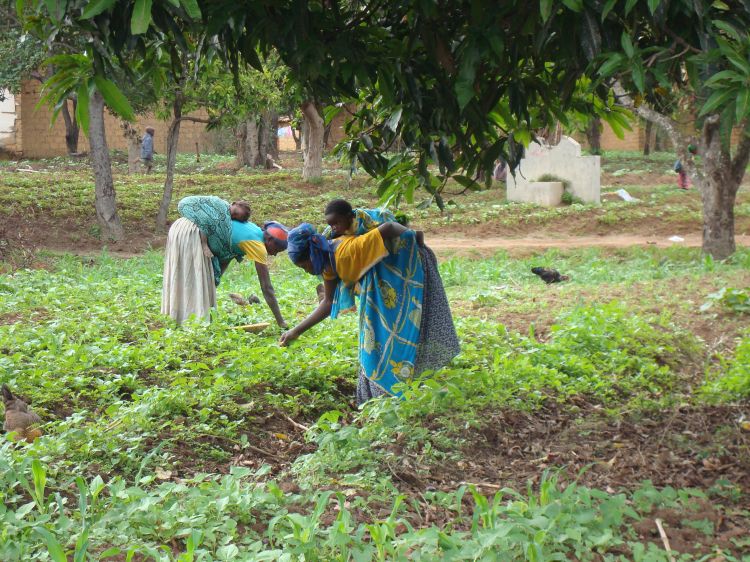 Higher yields, improved resistance to pests and diseases, resilience to unfavorable climatic conditions and improved nutritional content are goals of worldwide bean breeding and dissemination programs. But testing and releasing new cultivars and getting them into hands of growers take time and money.
Ensuring that research hits its mark is one function of the Feed the Future Innovation Lab for Collaborative Research on Grain Legumes, or Legume Innovation Lab (LIL), at Michigan State University (MSU). LIL scientists return to communities where their research was conducted to assess its long-term payoffs.
Cynthia Donovan, LIL deputy director and MSU AgBioResearch agricultural economist, said scientists generally anticipate impact as they begin crafting a plan for a research project.
"Prior to doing the science, you need to know what the endgame is," she said. "Whether it's reducing crop losses, reducing the health effects of pesticides, reducing seed costs or improving nutrition, all of those will factor into your impact over the long run."
Mywish Maredia, professor of international development in the MSU Department of Agricultural, Food and Resource Economics, began working with long-term economic assessments over 20 years ago when she conducted research for her Ph.D.
"We were looking at the impact of agricultural research in developing countries that was funded publicly and through international research centers," she said. "Ensuring that research projects remained accountable to their stakeholders was the focus then, but the announcement of the United Nations' Millennium Development Goals (MDGs) made the assessments a global priority."
Announced in 2000, the MDGs identified a new global effort to eradicate the world's most pressing societal concerns – extreme hunger and poverty, universal primary education, gender equality, child mortality, maternal health, major diseases such as HIV and malaria, environmental sustainability and global cooperation.
Maredia, who became associate director of the Bean/Cowpea Collaborative Research Support Program (now known as LIL) that same year, announced a new global focus based on the MDGs, advising that the impact assessments become an important means of monitoring progress.
"It's one thing to set a goal, but it is quite another to work toward achieving it," Maredia said. "The MDGs brought a considerable global investment into many projects, and we needed ways to monitor ourselves so that we were sure our work's focus remained where it should."
A major hurdle, however, is that the adoption of new technologies such as improved varieties can take as many as six to 10 years. This significant chunk of time makes assessments difficult and requires a great deal of foresight from the scientists.
To measure the scale of a project's impact, the researcher first needs to have a benchmark with which to compare it. In most cases, this means conducting surveys before the project begins and following up with the same households afterward to see what, if anything, has changed.
This is particularly crucial in legume and other biotechnology research projects because effectiveness depends on being able to deliver the end products (i.e., improved seeds and other inputs, innovative practices) to growers.
"It takes many seasons and years of partnership and collaboration with members of the public and private sectors to produce a new variety and get it in farmers' fields," Maredia said. "It's a long-term process to transfer research from labs to farms, and longer still before you see farmers implement the technology at scale. You want to see the kind of impact that the research you invested in 10 years ago has had on the livelihoods of the people for whom you developed it."
A Legacy of High-Impact Research

LIL has conducted long-term economic impact assessments around the world, providing statistical evidence to demonstrate the importance of legume research.
An assessment published in January 2013 revealed that cowpea varieties developed by LIL scientists accounted for approximately 42 percent of the total planting area in Senegal's three largest cowpea-growing regions and contributed $78.6 million in economic value.
"The high adoption rate, combined with improvements in yield, led to overall welfare benefits significantly exceeding research, development and extension costs," Maredia explained. "The findings indicated not only the success of our distribution of the technology but also of cowpea's suitability to the region."
Between 1990 and 2010, LIL scientists released 90 varieties of beans, including 45 small red bean cultivars, to growers in the Central American nations of Honduras, El Salvador, Nicaragua and Costa Rica. An impact assessment from July 2012 revealed that the red bean varieties accounted for 67 percent of the total bean area, generating over $350 million.
"Central America has a major market for beans, so to see our work have that kind of impact there is really amazing," Donovan said. "The project boosted not only agriculture itself but also the seed production industries around the local communities. This is the kind of research we like to do, the kind that shows Congress the importance of continuing to support these efforts."
Though they're useful for summarizing the effects of research projects, the impact assessments have several other uses. They are invaluable data-driven resources that scientists can use to help determine the direction of future research.
"Breeders often emphasize increasing crop yield, but impact assessments have shown that isn't always the feature most valuable in certain communities," Donovan said. "In some cases, high-yield bean varieties don't see high adoption rates in the field because they may not meet consumer needs so the market is limited. By conducting impact assessment surveys, we're able to look beyond single objectives like yield and see the whole picture."
The Impact of Impact Assessments

Impact assessments are especially important for legumes, a crop group historically undervalued despite its significant role in health and nutrition.
"Impact assessments are critically important for showing the value of legumes," Donovan said. "In the past, not showing their impact has done their economic and dietary importance a disservice, and this is a way to correct that."
Studying the role of legumes in national economies has convinced many of their importance.
"Grain legumes are particularly important crops in all the countries I've worked in," Donovan added. "In one form or another, they're key for providing protein and income to humans and nitrogen to soils. Watching the dynamics of the trade and employment sectors of these economies, I realize it's important to develop robust rural economies, and grain legumes are an intrinsic part of that."
This article was published in Futures, a magazine produced twice per year by Michigan State University AgBioResearch. To view past issues of Futures, visit www.futuresmagazine.msu.edu. For more information, email Holly Whetstone, editor, at whetst11@msu.edu or call 517-355-0123.