BIFAD Senior Researcher Award for Scientific Excellence goes to Thom Jayne
Thom Jayne, University Foundation Professor Emeritus, is recipient of the 2021 BIFAD Senior Researcher Award for Scientific Excellence in a Feed the Future Innovation Lab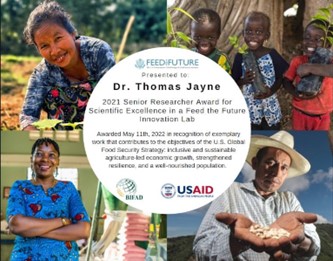 On May 11 2022, the Board for International Food and Agricultural Development (BIFAD) announced the 2021 Senior Researcher Award recipient is Thom Jayne, a University Foundation Professor Emeritus in the Department of Agricultural, Food, and Resource Economics (AFRE), and member of the leadership team for the MSU Feed the Future Innovation Lab for Food Security Policy Research, Capacity, and Influence (PRCI).
David Tschirley, Co-Director of the Food Security Group (FSG) said, "FSG is delighted by this deserved recognition of Thom's outstanding work over the past 30 years." This prestigious honor from BIFAD for scientific excellence in innovation labs recognizes research efforts that contribute to the interrelated and interdependent objectives of the U.S. Government's Global Food Security Strategy: inclusive and sustainable agriculture-led economic growth, strengthened resilience among people and systems, and a well-nourished population.
On receiving the award Jayne said, "Personally, it means a great deal to me to have been recognized by a highly respected group such as BIFAD for having contributed to the success of several Feed the Future Innovation Labs. I've worked on three of them over the past few years, including PRCI and the Food Security Policy IL, and am proud to see what they have done to promote the building of institutional policy analysis capacity in Africa and to have produced research that African policy makers have found useful."
Jayne is recognized for his exemplary economic and policy research on food systems transformation in Africa with PRCI; the Feed the Future Innovation Lab for Policy (FSP); and the Feed the Future Innovation Lab for Collaborative Research on Sustainable Intensification (SIIL). His lifetime of work covers a vast array of topics, including food marketing and price policies, changes in land use patterns, sustainable intensification, employment, and rural transformation. He has mentored dozens of young African professionals and played a major role in building MSU's partnerships with African agricultural policy research institutes. He currently serves as a liaison for the Regional Network of Agricultural Policy Research Institutes (ReNAPRI) and as the Senior Technical Advisor for the MwAPATA Institute in Malawi.
Along with Jayne, Ms. Seerjana Maharjan, doctoral student at Tribhuvan University in Nepal, is the 2021 Student Researcher Award recipient. Maharjan was recognized for her excellent research contributions to the Feed the Future Innovation Lab for Integrated Pest Management (IPM), focusing on the ecology and biological control of invasive weed species in Central Nepal. This fall, BIFAD will host an event recognizing Jayne and Maharjan including presentations on their work.