Changing science: Big data provides impressive potential for ecology research
Michigan State University AgBioResearch scientist Patricia Soranno has been leading efforts to apply big data to her field of expertise — ecology.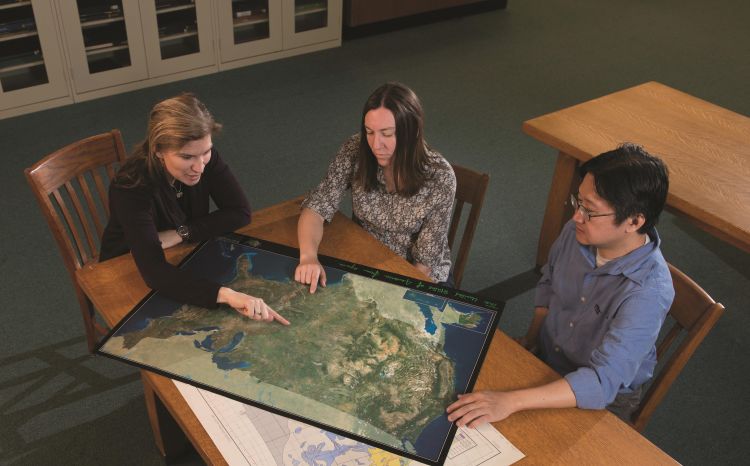 As computer technologies advance and proliferate at an ever increasing rate, places around the nation and the world are becoming linked in ways never before possible.
This new interconnectivity has changed ways of conducting business, government and social interaction, as well as science. Researchers now have access to datasets that span institutions, regions, nations and continents. Collectively termed "big data," these datasets open new levels of scientific analysis and help scientists answer a host of questions, including many about how large systems function and change.
Michigan State University (MSU) AgBioResearch scientist Patricia Soranno has been leading efforts to apply this new big data frontier to her field of expertise — ecology.
"'Big data' is a hot term right now. It's generally defined as data so large that you cannot use the normal tools to analyze or manage it," Soranno said. "In ecology, we're used to dealing with smaller amounts of data, so as the amount of data increases, we have to develop new tools to use it."
Soranno, a Department of Fisheries and Wildlife professor, and her team are at the forefront of a new field called macrosystems ecology, which uses big data to study ecosystems on a massive scale.
Soranno is among a group of researchers around the country who have developed some of the conceptual foundations for the field, recently recognized as an important research area by the National Science Foundation.
"It was amazing [to help develop the conceptual foundations of macrosystems ecology]," she said. "It was really fun to sit down and think of the gaps in the field of ecology and how an approach that takes a continental view of the natural world, harnessing the power of big data, could help fill them."
Specifically, Soranno and her team are looking at freshwater quality in the United States and the factors that influence it.
"For any big data project, you have to start with an important question — otherwise you just get lost in the data," Soranno explained. "We want to understand the problems and extent of water quality issues in the United States, and we also want
to know what controls water quality in different regions."
Before the advent of big data, ecologists commonly studied single sites, such as a specific lake or river. Though that approach yielded incredible insight into one site, a big data approach provides the opportunity to apply the detailed knowledge to entire systems.
"By studying the full range of lakes, we're trying to understand their diversity and why some might be more prone to water quality issues than others," Soranno said. "We advocate that both kinds of studies are important. The single-site studies tell us a lot about how the various parts of the system work together; the broad-scale studies tell us how to extend those results to learn how groups of systems work together."
Bringing big data research into ecology will help researchers track the spread of invasive species such as zebra mussels and Asian carp across waterways and from one freshwater system to another. By studying lake systems as a population, researchers can also gain insight into their significance in larger issues such as climate change and the global carbon cycle.
Interdisciplinary collaboration is a critical element of any big data project, and nowhere is that more clear than in macrosystems ecology. To understand water quality issues across expansive areas, Soranno and her team needed to gather data not only on water chemistry but also on climate conditions, geology and land use change. Collecting such varied data requires a similarly diverse team of experts to properly manage and analyze it.
"In my view, I cannot imagine a big data project that is not interdisciplinary," Soranno said. "One thing that's great about being at MSU and with MSU AgBioResearch is that interdisciplinary science is valued. There have been no roadblocks to conducting our research this way, and I value that support."
One of the unexpected, yet essential developments of the research has been in pioneering ways to improve collaboration and cohesion between teams of scientists across multiple fields. Soranno and her team of 20 researchers have developed and applied teamwork models that help them act collectively rather than individually.
With the team approach perhaps becoming the new norm in science, Soranno and her team serve as a fine example of the next generation of scientific inquiry.
"The media often represent science as a lone endeavor, but the team is crucial," Soranno said. "We found that this really is a different way of doing science than any of us were trained for, and it's been fascinating. It's an intellectually rich place to be."