Blockchain Technology in the Food Industry
Major food companies are already using blockchain to improve traceability, deter fraud, and improve responses to contamination and food borne illness. FDA leadership is required to expand and formalize its use.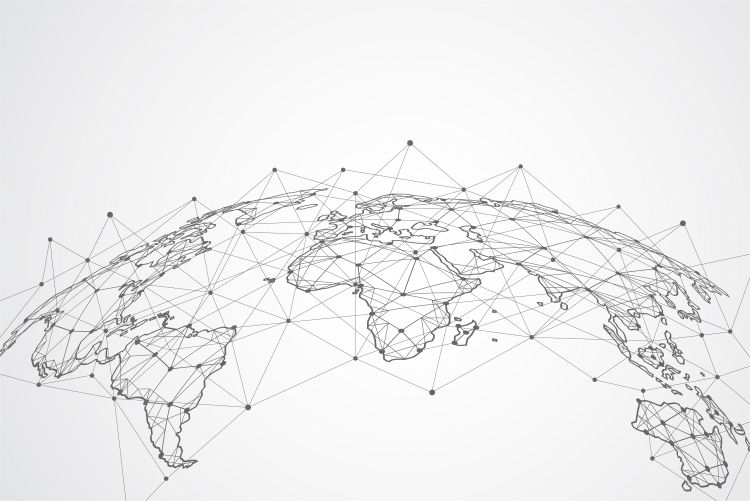 Scott Haskell is a PhD/DVM and food safety expert who teaches the online course "Global Animal Health, Food Safety, and International Trade" each fall semester, and "The Law of the Preventive Controls for Human Food Rule" each spring semester.
Global food supply chain failure has become a catch phrase for supply systems malfunction. Just look at the last two years to see the failure that supply chains have caused the food industry. Blockchain technology (BT) is one tool that could improve future food systems policies, traceability, and the flow and success of these supply chains. BT can enhance consumer trust, production speed, and product efficiency; things the food industry could use right now. BT can substantially improve global food supply chains by enabling faster and more cost-efficient delivery of products, improved supply chain transparency and traceability, upgrade the real-time coordination between trading partners, and substantially ameliorate record-keeping by all concerned parties.
So, what is a "blockchain system"? A blockchain is a digital system for recording trade transactions among multiple trading parties in a tamperproof way. Food supply chains are a perfect fit for this distributed and decentralized system of record-keeping. Blockchain record keeping can allow a vast and unlimited number of trading partners to transact privately, anonymously, and securely. No central intermediary is needed for these transactions to occur. Food supply blockchains can be used to allow trading partners to protect their business operations and the supply chain while instituting better performance, control, and systems security. In more basic terms, a blockchain is a digital "record", maintained by a network of multiple computers.
Generally, this decentralized and robust system is currently utilized within global financial systems. Within such a blockchain, records are a distributed database in the form of encrypted blocks, utilized for transactions or executed digital events between participating partners.
So how can this technology be utilized? The Food and Drug Administration (FDA) in 2020 proposed a New Era of Smarter Food Safety Blueprint to enhance food traceability. To amplify this concept and improve food traceability, many trading partners are looking to expand the use of blockchain technology. Blockchain technology can be utilized to trace a finished or marketable product back to its origin (from 'farm to fork'), with strengthened security. If BT is utilized with IoT (Internet of Things), the entire food supply chain can be tracked almost instantaneously. The IoT/QR code can be scanned and tracked for complete transparency in seconds.
Since the passage of the Food Safety Modernization Act (FSMA), the FDA has worked toward full product traceability. As a FSMA requirement, record keeping for designated high-risk foods is included under section 204(d) Enhancing Tracking and Tracing of Food and Recordkeeping. "FSMA section 204, Enhancing Tracking and Tracing of Food and Recordkeeping, instructs the FDA to develop additional recordkeeping requirements for certain foods to help establish clear tracing of a food product's source when needed to address food safety risks." Technology enhanced tracebacks will allow pinpoint precision at specific sources allowing the removal of problem foods and supplies (recalls). Additionally, 9 CFR Part 86 Animal Disease Traceability requires traceback.
The value of blockchain technology for food supply chain management is enhanced within four specific areas:
Smart contracts between trading partners
Improved product data security
Food supply chain disintermediation
Improved product visibility and traceability
BT technology enables systems to be checked for food fraud and product tampering instantaneously, permits the identification and classification of product waste within supply chains, can rapidly identify food contamination issues, aiding in rapid product recalls, and can improve transit security, thereby reducing food spoilage.
Who is currently utilizing blockchain technology within the food industry? Bumblebee Foods, Tyson Foods, Kraft Heinz, Nestlé, and Walmart all are currently utilizing or testing out BT.
Bumble Bee Foods utilizes BT to record its tuna operations and to improve product traceability while deterring acts of food fraud. Products are traced through the supply chain from catch to sales.
Nestlé utilizes a blockchain approach to enhance product traceability of its Rainforest Alliance certified coffee brand, Zoégas.
Walmart has been utilizing BT to digitize their food product supply chain to enhance Tech-Enabled Traceability and to reduce the time it takes to track the source of food contamination. Walmart requires all trading suppliers of leafy-green vegetables to comply with data record input into a system blockchain platform which can traceback their produce. They now can trace the source of contaminated produce within seconds.
Tyson Foods is using BT management to trace their supply chain from farms to their production facilities. Tyson is currently partnering with a platform FoodLogiQ on a food safety pilot project.
Kraft Heinz is also utilizing blockchain technology with their children's foods division. They are working to implement a traceability system through BT.
Technology is allowing industry to incorporate blockchain into their production systems to enhance transparency and improve traceback. Solution systems like STAMP Supply, and IBM are working with supply chain partners to enhance audit-ability, performance, and transparency.
The USDA's Food Safety and Inspection Service (FSIS) has contracted with IBM to design a blockchain proof-of-concept project. This BT would allow better traceback and management of the FSIS food export certification project.
The European Food Safety Authority supports the Food Safety Market (FSM) program with trace labs to facilitate blockchain adoption. "The FSM aims to transform the European food certification market with the power of Big Data and the support of blockchain technology. The EU-funded FSM project will develop an industrial data platform to give a digital boost to the way food certification takes place in Europe. Specifically, it will build upon state-of-the-art blockchain technologies to create an open and collaborative virtual environment that facilitates the exchange and connection of data between different food safety actors interested in sharing information that is critical to certification. The project will conduct extensive piloting with European providers of inspection and certification services."
China has identified blockchain technology as a key strategic tool in traceback and food safety. The China Animal Health and Food Safety Alliance (CAFA) has adopted VeChain traceability blockchain. "The CAFA currently uses the Food Trust Traceability Program. U.S. poultry producer Cargill divulged that it was tracking "Chicken 2.0" in China on the CAFA platform using IoT/QR codes to provide consumers with information about "the hatchery, farm, production and environment data, certifications and test reports." VeChain stated it intends to use its ToolChain platform to assist the CAFA in "building a from-farm-to-table traceability system" across China by expanding upon the existing Food Trust system.
Finally, Australia has developed blockchain efforts to ensure a transparent food supply chain. Fruit and vegetable exporter Fresh Supply Co's has partnered with SproutX, an Australian based blockchain accelerator, in developing a blockchain powered traceability system that utilizes IoT/QR codes.
Within the United States, the FDA has evaluated BT for the pharmaceutical supply chain. IBM Blockchain announced their "work with KPMG, Merck, and Walmart as key participants in the FDA pilot program in support of the U.S. Drug Supply Chain Security Act (DSCSA) to address requirements to identify, track and trace prescription medicines and vaccines distributed within the United States. The intent of the pilot program was to demonstrate the ability of blockchain to connect disparate systems and organizations in order to record a common view of product traceability. It also showed how it could potentially improve patient safety by reducing the time it takes to alert the supply chain of a product recall from a few days to a few seconds. Today, we are sharing the results of the pilot program which was deemed successful in demonstrating the application of blockchain technology."
Blockchain is an extremely promising tool for food safety and security as it has multidimensional benefits for our industry. BT if used along with secondary tools such as IoT sensors, can establish a rapidly engaged and transparent food supply chain which enhances consumer trust and safety. Many companies have experimented with this new technology and have found success and enhanced capabilities. The next step is to make blockchain technology more economically viable and build industry-wide acceptance from the majority of food producers, supply chain participants, processors, and the government. We must come together and implement a comprehensive plan just as the pharmaceutical industry is doing.
References
Ahmed, I., et al. (2022) A blockchain- and artificial intelligence-enabled smart IoT framework for sustainable city. International Journal of Intelligent Systems 16 Feb 2022 https://onlinelibrary.wiley.com/doi/10.1002/int.22852
Antonucci, F., et al. (2019) A review on blockchain applications in the agri-food sector I Journal of Science of Food Agriculture 99: 6129–6138 https://onlinelibrary.wiley.com/doi/10.1002/jsfa.9912
Bouzembrak, Y., et al. (2019) Internet of Things in food safety: Literature review and a bibliometric analysis. Trends in Food Science and Technology Volume 94, December 2019 pp 54-64 https://www.sciencedirect.com/science/article/pii/S0924224419303048
FDA (2021) New Era of Smarter Food Safety Blueprint https://www.fda.gov/food/new-era-smarter-food-safety/new-era-smarter-food-safety-blueprint
FDA (2020) Tracking and Tracing Food https://www.fda.gov/food/new-era-smarter-food-safety/tracking-and-tracing-food
FDA (2020) DSCSA Blockchain Interoperability Pilot Project Report
Federal Register (2020) Requirements for Additional Traceability Records for Certain Foods https://www.govinfo.gov/content/pkg/FR-2020-09-23/pdf/2020-20100.pdf
Qian, J., et al. (2020) Food traceability system from governmental, corporate, and consumer perspectives in the European Union and China: A comparative review I Trends in Food Science & Technology 99 (2020) 402–412 https://www.sciencedirect.com/science/article/abs/pii/S0924224419305734?via%3Dihub
Zach, L. (2016) 13 - Legal Requirements and Regulation for Food Traceability in the United States. https://www.sciencedirect.com/science/article/pii/B9780081003107000132?via%3Dihub