Department of Agricultural, Food, and Resource Economics (AFRE) graduate student Greg Boudreaux was selected to attend the Inter-Policy School Summit at The University of Chicago Harris School of Public Policy — a student-run public policy conference in which students from around the world gather to discuss and strategize solutions to global issues.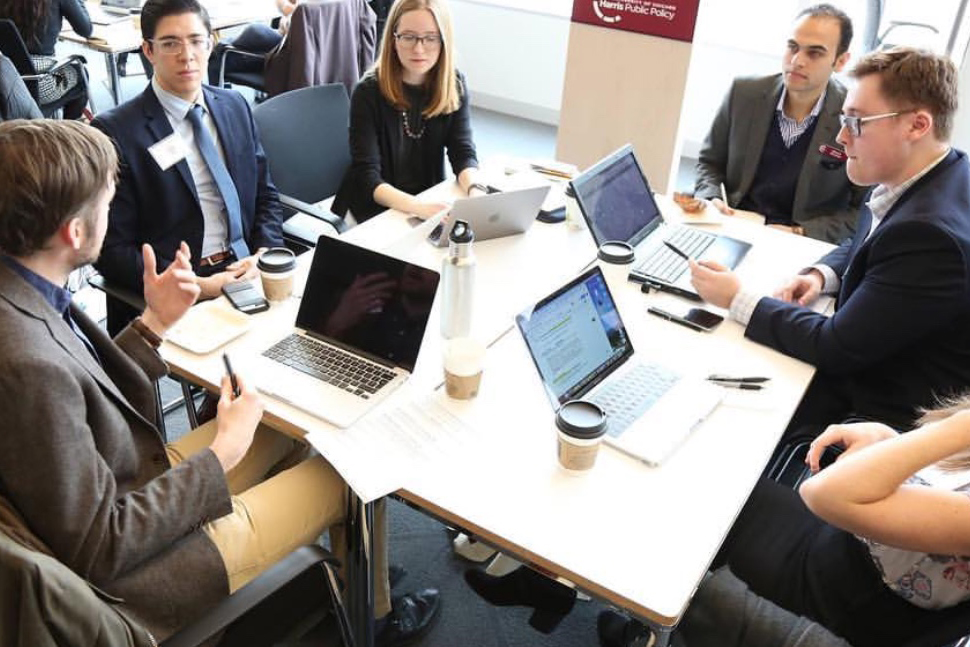 Boudreaux with his conference group working on climate solutions.
"This conference addresses climate change as an issue of national security, which we hope will reframe the climate debate in a more politically palatable way," said Boudreaux. "Climate change is a problem which will affect agriculture, conflict, migration, and health around the world — so it makes sense to think of it with the same earnestness with which we would address any other security threat."
For three days, Boudreaux collaborated with other graduate students studying environmental challenges from a variety of different disciplines and viewpoints.
"I loved meeting and learning from the other participants and hearing how their different academic experiences and skill sets have led them to think about how to address climate change," said Boudreaux. "I really enjoyed hearing the perspectives of participants from other countries which may be affected by climate change in different ways than those we're used to here in the U.S."
Originally from Kansas City, Boudreaux came to AFRE to study environmental and resource economics after obtaining a Bachelor's degree in economics from Loyola University, Chicago, and hearing about the program from an AFRE alumnus.
"I applied for an undergraduate research fellowship, and began to work on that with Loyola professor Max Melstrom, who is an AFRE alum," said Boudreaux "Max turned me on to the work of his Ph.D advisors, Frank Lupi and Rick Horan, and I applied to AFRE in order to work with the group of environmental and resource economists here. "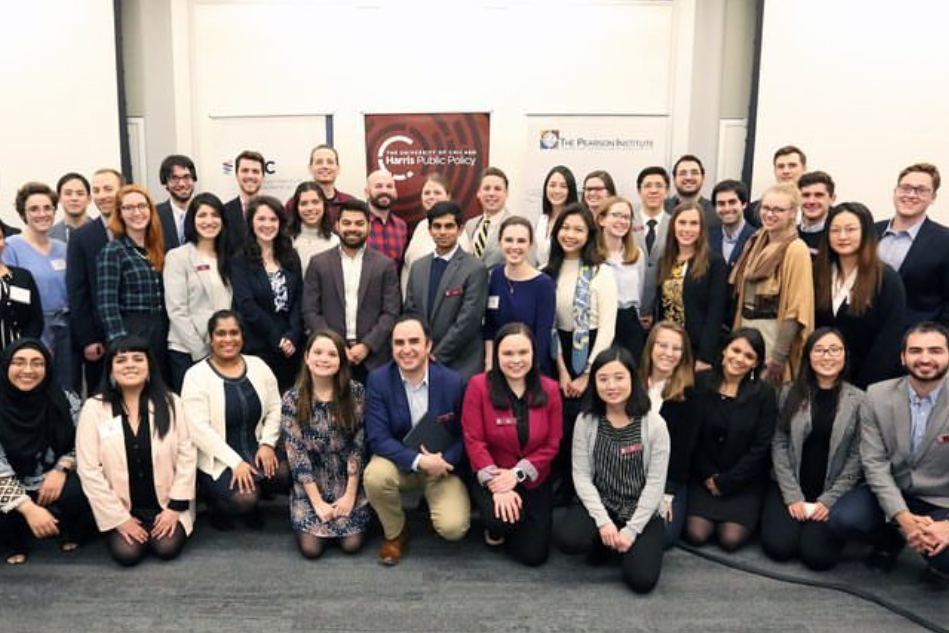 Boudreaux with the 2019 conference attendees.
Now a research assistant for AFRE's Frank Lupi, Boudreaux is finding new ways to look at global challenges.
"Studying environmental issues through an economic framework forces you to address so many interesting questions," said Boudreaux. "I love thinking about what environmental problems lend themselves to being managed my market mechanisms, which don't, how we ascribe economic value to these nonmarket environmental goods, and how public policy can address environmental management questions when markets cannot."
After graduating, Boudreaux plans to dive into policy, consulting, or research, with hopes of continuing his education with a doctorate.
"I think it's incredibly important to be able to pragmatically analyze real-world problems like those encountered when thinking about environmental management and climate change," said Boudreaux. "And I'd like to continue pushing toward solutions to those problems with grounded research and collaboration."
Learn more about Greg Boudreaux and the IPSS conference.