Brown marmorated stink bug update for Sept. 13, 2019
Fruit and vegetable being monitored for brown marmorated stink bugs in southern Michigan have a significant increase in numbers this week. Include this pest in your management plan in susceptible crops.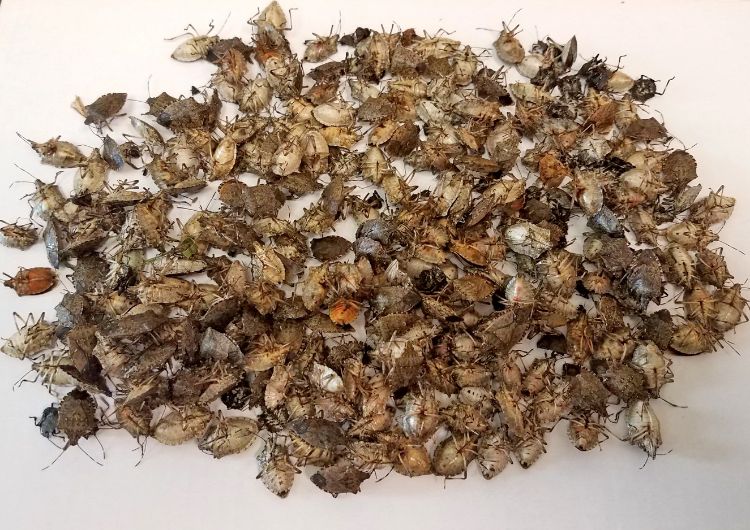 This is the first brown marmorated stink bug update for the 2019 season. Until this week there has been very little to report. Compared with last season, the number of brown marmorated stink bug nymphs or adults caught in traps in fruit and vegetable farms has been low (see graph). Monitoring began in June in southern Michigan and July in northern Michigan. Michigan State University Extension monitors over 60 sites across fruit and vegetable production areas in the Lower Peninsula. Over the past week, the number of brown marmorated stink bugs caught jumped significantly at a number of the sites we are monitoring in southern Michigan (see photo).
Some scouting reports indicated that the native green stink bug has been abundant in some areas this season. Feeding damage by brown marmorated stink bugs or our native stink bugs is indistinguishable.
In apples, damage by stink bug feeding may also be confused with bitter pit or apple maggot damage—see "Look-a-like late season apple damage by bitter pit, brown marmorated stink bugs or apple maggot" from MSU Extension. Knowing which apple cultivars are prone to bitter pit and how it manifests (i.e., usually on the lower half of the fruit) helps distinguish it from other damage. Actively monitor for apple maggots also. Apple maggots are returning as an important pest in some areas, but populations of this pest can be really spotty.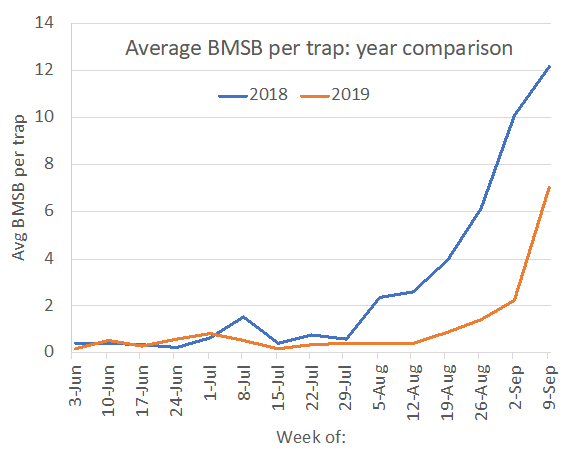 The reason why brown marmorated stink bugs have been so late in appearing in traps this season may be due to the long, wet spring that delayed planting of field crops. We know that brown marmorated stink bugs tend to move out of soybeans as they dry down and into favored fruit and vegetable crops nearing harvest. This year, the late planting date delayed the maturity of field crops.
When making your pest management plans for the remainder of the season, consider using tools that are effective against brown marmorated stink bugs, especially where brown marmorated stink bugs have been abundant in the past. Fruit growers should consult the "2019 Michigan Fruit Management Guide" (bulletin E154) for insecticides options. Vegetable growers should consult the "Midwest Vegetable Production Guide."
For more information about how to manage this pest in orchards, download the free "Managing Brown Marmorated Stink Bug in Michigan Orchards" guide updated July 2018. The StopBMSB.org website is also a good resource for information on all crops that may be affected by this pest.