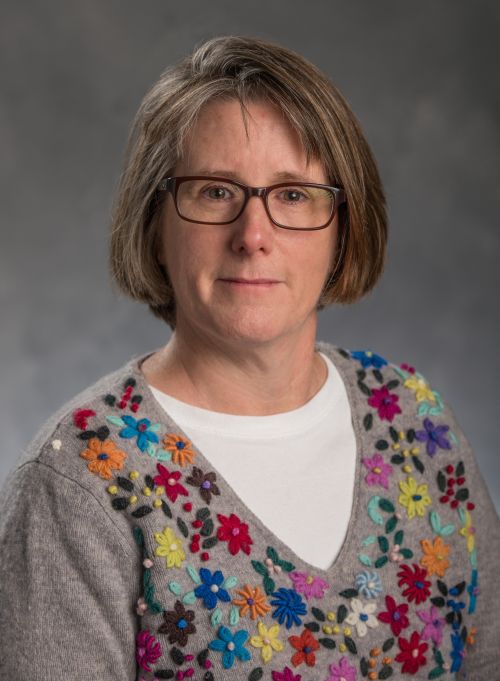 EAST LANSING, Mich. – C. Robin Buell, Ph.D., professor in the Michigan State University (MSU) Department of Plant Biology, was recently honored as a University Distinguished Professor.
The recognition is awarded by the MSU Board of Trustees to honor select faculty whose achievements "are nationally and, generally, internationally recognized for their importance … have superior teaching skills that encompass the breadth and depth of their discipline; a distinguished record of public service; and scholarly, creative and artistic achievements."
"It's really exciting (to receive this honor)," Buell said. "I think it's really a recognition of the work I've done here, both research and teaching. It's also a recognition of the community here, so it's quite an honor. It's very humbling, because there are many people here at the university deserving of this award."
Doug Buhler, Ph.D., director of MSU AgBioResearch, said Buell's contribution to the university's team of researchers is "an excellent example of one of our world-class scientists working to address real-world problems that is at the core of AgBioResearch."
"Robin is an excellent combination of researcher, collaborator, mentor and leader," Buhler said. "She exemplifies the model of what we need in a scientist and citizen of a 21st century land grant university. Her record speaks for itself, sustained excellence throughout her program and a great impact on science."
Buell joined MSU's Department of Plant Biology in 2007. Her research focuses on "the genome biology of plants and plant pathogens, including comparative genomics, bioinformatics and computational biology."
"Congratulations to Dr. Buell on this well-deserved recognition," said Phillip Duxbury, MSU College of Natural Science dean. "Not only is she an exceptional researcher and scholar known nationally and internationally for her work; she is an effective and highly respected leader and collaborator in her field and an outstanding mentor to our students and early career faculty members."
Buell has a research group composed of postdoctoral research fellows, research assistants, graduate students, undergraduate students and high school interns and collaborates with scientists across the United States and throughout the world. She said teaching and her research collaborations are the most fulfilling aspects of her career.
"I teach a graduate-level class," she said. "Students say it's a hard class, but one of the best they've ever had. I really enjoy teaching this course, because they go from being naive graduate students to being able to critique literature, to understand how science research is done, learn how to put a proposal together and to understand how to converse about science and how to challenge science. I also especially enjoy mentoring the people in my lab – the staff, students and post-doctorates. It is very rewarding."
Buell's work has included genome research on rice, potato, maize, switchgrass, sweet potato, mints and medicinal plants. She is currently studying the genomics of catnip and learning how it affects the behavior of cats. She was a member of the Rice Genome Annotation Project that generated the rice genome sequence and developed a public database for rice researchers that receives over two million visits each year from scientists across the world.
She has served as an editor at Plant Physiology, The Plant Genome, Crop Science, Frontiers in Plant Genetics and Genomics, and Plant Cell.
She is a fellow of the American Association for the Advancement for Science and the American Society of Plant Biologists, a Michigan State University Foundation Professor and a Michigan State University William J. Beal Distinguished Faculty. At MSU, she is a member of the Plant Breeding, Genetics, and Biotechnology Graduate Program, the Genetics Graduate Program, the Cell & Molecular Biology Program, the Plant Resilience Institute, and MSU AgBioResearch.
Buell said she appreciates MSU recognizing the achievements of its faculty.
"I think MSU is a great place, and it's nice the university steps back and honors people," she said. "What's important to remember, is this is not just an award for me, it's for all the people that work with me. It's always a team effort."