Bugged newsletter on entomology during summer 2021
The Entomology Department is thriving with selection of a new chairperson and programs that continue to grow. Read about our department members' successes and more in this issue of Bugged.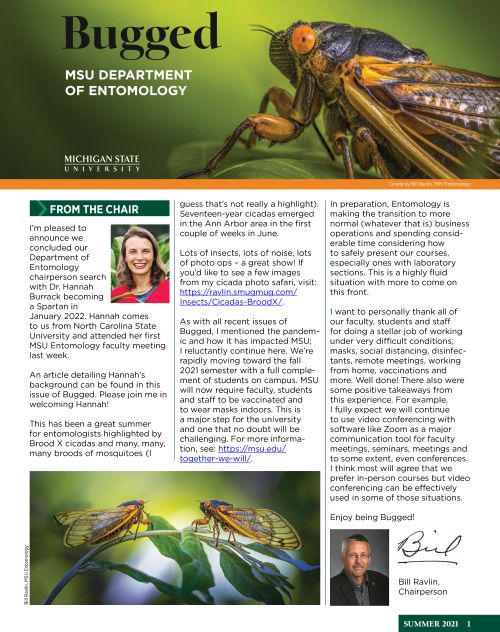 As summer winds down, our department continues to excel with grants and programs. Here are the efforts and news featured in this Summer 2021 issue of Bugged:
Meet Hannah Burrack, our new chairperson beginning January 2022. Welcome, Hannah!
Learn about Henry Chung and Amanda Lorenz's innovative plans to integrate research and Bug House outreach through funding from the National Science Foundation.
Read about our department award recipients who excelled in a year full of pandemic driven challenges. Congratulations to each one of them.
Find out why undergraduate student Kelly Holsinger favors remote learning as her preferred way of learning.
Read our interview with Omar Posos-Parra who describes how his childhood prepared him to seek graduate studies in entomology and what it was like to drive to East Lansing from his home in central Mexico.
See how Christie Bahlai's entomology research and her connections made as an MSU postdoc have contributed to work honored with a National Science Foundation early-career award.
Meet the fellows participating in our new initia­tive, Entomology Research and Outreach Fellowship (EROF), this summer. The program, created by our graduate students, aims to promote diversity, equity and inclusion by creating research opportunities with insects, nature and science.
That's just a sampling of what we have to share. Get all our summer news at: bit.ly/bugged08-2021
When you need a break from reading, check out our Bug Talk podcast (details at bugtalk.buzzsprout.com) and our professionally produced video series "Small Organisms, Epic Possibilities" (bit.ly/MSUentoYouTube). It's a fascinating time to be an entomologist!