Cold damage to grapevines: A tale of two regions
Recent severe cold damage to grapevines highlights opportunities for new improved production systems and classic "spare parts" viticulture.
Of the top 10 grape producing states, Michigan is unique in that it specializes in diversity. In fact, according to the most recent USDA National Agricultural Statistics Service survey, across the state of Michigan there are 11,000 acres of Native American juice grape cultivars (5,600,000 vines), 900 acres of cold climate wine grape cultivars (670,000 vines) and 2,150 acres of European wine grape cultivars (2,130,000 vines), totaling 13,100 acres of grapes grown in the state. American, cold climate and European cultivars differ in their ability to resist cold temperatures, so depending on the cultivar, this past winter and the Polar Vortex it brought was either gentle or brutal to their grapevines.
This article earned its title because of how the statewide January cold events damaged southwest Michigan American Viticulture Areas (AVAs) much more severely than those in the northwest. So, for some it is unfortunately the worst of times and, for others, the best of times.
Through statewide temperature analysis detailed in this February 2019 Michigan State University Extension article, "Recent extreme cold events produced varied temperatures with varied results in Michigan's viticulture areas," we were able to see temperatures were, somewhat counterintuitively, much lower in southwest Michigan than in the northwest during the cold events on Jan. 21, 30 and 31, 2019. This led us to predict that the most severe damages will be seen in the Fennville and Lake Michigan Shore American AVAs in southwest Michigan where in some locations, temperatures remained below -11 degrees Fahrenheit for nearly 19 consecutive hours.
However, it was not until very recently that most grape producers were able to assess vines and determine the apparent damage in their vineyards. The incidence and severity difference of cold damage between the two grape producing regions are stark.
Tale of the southwest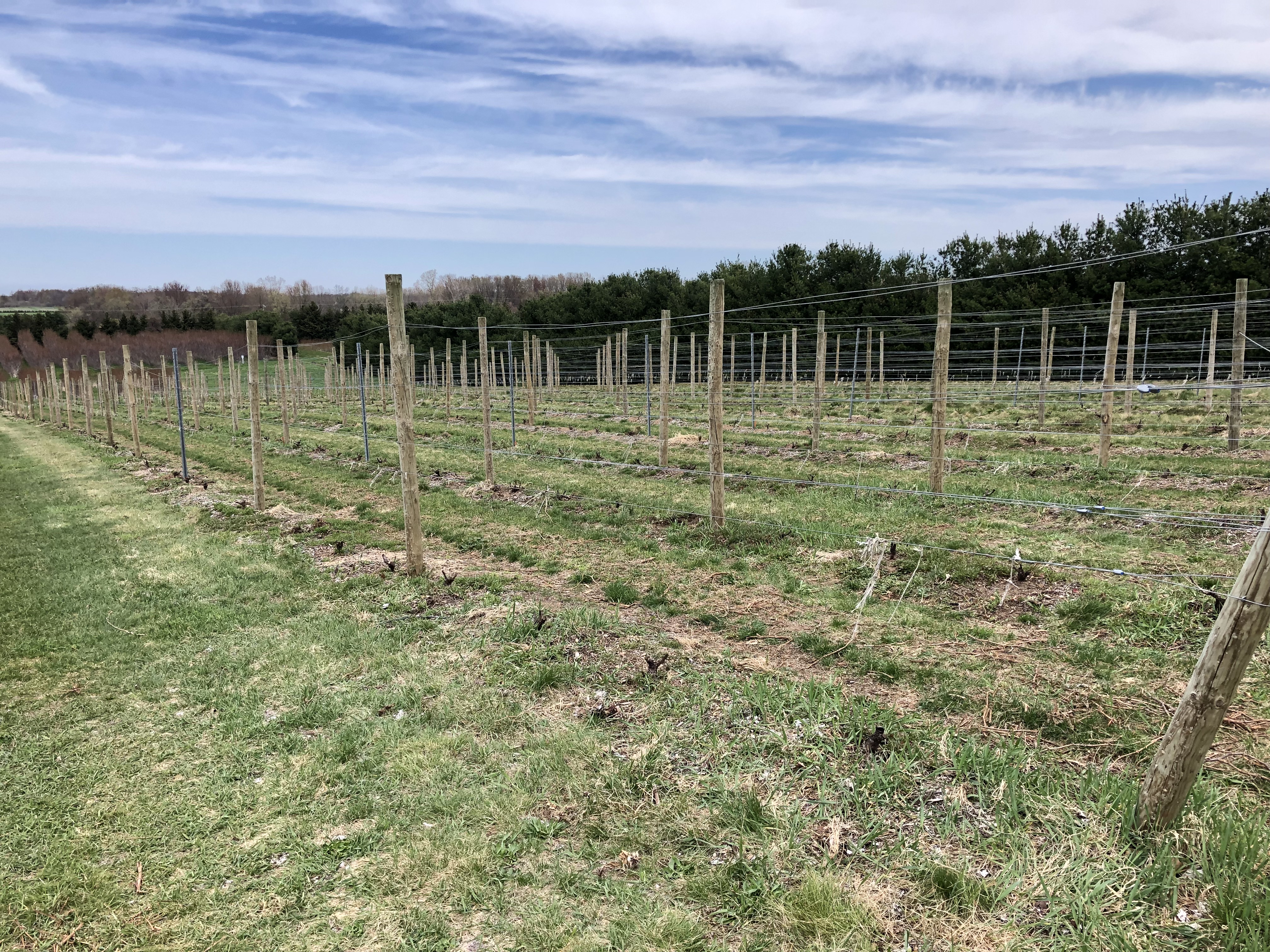 In particular, vineyards in the southwest region of the state implement a system of grape production known as mixed or varied viticulture where the relatively warmer growing season and colder dormant season guide the production of both Native American juice grape cultivars (Vitis labrusca, e.g., Concord and Niagara) and wine grape cultivars which, due to different cold hardiness levels, can be split into two main groups: the cold tender European (V. vinifera, e.g., Riesling, Cabernet franc and Pinot gris) and cold hardy inter-specific hybrid cultivars also known as cold climate cultivars (V. vinifera x V. rupestris x V. aestivalis, e.g., Vidal blanc, Seyval, Foch, De Chaunec, Chambourcin).
In the areas of highest juice grape acreage (9,930) and production in southwest Michigan AVAs, there are reports of variable, but in some locations severe, bud damage, most notably in Niagara grown in low sites with a wide range of 15-75% primary bud damage with 25% of total Niagara acreage expected to see trunk damage. So, 2019 may be a convenient year to renew Niagara trunks and cordons. As expected, there have also been reports of relatively lesser bud damage in the more cold-hardy Concord with a wide range of 10-50% primary bud damage and minimal trunk damage expected only on lower, colder sites.
Work from former MSU viticulture specialist Tom Zabadal focused on larger trellis systems and mechanization for juice grapes, specifically Concord in southwest Michigan. Yields increased by extending the trellis height to 7 feet to produce about 10-12 tons per acre. Costs were significantly decreased by using a tractor-mounted mechanized pruner (Photo 1). In situations where Concord cordons need to be retrained or replanted, 2019 may be a convenient year to invest in a larger trellis system and mechanization.
In the areas of highest wine grape acreage (1,070) and production in southwest Michigan AVAs, there are reports of variable levels of primary bud damage depending on species, cultivar and site. For example, the cold climate cultivars vary in their ability to resist cold damage, so cultivars like Foch, La Crescent, Frontenac and Marquette, aptly named super-cold hardy, are predicted to sustain minimal primary bud damage (0-15%) and even less trunk damage. However, cold climate cultivars like Chardonel, Seyval and Traminette, which are not in the super-cold hardy class, are likely to sustain significantly greater primary bud damage. Fortunately, many of these cold climate cultivars have very fertile secondary buds and, depending on many factors, have the potential to produce 75% normal crop. This means 2019 may be a convenient year to renew trunks and cordons on these cold climate cultivars.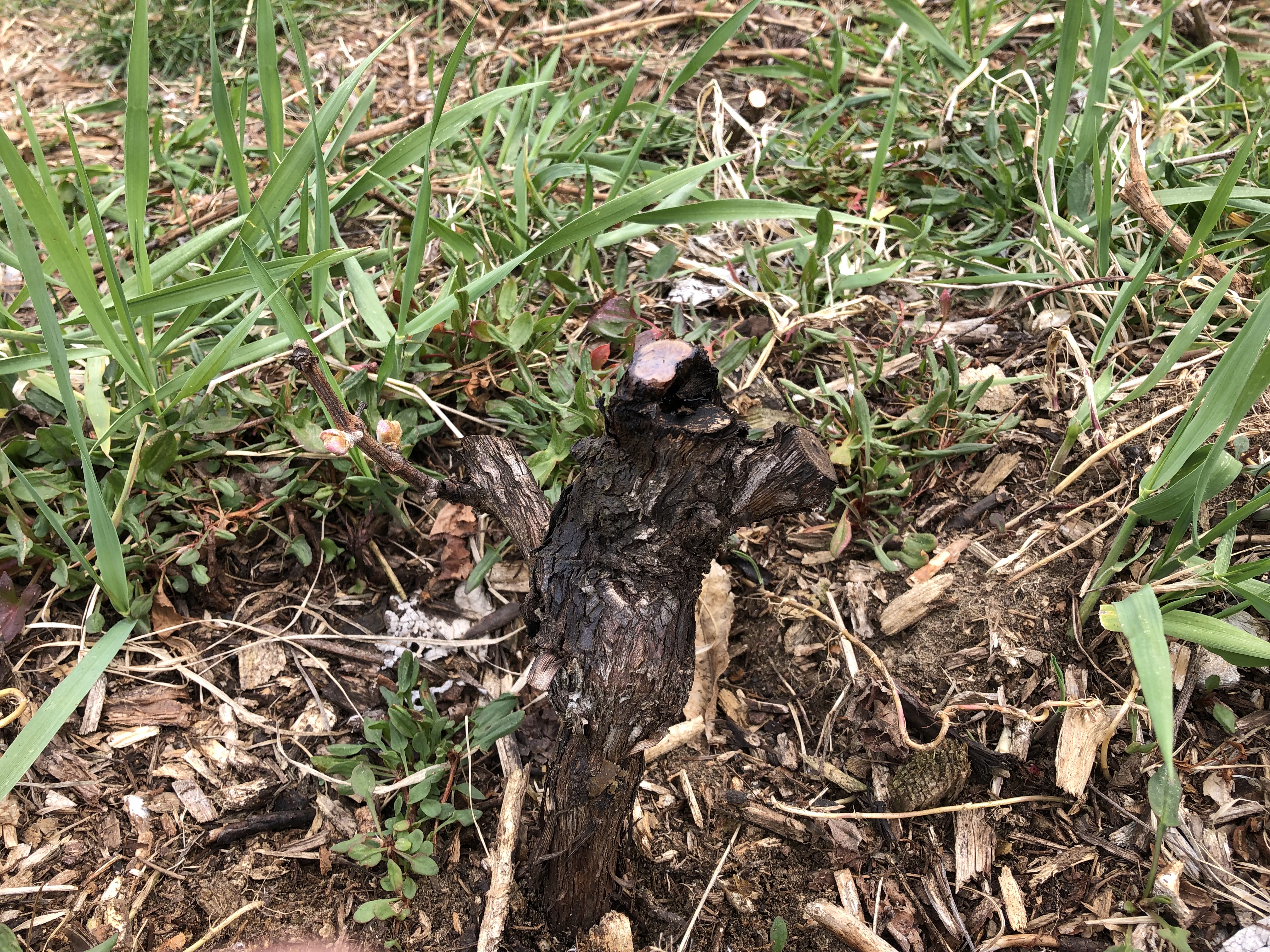 Unfortunately, reports of significant and devastating cold damage to V. vinifera cultivars, the most cold tender species in Michigan's grape production, have come in from the southwest AVAs. Due to the repeated cold events, characterized by a rapid decrease to extreme low temperatures and the lengthy duration of the cold, southwest Michigan has sustained significant vine dieback with entire V. vinifera vineyards damaged to the snowline, and in some cases, complete vine death.
Across roughly 700 acres, this cold damage is causing growers of these cultivars to adjust their plans for this year to focus on vineyard recovery by retraining grapevines from the trunk base (Photos 2 and 3). This process depends on how many viable buds are located at the trunk base, more viable buds will release shoots this spring, become canes in the fall and provide material to establish a renewed trunk and possibly cordon. In this situation, ideally the grower would have implemented "spare parts" viticulture where they have multiple trunks and retain spurs at the trunk base as "insurance" for trunk renewal and vineyard recovery. In this situation, it is recommended to retain all shoots that originate from the trunk base to give the grower excellent options for cane selection.
Another method to protect vine material is cane burial where canes are laid down and fixed to the vineyard floor in the fall to be covered naturally by the snow or by hilling up snow or soil with a plow, thus burying and insulating the cane from damaging low temperatures. In fact, a southwest Michigan grape producer buried canes of his V. vinifera grapevines and is anticipating 60-75% normal crop this year. Currently, Native American and cold climate grape cultivars are in the large bud swell stage of development while European cultivars are slower to break dormancy. Historically, the phenological development of grapes grown in the southwest region is two to three weeks earlier than those in the northwest due to earlier and greater heat accumulation.
Tale of the northwest
In the northwest and north regions of the state, vineyards implement highly specialized viticulture where the relatively cooler and drier climate is especially suited for wine grape production. This is why these two regions, comprised of three AVAs—Leelanau Peninsula and Old Mission Peninsula in the northwest, and Tip of the Mitt in the north—support the highest concentration of wine grape acreage (1,810) in the state. Leelanau and Old Mission Peninsula AVAs specialize in European (V. vinifera) production while Tip of the Mitt AVA focuses on cold climate cultivars.
Bud cold damage reports from the northwest AVAs are as varied as the sites they are grown on with V. vinifera Riesling, Cabernet Franc and Merlot sustaining 0-33% primary bud damage with no expected trunk damage. In Tip of the Mitt AVA, super-cold hardy cultivars (Frontenac, La Crescent, Marquette) are reported to be doing well with minimal primary bud damage observed and no worries of trunk damage.
In response to this type of relatively light damage, the three northern AVAs will be conducting normal pruning. To maintain crop levels, vineyards with more damage may be pruned to a higher bud number per vine to compensate for bud damage. Currently, cold climate and European cultivars are in either still dormant or the small bud swell stage of development. In most vineyards, pruning has been completed, which will be followed by tying canes to the fruit wire (Photos 4-6).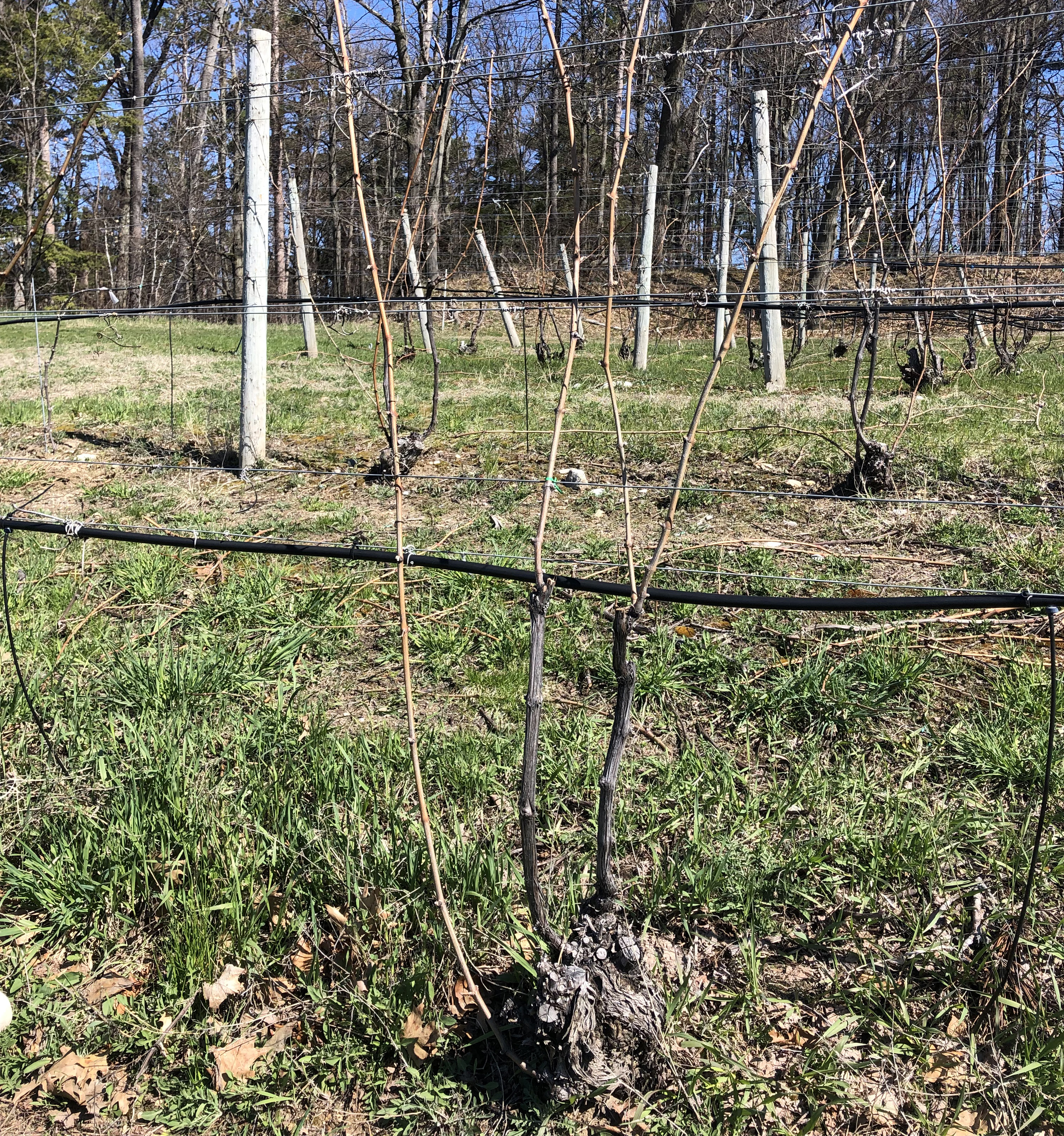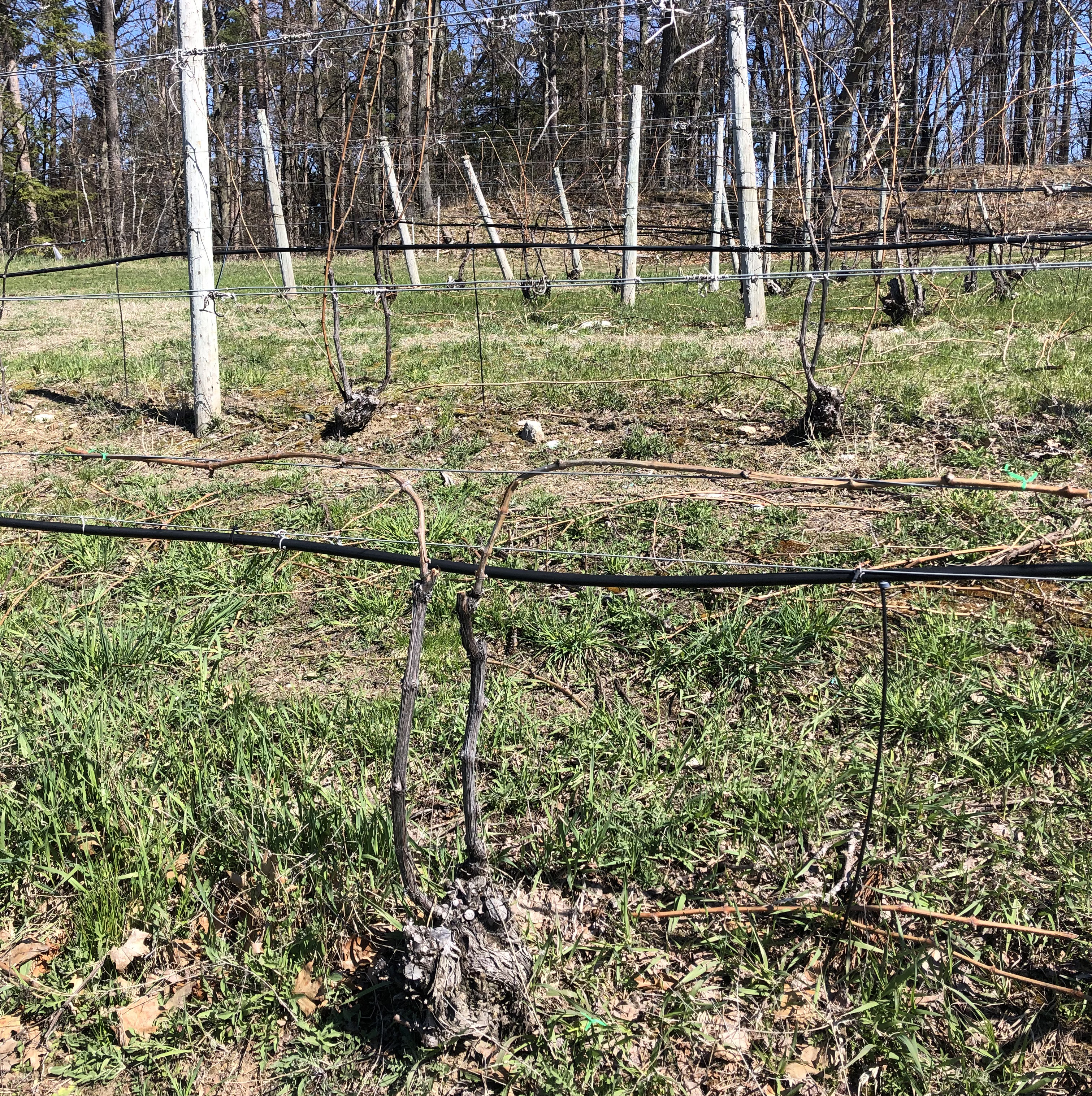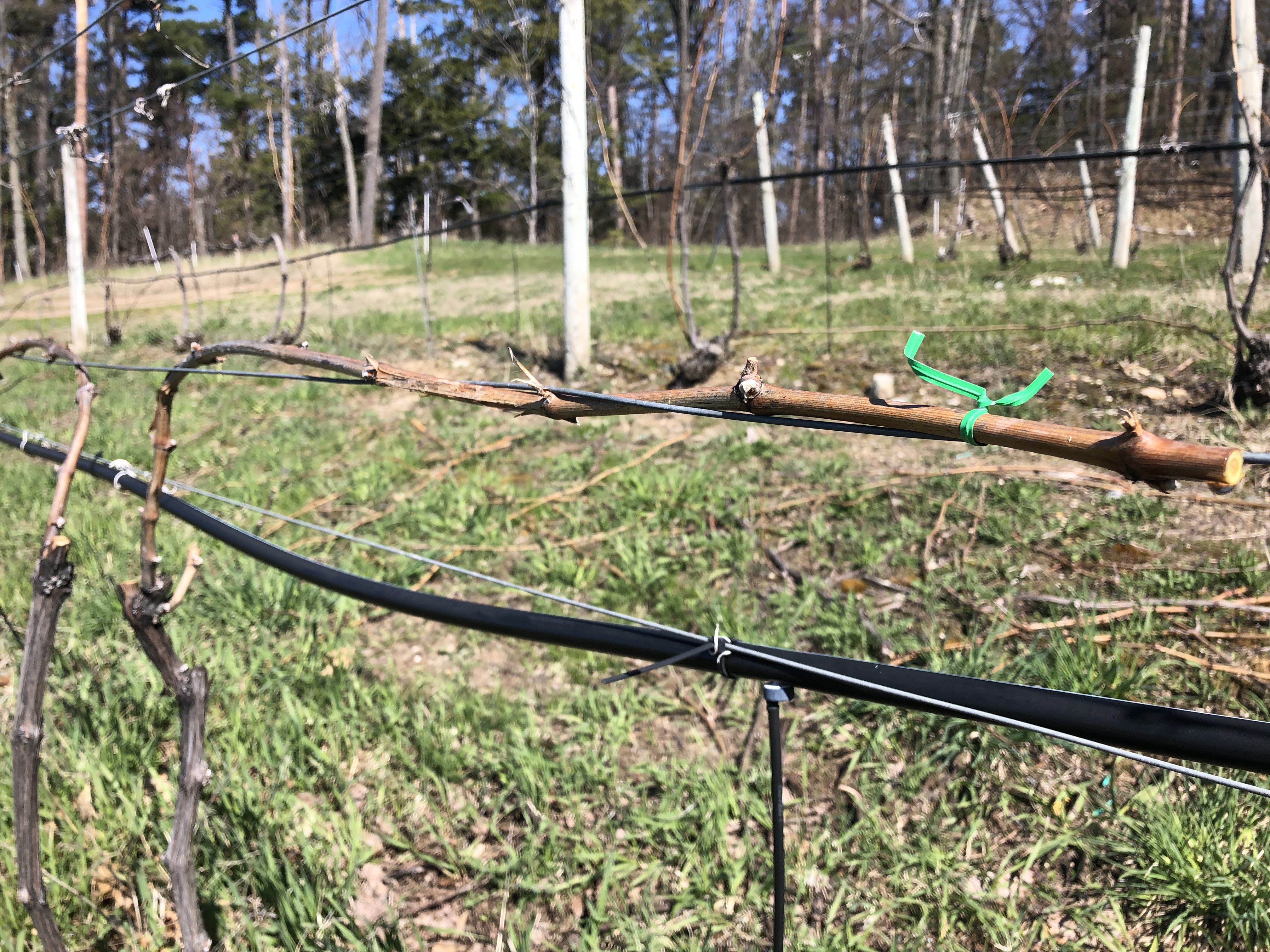 Summary
Michigan is a large state with diverse viticulture production systems and climates. The apparent statewide damage is known but it is still too early to determine the extent of the real damage. If there are damages to grapevine trunks, then we will see what is known as "summer collapse" where damage to the grapevine water transport system is too extensive to repair itself and fails to transport water from the soil throughout the plant efficiently enough to support vegetative growth and fruit production.
The unpredictable, extreme damaging winter temperatures during the past six years (2014, 2015, 2019) in Michigan vineyards and others in Midwest states have demonstrated that vineyard productivity and sustainability is directly related to matching the cultivar with the site, employing protective practices such as "spare parts" viticulture (Photos 7-10) and cane burial as insurance vine material, and, in some cultivars, managing the crop to avoid undue stress and allow the grapevine to acclimate to the cold weather properly.
These practices provide the best chance of maintaining annual fruit production. Unfortunately, these added practices add to overall costs and must be addressed on an individual grower basis. This will be a convenient year for grape producers of all types (juice and wine) across the state to assess their cultivars, sites and practices to determine how to avoid future severe cold damage, mitigate cold damage and, most importantly, better position themselves for consistent annual fruit production.