Congratulations to the 2022 MSU Organic Farmer Training Program graduates!
Eleven beginning and aspiring farmers write business plans, visit 26 farms, and learn hands-on farming skills.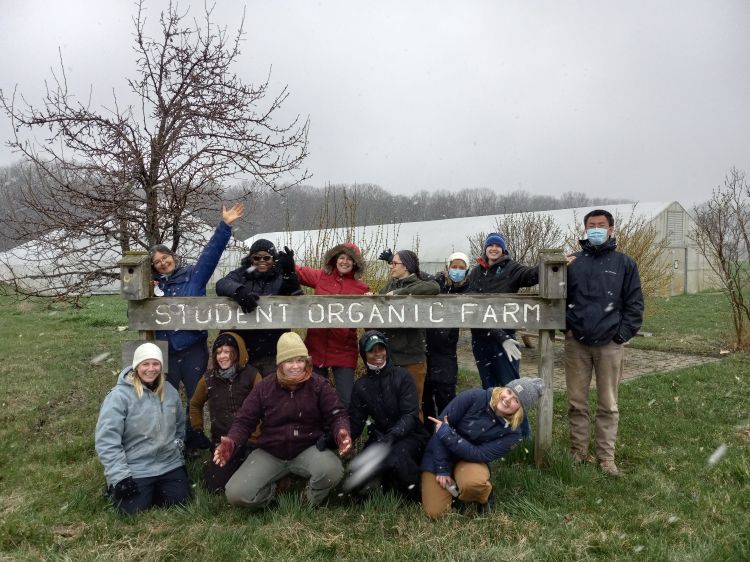 This November, 11 beginning and aspiring farmers earned certificates in organic farming by completing the Michigan State University's Organic Farmer Training Program (OFTP). Each graduate wrote a farm business plan, visited over two dozen sustainable farms throughout Michigan and built skills through hands-on farm activities.
"Class each week was a much-needed dose of optimism and the knowledge and connections to make my vision a reality." 2022 OFTP Graduate
Another graduate made a video about the experience.
Here is a glimpse at each of the farmers as they embark on their new endeavors!
Angie Bruder

has been an avid gardener who has helped the Grand Rapids Parks Department to transition several parks to Integrated Pest Management (IPM) and low- or no-spray management and is volunteering with H.O.P.E Gardens schoolyard gardens. She is planning to create "You Can Grow It" Adventure Camps for children in Hudsonville as a model of the abundance possible in a suburban yard.

As a Food & Farm Fellow at the University of Michigan Campus Farm,

Becca Harley

has managed farm workers, soils, crops, and marketing to grow food for student dining halls, a farmstand on campus and to increase access to food through the Maize and Blue Cupboard. She hopes to use farming as a vehicle for community engagement in food sovereignty and youth education.

Imoni Brown-Williams

founded Girls Tribe to empower youth through nature and gardening activities at For-Mar Nature Center in Flint. She grew her first crops in 2022 and plans to expand to a youth-led project where kids grow and sell transplants and produce.

Jackqueline Lindsey

is a Detroit Public Schools teacher who has developed STEAM curriculum for raised-bed gardening, aquaponics and indoor growing that meets educational standards. She has worked with the Detroit Black Farmers Land Fund and the Detroit Land Bank to access vacant lots to start her own farm, Sol Garden Creations.

Kelsey Middlemiss

has worked at farms in New Zealand and Australia, a school farm in Iowa and has done ecological restoration work at a native plant nursery, as well as in the field. She is planning to start a collaborative homestead farm with an Adventure Playground in the Traverse City area on land owned by her wife's family.

As founder of

Roots & Sky

,

Lisa Krause

offers permaculture design services and quality soaps using herbs from her urban homestead in Detroit. She plans to start a farm in northwest Michigan to expand to offering workshops on permaculture, folk arts, and homestead skills.

Meaghan Lemon

has begun work to transform 40 acres of alfalfa into an environmentally sustainable farm and homestead through the Living Building Challenge. In 2023, she will be building a strawbale home and starting on farm infrastructure and trial gardens to eventually expand production and offer on-farm education.

Melissa Wilcox

worked for years in early childhood administration in Chicago and has returned to her roots in Dansville to the family farm. She is continuing the family tradition of making farmland better by building a small farm-based conservation business. Wilcox is passionate about providing land opportunities for others and is seeking out farmers to lease acreage for their own farming ventures.

Molly Davies

is a dietitian who is planning to start her own farm in the Detroit Lakes region of Minnesota. She plans to spend a season working for local farms in that region as she begins work on her own site.

Sara Hunter

owns Hunter Glen Farm near Grand Blanc, where she manages conservation plantings, lavender, and vegetable crops in a hoophouse and outdoor fields. She hopes to add a farmstead bakery as a social enterprise offering job training for people on the autism spectrum.

Zhigang Tie

owns Tieg Farm, where he grows and markets 2 acres of vegetables to Asian American communities in Southeast Michigan through WeChat, an online store and seven delivery sites. Tie grew up farming in Northeast China and is now using those skills, as well as what he learned in OFTP, to expand the farm with a hoophouse and eventually a farm-to-table restaurant.
Congratulations to these new farmers on joining a group of over 200 OFTP graduates, many of whom are actively farming or leading educational gardens or other farm and food system projects here in Michigan.
Each graduate also deserves recognition for their commitment to learning throughout OFTP. Through a mixture of activities in the field and classroom, each OFTP graduate learned how to grow crops from managing soils to planting, weeding, pruning, trellising, harvesting, and storing a variety of vegetables, herbs, and fruits. With these shared experiences, participants were able to combine their skills of ecology and business planning in a learning community to both benefit from and contribute to class discussions, which is what makes the OFTP so unique. A 2022 graduate stated that, "My whole year has been transformative and inspiring" and added that "All of our collective wisdom and experience" will be a major influence on her future farm.
The 2023 Organic Farmer Training Program has expanded to offer participants a choice of on-farm learning at the MSU Student Organic Farm in East Lansing or at Keep Growing Detroit. The full learning community will join online learning and field trips to sustainable farms throughout Michigan. To apply or learn more, visit MSU Extension. Email oftp@msu.edu with questions or to find out if the OFTP might be the right fit for you.