Continuing a family legacy of agricultural education
Agriculture, Food and Natural Resources Education student Makenna Schwass shares about her passion for agriculture and her family's history at MSU.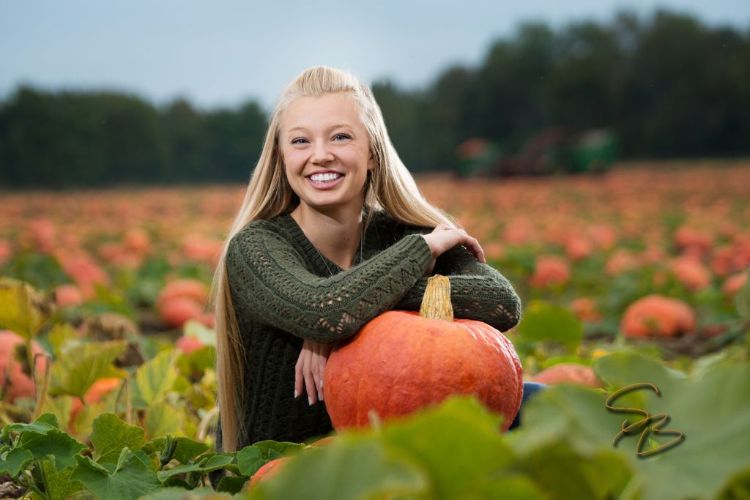 Makenna Schwass chose the Agriculture, Food and Natural Resources Education (AFNRE) major because she wants to inspire her same passion for agriculture in future generations.
She follows a line of family members who studied in agriculture-related programs at MSU, including her grandparents, dad, and older brother.
Makenna's interest in sustainability and agriscience was supported by her high school agriscience teacher and MSU alumna Jorhie Beadle. Kenna is looking forward to teaching in her own classroom after she graduates, and has loved all of the opportunities she's had to learn from other agriculture educators and students.
Read more about Kenna's experience in the AFNRE major below!
Hometown:
Scottville, MI
Major:
Agriculture, Food and Natural Resources Education (AFNRE)
Minor:
Biology
Expected graduation date:
May 2021
Why did you choose Agriculture, Food and Natural Resources Education?
I chose this major because I am passionate about agriculture and feel that I can inspire that passion in others. I want to teach people about agriculture and encourage them to take an interest in it, even if they don't choose to pursue a career in ag but just want to learn where their food comes from.
Who or what inspired your interest in sustainability?
My high school agriscience teacher, Jorhie Beadle, inspired me to pursue this career and has helped me with so much along the way. She encouraged me to get involved with FFA and my home agriscience program when I was in high school. Jorhie's excellent teaching style and suggestions ultimately led me to pursue a career in ag education.
What has been one of your best experiences within your major so far?
Some of the best experiences I have had within this major include seeking out the opportunities to do observation hours at agriscience education programs around Michigan. Watching and observing both students and teachers in a setting similar to my future classroom gave me such reassurance that this was the correct path for me.
What are your future plans?
My future plans are to graduate this coming May, and then begin my student teaching year next fall. Once that is complete, I will most likely jump right into a master's program and begin teaching in my own agriscience classroom.
What's your favorite thing about MSU?
This is a hard question… My family has a very long-standing history with MSU. My grandparents met at Michigan State back when it was Michigan Agricultural College. They both completed short courses in agriculture-related programs and then moved back to our family farm. After that, my dad received a degree in agribusiness management from MSU. Following that, my brother came to MSU to get a degree in crop and soil science. He and I overlapped at MSU for 2 years and both have had the incredible honor to be a member of the Spartan Marching Band. We spent our fall Saturdays rooting for the football team and performing in Spartan Stadium at half-time. To wrap all of this up, I would say my favorite thing about MSU is the tradition and prestige that being a Spartan holds. To say that I bleed green and white is an understatement.
Any thoughts or advice for current students?
If I could give any advice to current or future students, it would be to get involved in any way that you can. Don't walk through your four years at MSU without falling in love with being a member of the Spartan family. Take advantage of anything and everything MSU has to offer, in a way that interests you. Leave MSU feeling proud that it is your school!