Cover crop field walks in Isabella and Arenac counties will focus on forage
Learn about cover crops, how they can extend the grazing season and build soil health at upcoming field walks on Oct. 18 and 25, 2018.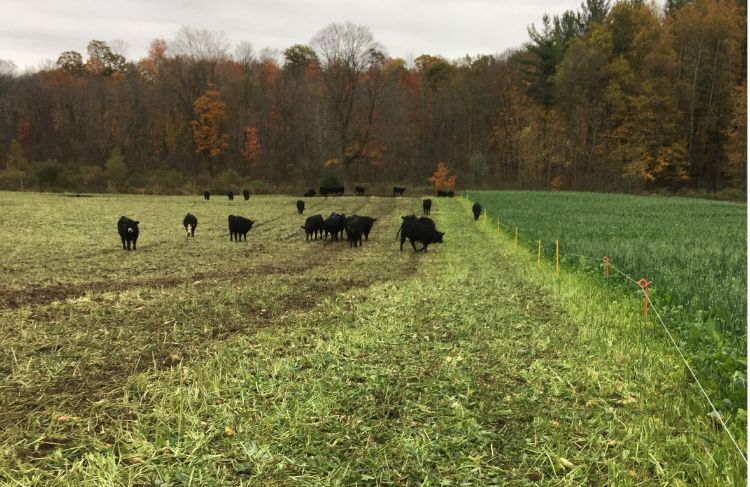 The Michigan State University Extension cover crops team will host two cover crop field walks in October 2018 focusing on cover crops as forages, grazing and soil health. The first cover crop field walk will be Oct. 18 from 5–7 p.m. at Bluemer Farms, 4753 W. Blanchard Rd, Winn, MI 49310. Light refreshments will be provided. The second cover crop field walk will be Oct. 25 from 9:30–11:30 a.m. at the Matt Schwab Farm, 938 Stevenson Rd, Standish, MI 48658. Lunch will be provided.
MSU cover crop team members Dean Baas, Christina Curell and Paul Gross will discuss the different cover crop species and how they work in different cropping systems. MSU forage and beef team members Jerry Lindquist and Kable Thurlow will discuss grazing cover crops. The meetings will be an in-field group discussion and hands-on learning opportunity for producers and agricultural professionals.
Both programs are MAEAP Phase 1 approved and CCA credits will be available.
These events are free and pre-registration is encouraged by contacting Paul Gross, MSU Extension educator, at grossp@msu.edu or 989-317-4079.
This work is supported by Project GREEEN and the Crop Protection and Pest Management Program 2017-70006-27175 from the USDA National Institute of Food and Agriculture. Any opinions, findings, conclusions or recommendations expressed in this publication are those of the author(s) and do not necessarily reflect the view of the U.S. Department of Agriculture.