CSUS alumnus spotlight: Tim Eder
Tim reflects on the importance of sustaining the Great Lakes in his life and career.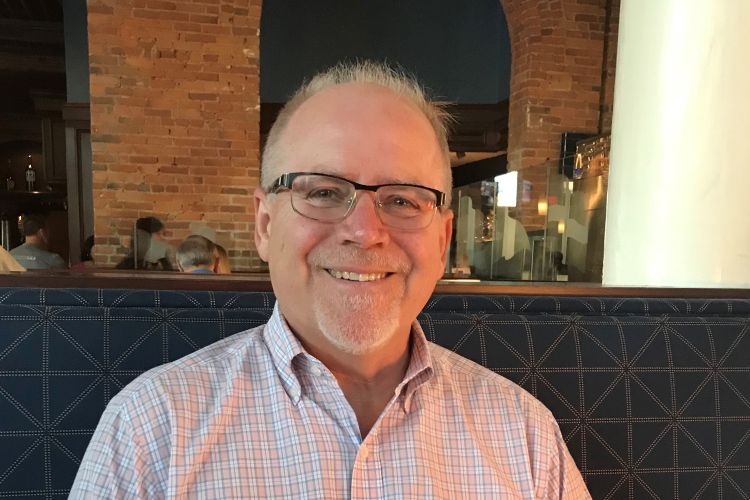 Tim Eder's passion for the Great Lakes is clear in his words and in his work.
"The Great Lakes are my home," says Tim. "I'm from Michigan and it's where I grew up. The Great Lakes define our state. They define our climate. They define many aspects of our economy."
Cultivating his passion in the College of Agriculture and Natural Resources at MSU helped him build a career supporting the people and causes that protect the Great Lakes.
Tim is currently a program officer at the Mott Foundation. Before joining the Mott Foundation, Tim was the executive director of the Great Lakes Commission, an organization that advises the Great Lakes region's governors and the premiers of Ontario and Quebec on sustainability issues. Prior to that, he spent almost two decades working at the National Wildlife Federation.
"I've been working with mostly nonprofits and governments on Great Lakes environment and sustainable economic development issues throughout my career," says Tim.
From his work on issues like invasive species and clean drinking water, Tim has been motivated by the enthusiasm of the people he works with. He is grateful for the good work being done to protect and conserve our region's invaluable natural resources.
Read below to learn why Tim came to MSU and how his undergraduate work helped him advance in his career! This interview has been lightly edited for clarity and length.
Name:
Tim Eder
Graduation Year:
1981
Major:
B.S. Resource Development
Why did you choose your major and why MSU?
When I was a kid, I grew up hunting, fishing, camping, swimming and playing outdoors. I envisioned a job working outdoors, maybe as a park ranger. I completed two years at Central Michigan University. Once I was clear on what I wanted to study, which was natural resources, I transferred to Michigan State. The reason I transferred to MSU is because it's close to the state capitol. I figured that was where the most jobs were likely to be. I envisioned myself working for the State of Michigan for the Department of Natural Resources.
And of course, MSU is the best natural resources school in the state.
What did you do after graduation?
I started my career working for nonprofit organizations that were concerned about conservation. I focused on the Great Lakes environment during my first job, when I worked for the Michigan United Conservation Clubs (MUCC) in Lansing. I started working on Great Lakes environmental policy and I did that throughout my career.
I've been very lucky. For a while, I was one of the few people I knew that got a job in their field. MSU served me very well and helped me get my first job.
What roles are you currently engaged in, and what are they like?
I'm on the environment team at the Mott Foundation and I'm one of two program officers who manage the Great Lakes freshwater program.
We support groups that work on keeping Great Lakes water here and keeping them clear. For example, some of our grantees implement or develop policies that support the enforcement of state laws or enact new laws to better protect the Great Lakes from pollution or water diversions.
The Flint water crisis shined a big spotlight on the stark reality that that we weren't paying enough attention to people's needs for safe, affordable drinking water. We've made a lot of new grants to people working to make water more affordable.
We also support grantees' work on invasive species. Our grantees are trying to prevent Asian carp from getting into Lake Michigan through the Chicago River. We're supporting our grantees who are working to get the Brandon Road Lock and Dam Project authorized and built.
We have historically supported organizations' work on issues like the Great Lakes Compact, which protects the Great Lakes from excessive withdrawals of our water and prohibits diversions.
Governor Whitmer recently appointed me to the Great Lakes Protection Fund Board of Directors. It's another funding organization - like the Mott Foundation - that was created by the Great Lakes state governors back in the 80's.
I'm currently the co-chair of the Great Lakes Funders Collaboration. There are about 30 or more active foundations across the Great Lakes region involved in the collaboration. We share information and help each other out. We've explored issues like Line 5 (the oil pipe that goes under the Straits of Mackinac), the issue of PFAS contaminating our groundwater, and more.
I also currently serve as a co-chair of the Green and Blue Network, which is an affinity group of the Council of Michigan Foundations.
What is the most interesting part of your current work?
The thing that motivated me more than anything, particularly when I was working in the nonprofit sector, is the inspiration that I got from the passion of people that care about their community. They care about where they live, they care about the Great Lakes, and they care about where they grew up and where they went fishing with their grandparents. It's their passion that really inspires me.
At the Mott Foundation, we don't do Great Lakes policy work directly. Rather, we support the partners who are leading the way. The grantees we support are so talented. It's a privilege to be able to support people who are so dedicated and so smart and doing such important work. It really is a privilege to work at a foundation and to be able to help people that are inspiring me.
What do you like most about MSU and the MSU campus?
I got a great education. I had access to my professors, so I stayed after class and I asked them questions. I did special projects with them and did internships. Instructors want to help students be successful and I really tried to take advantage of that.
The campus was a great laboratory for natural resource issues with the forests, wetlands, and wildlife on south campus and on the farms. I did a wetlands classification extra credit class, for example.
One of the best classes that I had was Lake Management with Dr. Cliff Humphrey. We did studies on phosphorus and nutrients in Michigan's inland lakes and that inspired me to live on a small lake north of Chelsea, Michigan.
What is your advice for current students?
Engage with your instructors.
Let your passion drive your work and find something that's really rewarding and makes it fun to go to work.
If you're going to go to grad school, take as many graduate classes as you can before you finish your bachelor's degree. It was one of the creative ways I was able to save money on tuition.