CSUS student explores food sustainability in AFNRE major
Elliot Pancioli joined CSUS as an AFNRE major to study food production and sustainability and shares about his work as a prestigious Beal Scholar Intern to promote engagement with the W. J. Beal Botanical Garden.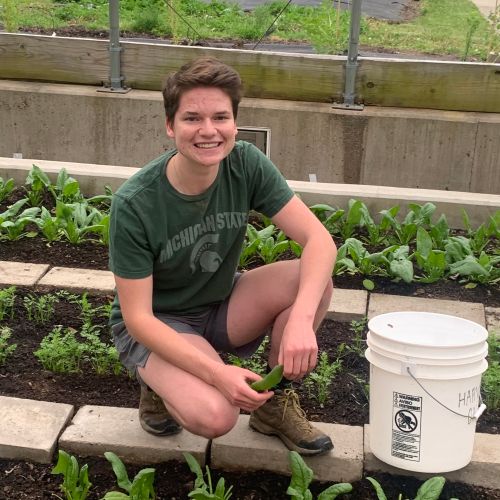 Name: Elliot Pancioli
Hometown: Cincinnati, OH
Major: Agriculture, Food, and Natural Resources Education
Minor: Cognitive Science
Why did you choose Agriculture, Food, and Natural Resources Education?
I began my college experience at the University of Cincinnati as a horticulture major. While I enjoyed it and am deeply grateful for my time at UC, I discovered that I wanted to dedicate more of my time to studying food production. So, I began researching other programs and was impressed by the course options and breadth of study that MSU's AFNRE program offers. I decided to transfer and began at MSU in August of 2021. My experiences thus far, both in and outside of the classroom, have consistently affirmed my choice to pursue this degree.
Who or what inspired your interest in sustainability?
My interests in food sovereignty and sustainability began in high school when I was introduced to food deserts and other systematic concerns within our food industry. I first got involved by helping manage a small, organic garden to provide fresh produce to a local food pantry. I have since worked in agriculture for nearly three years and with every season I fall more in love with the process.
What has been one of your best experiences within your major so far?
The CANR staff is constantly sending out emails with job opportunities. As a result, I got connected with the W. J. Beal Botanical Garden and worked with their incredible staff this past semester as a Beal Scholar Intern. I created a pocket journal for MSU students, faculty, and the wider community to foster more intentional engagement with the garden. It includes tools and considerations to tap into the therapeutic elements of green spaces.
What do you want others to know about this major?
MSU's AFNRE and other CANR programs have a host of truly fantastic professors and staff associated with them. There are so many opportunities to build connections.
Any thoughts or advice for current students?
I would say be brave and honest in leaning into what truly interests and motivates you. Many of us fall into the trap of pursuing the "right degree" as opposed to the degree that really fires us up.
What are your future plans? I'm still not entirely sure what I intend to do after graduation. I suspect I will work towards a graduate degree, but am unsure if that will be more agriculture or psychology focused.
What's your favorite thing about MSU? I love the size of MSU. I'm always learning about a new student group or project. I also love riding my bike around campus, especially in the spring.