Dairy Spotlight: Phil Durst
Senior Extension educator for dairy and beef cattle health and production.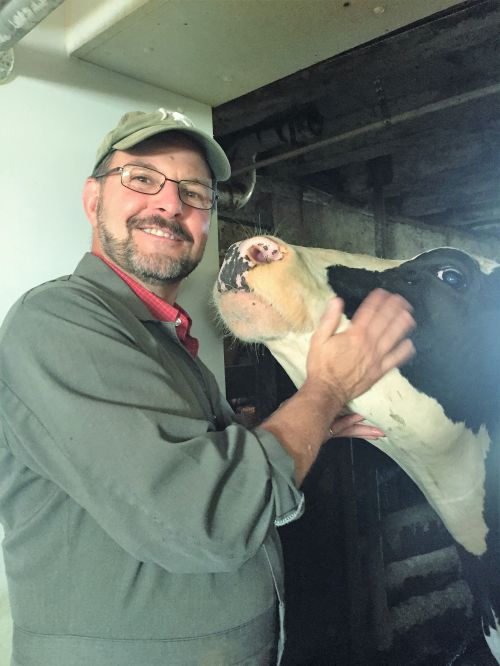 I am passionate about dairy farming, the dairy business and about cattle. I love working with farmers whom I consider my greatest teachers, but that is not to take away from the privilege of working with a great team of researchers and educators here at Michigan State University. I am doing what I love to do.
I didn't grow up in dairy or around dairy. It was during my master's degree work at Penn State that I fell in love with dairy to the point that I gave up my graduate assistance (income) and switched advisors to a more applied field of agriculture. That was not a sacrifice that I regret.
Currently, I focus primarily on two areas: cattle health and labor management. In the field of cattle health, I joined research on Bovine Leukemia Virus a number of years ago and continue to study this disease and management to reduce its impact on herd health. Bovine tuberculosis is an issue I have worked on with farmers and the state and federal governments to try to prevent cattle from becoming infected.
Years ago, I recognized that if employees are not a part of the solution, then the farm will not achieve the success it seeks. That initiated a project related to understanding the perspectives of dairy farm employees and helping train farm managers in being more effective in working with people. These efforts have produced opportunities for articles in national and international dairy publications and invitations to speak at conferences or workshops in Israel, China, Ukraine, and Armenia. I love to teach and challenge farmers. There is always opportunity to improve and to make a good farm greater! While speaking at an international conference is exciting, working with farmers locally over the years is really the thrill of my work.
As an Extension educator, I have been involved in our state and national professional improvement association, the National Association of County Agricultural Agents (NACAA). In July 2022, I will have the honor of being installed as the President of NACAA, having served a year as vice president and currently as president-elect. It is a platform to encourage others in their Extension career and share things that I have learned in over 35 years in Extension work.
Phil Durst can be reached at durstp@msu.edu.