Dairy team podcast is ready to start its third season this spring
Take us along for the ride with a new season of our educational podcast beginning April 13.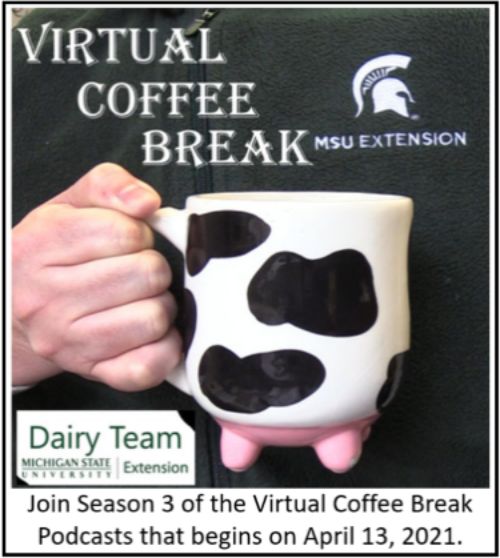 The virtual coffee break with the Michigan State University Extension dairy team is back!
As spring begins to show itself, and soils begin to warm up, plans for the 2021 field season are also in motion. This means many farmers and dairy professionals are moving equipment, buying seeds and supplies, meeting clients, and surveying fields, etc. These additional tasks can limit the opportunity for continued development of the skills and knowledge vital for constant improvement on farms.
To meet the need for flexible and convenient educational programing, the MSU Extension dairy team launched a podcast named "The Virtual Coffee Break with the MSU Extension Dairy Team." This educational podcast series provides ideas, new research, interesting tips and stories from invited producers, researchers, and professionals, in an easy way to consume - on your phone! Take us along for the ride with our new season beginning April 13, 2021. You can tune in to our new weekly episodes on all the major podcast apps like Apple, Spotify, Google, or listen in your browser. See our schedule so you can join us this season.
The Virtual Coffee Break with the MSU Extension Dairy Team Podcast Season 3 Schedule

Educator

Invited guest

Episode

Date

Martin Mangual

--------

Third season introduction

April 6

Jon LaPorte

Steve Wittington

Beginning Farmer Resources and

MSU Extension DEMaND series

April 13

Marianne Muraswki

Jared Jaborek

Planning for quality beef cross calves

April 20

Dr. Barry Bradford

Dr. Donagh Berry

Are there hidden costs of breeding to beef sires?

April 27

Phil Durst

Dairy Producer

Management of the transition cow - a farmer's perspective to get them started right.

May 4

Paola Bacigalupo

Dr. Pamela Ruegg

Teat dips - what do you need to know?

May 11

Martín Mangual

Dr. Roger Thompson

The value of parlor performance analysis- can it make a difference on your farm?

May 18

Faith Cullens

Kerry Nobis

Labor relations: recruiting and retaining employees

May 25

Phil Kaatz

Dr. Kim Cassida

Return of investment for your forage management decisions

June 1

Martín Mangual

Don Martell

Feed Management 101: Part 2

June 8

Stan Moore

Dairy Producer

The value of financial analysis (FINAN) and enterprising for your farm.

June 15
For questions or additional information, please email Martín J. Mangual at: carrasq1@msu.edu.