Designing a better system for broadcast interseeding
New video shares research from MSU designing a broadcast interseeding system for cover crops that improves seed-soil contact.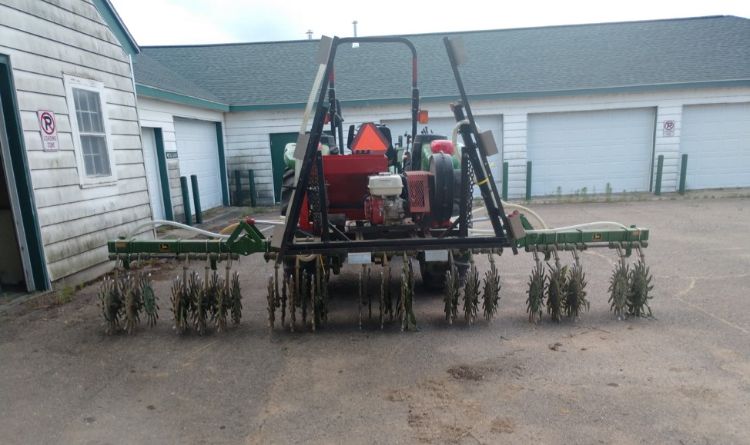 Cover crops are important in preventing soil erosion, pest management, nutrient cycling and building soil health. With Michigan's climate, using diverse cover crop species is not always possible after the crop is harvested. One method to establish cover crops is to broadcast seed into the standing crop in hopes it will establish under the canopy of the crop. A challenge with this method is ensuring adequate moisture and seed-to-soil contact—two components essential for seed germination and cover crop emergence.
In this new video, Kaleb Ortner, a master's student at Michigan State University, talks about his research on designing a better system for broadcast interseeding cover crops. His research looks to improve seed to soil contact, resulting in higher germination and better establishment of cover crops. To increase the seed-to-soil contact, one method is to lightly incorporate the seeds into the soil using a modified rotary hoe. This allows for a longer growing season to incorporate multiple species with more growth into the cropping system.
For more information on this project, contact Karen Renner. Cover crop information and resources are available through MSU Extension's Cover Crops page and the Midwest Cover Crops Council, or contact Dean Baas.
This work is supported by the Crop Protection and Pest Management Program 2017-70006-27175 from the USDA National Institute of Food and Agriculture, MSU PROJECT GREEEN, and the Michigan Wheat Program. Any opinions, findings, conclusions or recommendations expressed in this publication are those of the author(s) and do not necessarily reflect the view of the U.S. Department of Agriculture.