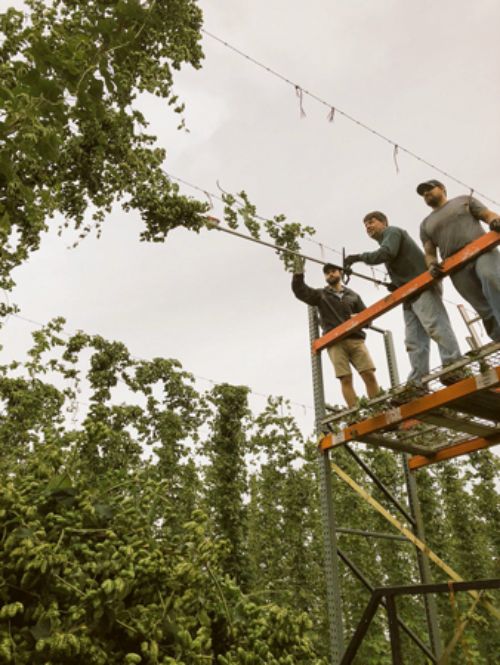 Over the last few years, local hops farm Dog Star Hops has grown its business and its ties to Michigan State University and the Department of Agricultural, Food, and Resource Economics. Two Spartan alumni themselves, Jim Mikesell and Michael Parrott started a hops farm with four other partners (Ken Porter, Jeff Wilson, Todd Baum, Bob Fox) in Charlotte, Michigan, in 2015, and have kept MSU and their passion for the Michigan craft beer industry at the heart of their business.
"After playing with the idea for a hop farm for years, Jim and I decided to jump in and get into the craft beer business," said Parrott. "Jim already rented out fields for soybeans and other commodity crops but [some of us thought] that was kind of boring," he said. "So I think the idea of growing a specialty crop that could support Michigan breweries was appealing."
The Mitten State is home to 330 breweries, which trails only California, Washington, and Colorado in its total number of breweries. Michigan is also the fourth largest hops producing state in the United States and the largest producer outside the Pacific Northwest. Its long summer days and cold winters are ideal for hop production. The climate, combined with one of the strongest demands for hoppy craft beer in the country, made Michigan the perfect spot for Parrott and Mikesell to set up shop.
"We'd like to make some money growing hops, but more importantly we wanted grow high quality hops we could be proud of. And we think we've done that," said Parrott. "But to continue to grow, we knew we needed to enlist the help of some experts."
Enter Trey Malone, assistant professor and extension economist in the department of AFRE, and resident beer industry expert. Malone closely followed the explosion of craft beer for years, so his role as an extension economist in AFRE is a lifelong dream come true. Since 2016, he has published more peer-reviewed journal articles on the economics of beer than anyone else in the field. "My favorite of our beer papers was on the notion of choice overload. We showed that in some instances, too many beers on tap can overwhelm consumers and make them decide against purchasing any beer at all. What's great about that study is that is provides some interesting insights to marketers of all products on how to help their consumers make the best possible choice." Over the last year, Malone has collaborated with MSU Extension specialists such as Erin Lizotte and Rob Sirrine to begin developing more marketing resources that might support the Michigan's burgeoning hops industry.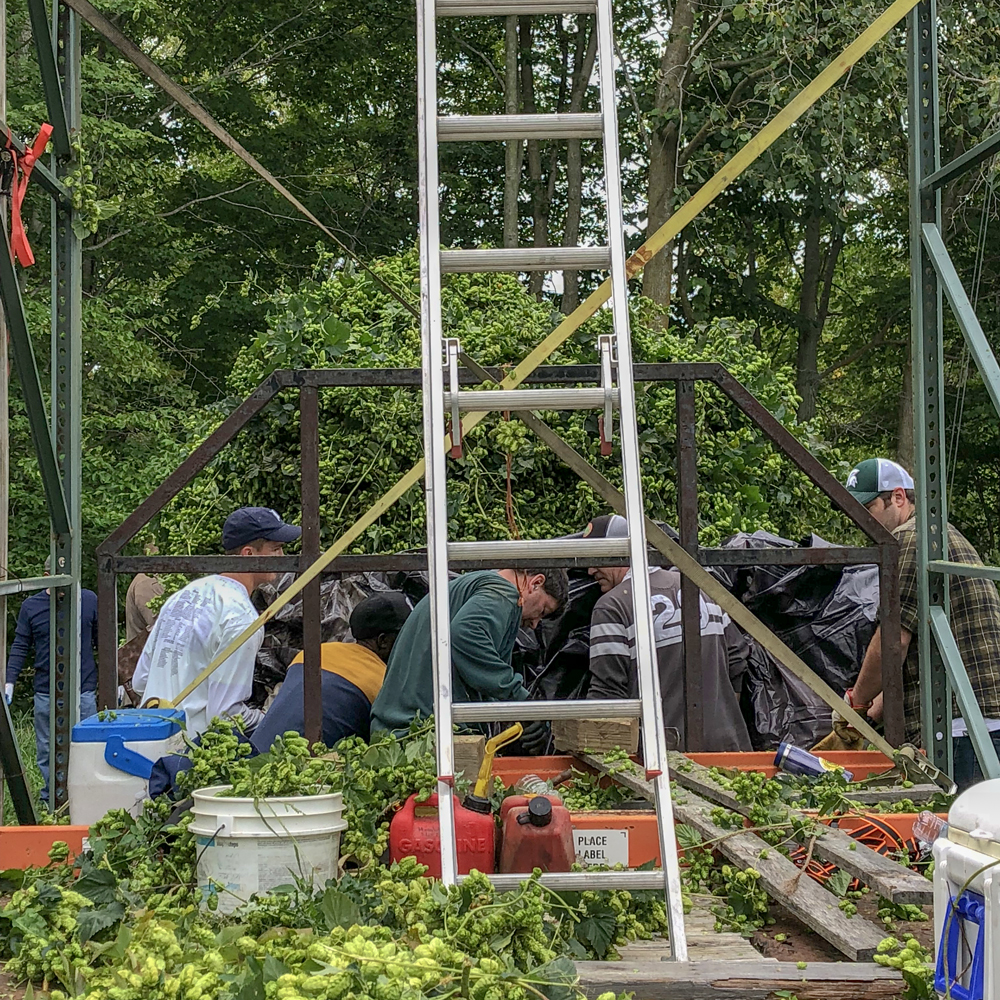 "The most recent Hop and Barley Conference sponsored by MSU is where we heard Trey speak about the American beer market," said Parrott. "His knowledge was impressive, and Jim and I wanted to reach out to him to see if we could bounce some expansion ideas off him and discuss possibilities of farm brewing."
The pair met with Malone to share insights, and start a continuing dialogue on how Dog Star Hops can grow along with the Michigan beer industry. "Trey and his fellow ag economists at MSU are such a great resource, not just for farmers, but all food businesses."
"I was thrilled to receive their email. These kinds of conversations are what make me so excited to be a part of MSU's rich land grant history," Malone said.
Not only alumni themselves, but with daughters currently on campus, Parrott and Mikesell warmly extended an invitation to Malone to visit their farm. Hops harvest is a captivating event, as the perennial crop grows to a height of more than twenty feet tall each summer. In addition to Malone, AFRE graduate students also immediately jumped on the opportunity to experience harvest.
"It was incredible to see first hand what the process is like to produce a single ingredient in craft beer," said Braeden Van Deynze, AFRE PhD candidate. "It's exciting that a small operation like Dog Star is allowing brewers to experiment with new kinds of beer right here in Michigan, and exciting to me to see how they fit into Michigan's economy."
Moving forward, Dog Star Hops hopes to keep in close communication with MSU and the experts at AFRE. "They're helping us make informed decisions," said Parrott. "And we wouldn't be where we are today without MSU."