East Michigan vegetable update – Aug. 26, 2020
This week brought heat stress to crops and harvest crews.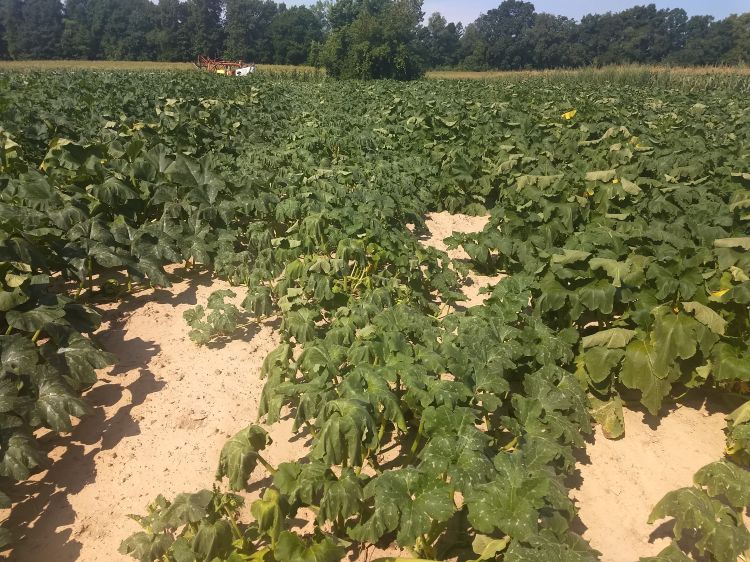 Weather
We have had a small droughty period, but most of the region received something between 0.03 and 0.29 inches over the last week. Moisture stress is easy to see on most farms.
Today, Aug. 26, was the first widespread rain opportunity in our region, coming from the Northwest along a boundary of warm air that is already here, and cold air north of us. The 80- to 90-degree daytime highs and chances of rain will continue through Friday, Aug. 28, with the best chance of rain on Friday.
The weekend should bring temperatures down to the upper 60s and mid-70s through the first week of September, with more chances of rain on Monday-Tuesday. Longer forecasts predict warmer than normal mean temperatures for much of the upcoming fall season.
You can find more detailed weather information for your area by visiting the Michigan State University Enviroweather station closest to you:
Here is a table that summarizes European corn borer activity, based on growing degree day (GDD) models. I used Lapeer as an example.
| | |
| --- | --- |
| Current degree days (Lapeer) | 2,115 |
| Overwintering generation start to emerge and lay eggs | 450 (occurred June 11) |
| Peak flight and egg laying of overwintering generation | 700 (occurred June 28) |
| Peak flight and egg laying of first generation | 1,700 (occurred July 31) |
| Peak flight and egg laying of second generation | 2,450 (forecasted for Aug. 30) |
Phytophthora Phthought
This disease is kind of like diabetes of the farm. If diagnosed, you will be living with it and will need to change certain practices and behaviors to reduce its effects on the long-term productivity of your business. It can be overwhelming to read about this plant destoyer. So, here is just one thought at a time for anyone going through this.
Listen to the Phytophthora Phthoughts episode of the Great Lakes Vegetable Producer's Network. We interview Christine Smart from Cornell University. She works on a research farm deliberately infested with Phytophthora.
Custom applications
I have heard a few stories about custom applications this season. For a small vegetable grower (less than 10 acres of a single vegetable), this is usually not a good option if the proper skillset and equipment exist on farm already. This works well with more acreage of a single crop on your farm and more growers within your county with appreciable acreage of the same single crop. Vegetable production is just not there in most counties in our region.
Expensive. The cost per acre of a chemical is one cost, the cost to drive out to your place with a high-boy sprayer for a little squirt is another. The cost of acquiring your own chemistries would be spread over a couple years if you have the tech and skills to do it yourself.
Questionable timing. The custom app sprayers are in demand on more high-acreage crops, and so those get priority, while small-acre crops get canceled or rescheduled.
Lack of choice. Even if you have a large enough community of vegetable growers with enough acreage of a single crop to make an efficient sprayer route, your choices are limited to the products that that company makes or distributes. And then, the order in which they are applied throughout the season along the route is something that may fit well with one grower along the route, but not all.
Crop progress and pests
I have little to report this week on specific crops.
The MSU Plant & Pest Diagnostics lab is getting a lot of garlic samples for seed sales. Mostly, they are being asked to test for an issue called "garlic mosaic" and stem/bulb nematodes. This mosaic virus is actually a mix of several separate potyviruses, including onion yellow dwarf virus, garlic yellow strip virus and leek yellow strip virus. Some have been found positive for one or more of these issues.
In sweet corn, corn earworm moth catch is still very low and below treatment threshold, with one to two moths caught per night. Smut on the ears is still being reported on some farms. Northern corn leaf blight and rust is showing up on some farms. I usually do not fret about leaf blight and rust because they tend to be later season issues, and sweet corn is harvested before they get out of hand. However, one grower reported to me this week that rust, in particular, can be a real bugger if it starts up in plantings that have not yet tasseled, and it is worth controlling in those plantings. It can rapidly defoliate the plant from the lowest leaves on up, reduces ear size, and makes a mess of the wrapper leaves too. The FRAC 3 and 11 products clean it up well. Ingredients that end in "-azole" and "-strobin".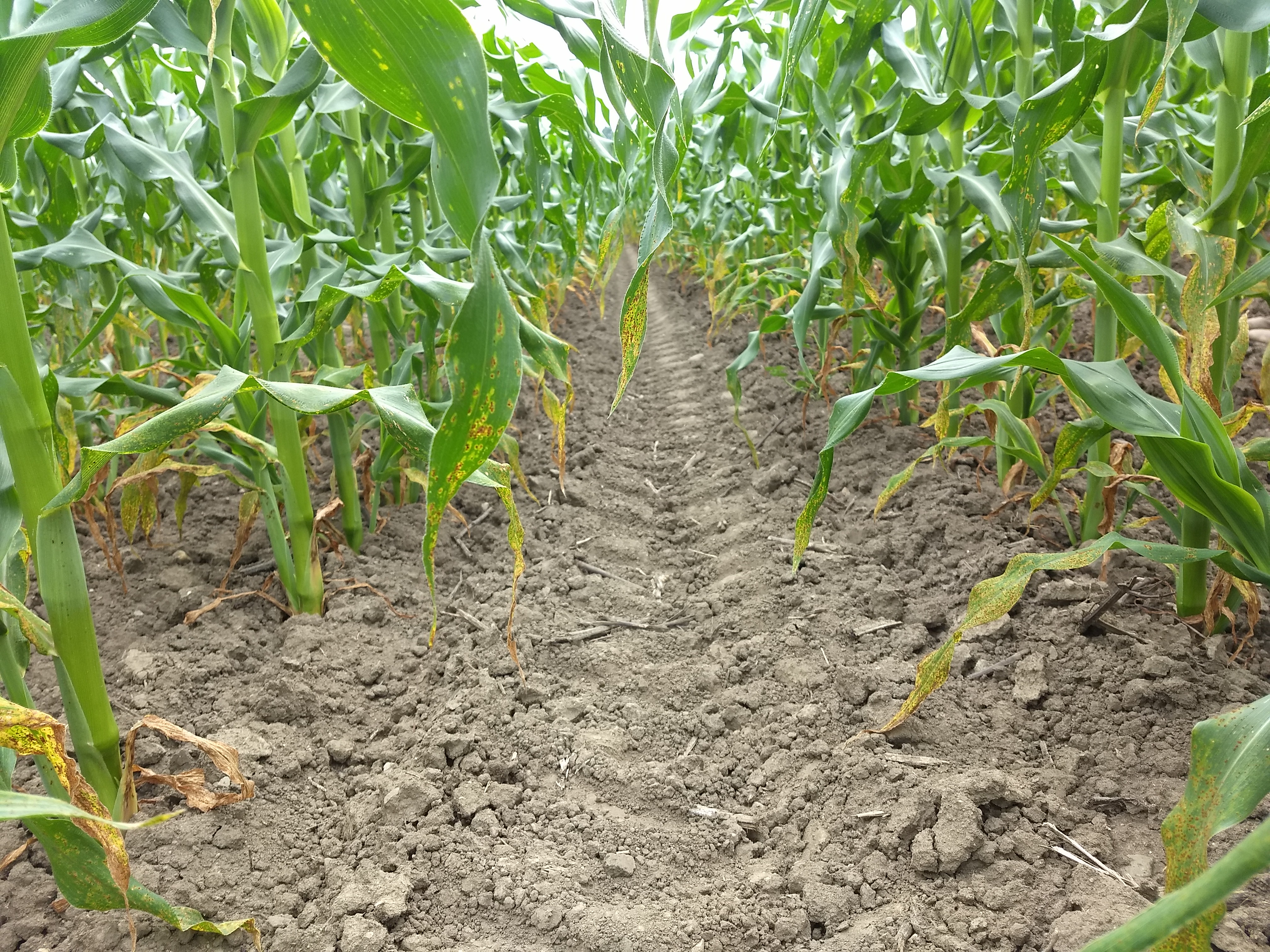 Cucumber harvest continues. Downy mildew pressure has been heavy. MSU plant pathologist Mary Hausbeck reported that Previcur Flex and Elumin have not been performing well this year in a fungicide trial in Hemlock, Michigan. Remember, angular leaf spot is a bacterial disease that looks an awful lot like downy mildew. If you see these spots bound by the leaf veins in cucumbers, and then in another row you see the same spots in squash, then my money is on bacteria. This is because downy mildew comes in two varieties: one that likes cucumbers and melons, and one that likes squash, pumpkin and watermelon. We see the one that likes cucumbers and melons much more in Michigan. So, the probability that both varieties are infecting cukes and summer squash at the same time with the same pattern is rare. Therefore, more likely bacterial angular leaf spot, which can infect all the cucurbits pretty much equally. And the solution to this is much cheaper: copper.
Pumpkins and most winter squashes are coloring up earlier than expected due to the hot and dry conditions. Leaf yellowing with leaf edge dieback can be confusing. Disease or stress? But, given the last two weeks, I would put these symptoms in the stress category. See above about bacterial diseases. I have not seen much in the hard squashes.
Please tune in to the Sept. 2 Great Lakes Vegetable Producers Network show about finishing pumpkins, or listen to the recording later. We will be interviewing Brad Bergefurd and Nathan Johanning, pumpkin growers from southern Ohio and Illinois who also work for Ohio State University and the University of Illinois. We will discuss some of the common issues and questions that come up between now and Halloween.
Peppers are ripening to colored stages. The smaller varieties have been for a while now, including the superhots. However, bells are just starting and I have received some questions about internal molds.
Is it possible that a pathogen can infect the seed cavity of peppers and not show symptoms on the outside? Yes.
Which pathogens? That is best determined by sending fruit to MSU Plant & Pest Diagnostics. In Australia, several pathogens were recovered this way, but the most common was Alternaria alternata.
How do they get there? Either through a flower infection or an infection under the cap between the stem and the fruit.
Why is it just a problem with colored ripe fruit? We think it has to do with the latent period of infections or sugar content.
How do I prevent it? With special attention paid to spacing for good airflow and foliar disease management around flowering time.
Moving sales online?
If so, consider this upcoming webinar tomorrow, Aug. 27, from 7-8 p.m.: Moving Farm Sales: The Wide World of Web-Based Platforms.
Need canning supplies for your market?
There is news of canning supply shortages. I am not following it closely, but here are some bulk wholesalers of jars and lids to try. Perhaps you could split a load with another farm marketer. Some of them sell other canning supplies too, such as jar lifters, funnels, canning spice mixes, etc.
$$$$ MONEY $$$$
You know me because I am your vegetable doctor, and you have come to know what I can help you with. I have colleagues that are like business doctors, offering similar consultation services as I do with plant health, but with financial health. Due to faculty turn-over from retirements, they are all brand new employees learning the ropes. They really want to know what they can do to make your business maintain or increase profitability. Help them help you by answering these three questions.
Great Lakes EXPO
The Great Lakes EXPO will be a digital show this year. As organizers of the educational sessions, we are looking forward to the opportunity to try this new format, but also recognize that it is less than ideal for growers who do not like or cannot use computers. If you already have hotel reservations made, you can cancel them. Or, bring a laptop/tablet and try to enjoy EXPO in another city with free hotel Wi-Fi.
Also, there is money available for COVID-19 relief for growers with fewer than 10 employees, and also for growers with more than 10 growers.
Please contact me at phill406@msu.edu or 616-901-7513 with questions, concerns, or to schedule a farm visit. You can also send plant materials to MSU Plant & Pest Diagnostics.