East Michigan vegetable update – June 27, 2018
Some warm-weather crops like cucumbers and zucchini are being harvested, as well as large, cool-weather crops like cauliflower. High dew points are in the forecast and serious disease pressure may be in the future.
Weather
Growers in Michigan's Bay and Thumb regions need the rain we should be receiving today, June 27, and with it will come heat and high humidity. Beware, however, the warm nights and high dew points will be perfect for disease formation.
Growing degree-days (GDD) and rainfall accumulations to date starting Jan. 1 from in the region.

Location

GDD39

GDD40

GDD43

GDD45

GDD50

Rainfall (inches)

1,625.3

1,544.3

1,316.2

1,175.6

865.2

12.71

1,671.4

1,591.4

1,366.2

1,225.8

910.3

10.54

1,832.3

1,745.2

1,502.0

1,350.3

1,007.9

11.88

1,685.9

1,606.1

1,380.2

1,239.7

920.8

9.00

1,681.0

1,599.7

1,372.2

1,232.8

916.1

9.31

1,687.9

1,605.0

1,372.2

1,228.3

907.5

13.72

1,573.0

1,494.6

1,272.8

1,135.9

828.9

11.54

1,689.9

1,609.2

1,379.0

1,237.2

918.0

7.50

1,782.0

1,697.6

1,459.5

1,312.6

981.9

14.00

1,570.9

1,492.3

1,271.3

1,137.4

840.4

9.25
Crops
The earliest planted cauliflower and kohlrabi are just now starting to go to market. Onion thrips numbers have been increasing due to the hot, dry weather. Diamondback moths are also being spotted on plants. Swede midge traps deployed by Michigan State University Extension have found very low catches.
Zucchini and yellow squash are being picked. Cucumber beetle pressure has been low. Squash vine borers have been laying eggs in zucchini and pumpkins.
Pickling cucumber plantings are continuing. Downy mildew has not been confirmed in the Midwest yet, but I would be surprised if it does not show up in Mid-Atlantic states and the Midwest soon with the dew points coming up for the next four days. Preventative applications of Bravo would be wise following today's weather event.
Potatoes are flowering. Late blight has been confirmed in New York in tomatoes, but nothing has been confirmed in Michigan.
Field tomatoes are not quite ready to pick, but hoophouse tomatoes are on their fourth to sixth picking or so. Once again, late blight has been confirmed in New York in tomatoes, but nothing has been confirmed in Michigan. Bag-cultured plants are showing some nutrient deficiencies.
The earliest sweet corn is silking and insecticide applications have begun. However, the last threat of a flight of corn earworm was June 15. They blow in with southwesterly storm systems. I will be putting out two traps within the week. A small number of moths were caught in west-central Michigan this week.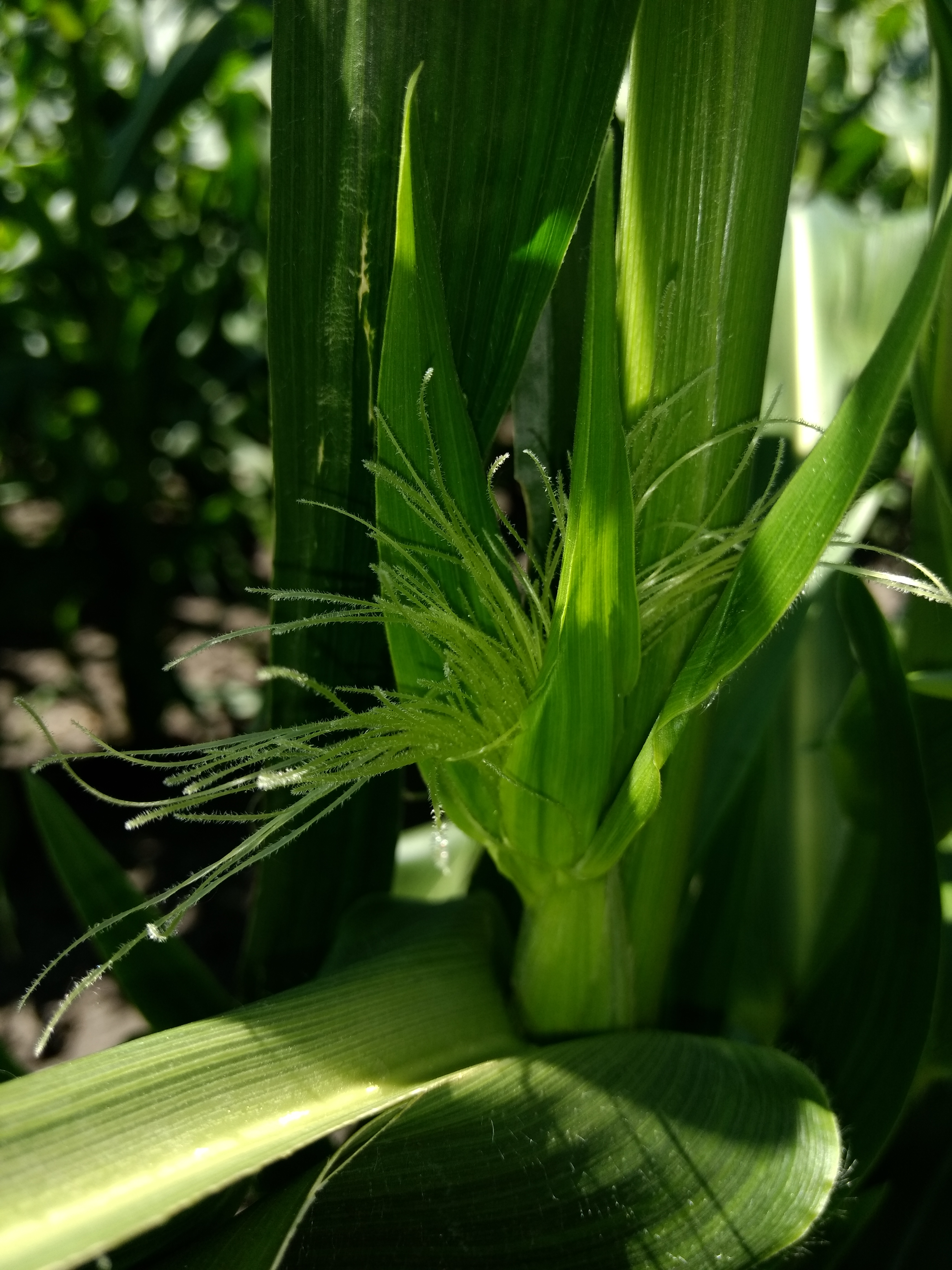 The first sweet corn silks are out. Growers expect to begin picks around July 20. Photo by Ben Phillips, MSU Extension.
I found puckered fruit damage from lygus bug on strawberries. This is an insect that must be controlled while strawberries are budding while both the adults and nymphs are feeding on the plants. This prevents them from surviving to the point where they can damage the young developing fruits, and avoids spraying during bloom. Renovation is occurring, or will be soon in east Michigan. This is a great opportunity to control perennial weeds and fertilize. The plants also need watering as they runner.
Meetings
The third annual MSU Agriculture Innovation Day: Focus on Fruit and Vegetable Technologies is June 28 at the MSU Southwest Research and Extension Center at 1791 Hillandale Road in Benton Harbor, Michigan. It will begin with registration at 8:30 a.m. and wrap up around 5 p.m. The event is free and includes lunch.
The Midwest Mechanical Weed Control Field Day is Sept. 26 at the PrairiErth Farm (2073 2000 Ave, Atlanta, IL 61723). See in-row cultivation tools demonstrated on vegetable crops, a trade show and grower experiences with mechanical cultivation. The field day begins at 9:30 a.m. and wraps up around 4 p.m. The event registration is $20, lunch included. Check out the Mechanical Vegetable Cultivation Facebook page for more information.
Need your water tested for the Food Safety Modernization Act (FSMA)? Check out the Michigan Ag Water Lab Map.
Please contact me at phill406@msu.edu or 616-901-7513 with questions, concerns, or to schedule a farm visit. You can also send plant materials to MSU Diagnostic Services.