East Michigan vegetable update – June 6, 2018
Melons are reaching beyond the plastic, harvests of greens and radishes continue.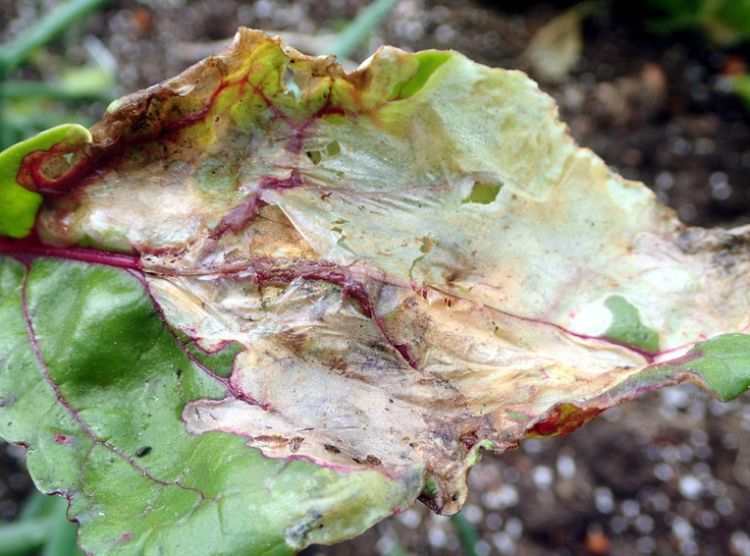 Weather
Black cutworm moths have come in on the last weather system. Cutworm caterpillars may become an issue for newly seeded crops over the next couple weeks.
Canada Geese molt their flight feathers in June and July, and will not be able to fly during that time. So, it's a good idea to try and rouse them from fields before then.
The following table shows growing degree-days (GDD) and rainfall accumulations to date starting Jan. 1 from in the region.
GDD totals as of June 6, 2018

Location

GDD39

GDD40

GDD43

GDD45

GDD50

Rainfall (inches)

1057.0

997.0

831.8

732.8

524.2

9.16

1077.3

1018.3

856.0

757.2

543.8

9.92

1209.6

1143.5

963.3

853.5

614.8

10.09

1115.5

1055.7

889.8

789.3

569.1

8.30

1088.7

1028.4

863.9

766.2

551.7

8.83

1110.5

1048.5

878.1

775.4

555.6

12.29

1028.6

970.2

808.4

711.5

503.5

11.01

1086.5

1026.8

859.6

759.8

544.7

7.04

1183.2

1118.8

940.7

833.8

602.3

10.82

1009.3

951.7

793.4

700.9

504.8

8.69
Crops
Rhubarb, radishes and asparagus are going to market. After the last asparagus picking for the season growers have an opportunity to apply a systemic herbicide for perennial weeds. Clopyralid, glyphosate and 2,4-D are common options for this application.
Leafy greens, herbs and transplants are being sold at most markets. Spinach leafminer reports have been ramping up on both. This fly lays its eggs on the stems of plants like chard, beets and spinach and has multiple generations in a summer. When the eggs hatch, the maggots dive into the layers of the leaf and feed just under the outer cuticle, making tunnels and rooms inside the leaf itself. The damage can look like bacterial infection, sunscald and freeze damage.
Spinach leafminer can be controlled by timing contact insecticide sprays with egg hatch. Bifenthrin and permethrin are common conventional options, and spinosad is an organic option. A systemic insecticide such as clothianidin is effective for beets that will be topped and not sold for their greens.
Spinach leaf miner eggs. Photo by Whitney Cranshaw, Colorado State University, Bugwood.org.
The earliest planted brassicas are just now starting to form heads and flower stalks. Imported cabbage worms (the big velvety ones) are out on plants now. At least one grower was committed to growing more colored cauliflower this year in an effort to reduce labor tying leaves. They expressed an interest in knowing whether or not this will actually reduce labor because tying with colored rubber bands has been a simple harvest process that only requires a worker to know which color is being picked today. Without the colored ties, they suspect that each plant may require evaluation before cutting. If you have an opinion or experience in this matter, please share.
All manner of vine crops, tomatoes and peppers are in at least somewhere, but multiple growers of all sizes have shared with me that a lack of labor has prevented them from planting some or all of their warm season transplants to date. In some cases, trays are being dumped after anticipating good help, and finding none. The earliest melons are just vining out beyond the plastic bed, tomatoes are being staked.
Pickling cucumber plantings are beginning.
Lettuce is being seeded now instead of transplanted.
Potatoes are still going in and others have been hilled once. I scouted Colorado potato beetle in the region. These are the first adult beetles, which were dormant over winter. They are now mating, and egglaying will probably begin this week. There was 30 beetles in 800 feet of row. Note, the biofix for potato beetles is the day eggs are found. Then, growing degree-days base 50 can be used to predict their development. It takes 185 GGD50 for eggs to hatch, and 675 GDD50 to pupate into new adults.
I have seen potato volunteers coming up this year. These are potatoes that were missed, dropped or piled as culls. Winter temperatures were not sufficient to adequately kill these tubers. It is important to destroy these volunteers as they can host infectious diseases from last year, including late blight.
Hoophouse tomatoes are hitting markets in ever more volume. Hoophouse cucumbers are being picked as well.
Sweet corn herbicides for post-emergence grasses and broadleaves include the Group 27 herbicides (HPPD inhibitors). Some trade names are Laudis (tembotrione), Impact (topramezone) and Shieldex (tolpyralate). Be aware that the replant interval for next year's vegetables is 18 months for Impact at the full rate. Tomatoes, potatoes and snap beans can be planted 10 months after Laudis, while all other vegetables can be planted after 18 months. Shieldex offers the shortest plant back time of nine months for tomatoes, potatoes, cabbage, cucurbits and snap beans and 12 months for most other vegetables.
Meetings
The 2018 MSU Weed Day is scheduled for July 27 from 8 a.m. to 3 p.m. on MSU's campus. For more information, see the Weeds Day 2018 webpage.
The third annual MSU Agriculture Innovation Day: Focus on Fruit and Vegetable Technologieswill take place June 28 at the MSU Southwest Research and Extension Center at 1791 Hillandale Road in Benton Harbor, Michigan. It will begin with registration at 8:30 a.m. and wrap up around 5 p.m. The event is free and includes lunch.
Need your water tested for the Food Safety Modernization Act (FSMA)? Check out the Michigan Ag Water Lab Map.
Please contact me at phill406@msu.edu or 616-901-7513 with questions, concerns, or to schedule a farm visit. You can also send plant materials to MSU Diagnostic Services.