Ecorse Creek cleanup leads to unexpected mussel discovery
Native mussel, thought to be extirpated from the creek and surrounding waters, found by volunteer.
Community organizers, including Michigan Sea Grant, have three cleanups scheduled this summer as part of a broader Ecorse Creek revitalization effort. The first took place on July 10, 2021, where 37 volunteers gathered to clean up the Ecorse Creek by land and water. They removed over 1000 pounds of trash and woody vegetation between Pepper Park in Ecorse and Council Point Park in Lincoln Park. Among the items collected were the typical bottles, shopping bags, styrofoam and balloons as well as bigger items such as a shopping cart, a bicycle and a wheelchair.
Surprising find
One volunteer was surprised to also find a few native mussels, called giant floaters (Pyganodon grandis). The discovery was unexpected because until recently, native mussels were believed to be extirpated in the Detroit River and many tributaries, like Ecorse Creek, as a result of the invasive zebra and quagga mussels that arrived in the Great Lakes in the 1980s.
There are nearly 300 species of freshwater mussels (Unionidae) in eastern North America, with 43 species in Michigan, according to Michigan Natural Features Inventory. Giant floaters are one of the most common mussels in Michigan occurring in lakes and rivers. They play an important role in the aquatic ecosystem, too. Their shells provide habitats for aquatic insects and empty shells provide habitat for fish and crayfish. Some species of freshwater mussels can live 20 to 30 years or more. Learn more about these fascinating mussels, their history and how to identify them through this mussel poster.
Unique lifecycle
Freshwater mussels also use a wide variety of fish species as hosts. Eggs are fertilized and develop into larvae within the marsupial gills of the female mussel. These larvae, called glochidia, are released into the water and must attach to a suitable fish host to survive and transform into the adult form. This lifecycle also shows how important it is to have a healthy fish population, too. Without the fish, mussels cannot complete their lifecycle. Participating in the cleanup is one way volunteers are helping to improve the Ecorse Creek habitat.
Ecorse Creek is a tributary of the Detroit River that flows through 11 highly urbanized communities south of Detroit. Like many urbanized waterways, the creek suffers from litter accumulation, woody debris logjams and stormwater runoff leading to decreased water quality. Over the last several years, community organizers from Ecorse, Lincoln Park and Wyandotte have rallied around efforts to revitalize the creek through regular cleanups, habitat restoration and increased recreation opportunities.
Two additional cleanups are scheduled on Aug. 14, 2021, and Sept. 11, 2021. All who are interested are encouraged to participate. Registration is required and is available online. The September event will include a free lunch and a drawing for gift cards, baskets and other donated items.
Your opinion matters
The cities of Ecorse, Lincoln Park, and Wyandotte have also teamed up with Michigan State University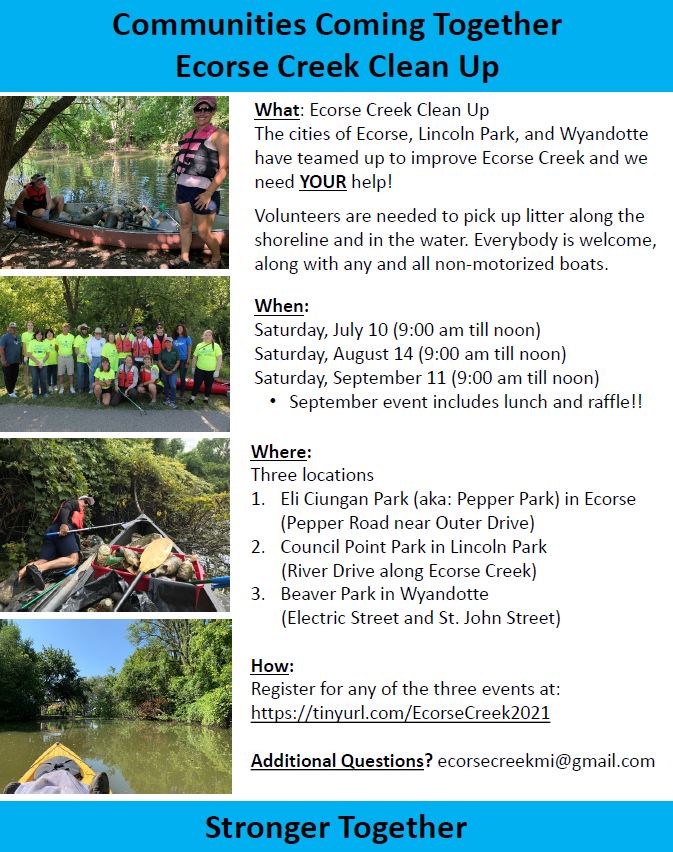 Extension to find out your thoughts on the Ecorse Creek. City officials received a grant from the National Fish and Wildlife Foundation. Funds will be used to fix up the creek shoreline near Pepper Park and provide the first public paddling launch on the Creek. This is the first small step toward a much larger vision of restoring the creek for both people and wildlife. But we would appreciate your help, a survey has also been developed to collect opinions about the importance of the creek. For more information about the cleanups or the survey, please contact Mary Bohling at bohling@msu.edu.
This article was prepared by Michigan Sea Grant under award NA180AR4170102 from the National Oceanic and Atmospheric Administration, U.S. Department of Commerce through the Regents of the University of Michigan. The statements, findings, conclusions, and recommendations are those of the author(s) and do not necessarily reflect the views of the National Oceanic and Atmospheric Administration, the Department of Commerce, or the Regents of the University of Michigan.