The 2019 awards reception brought together happy recipients with family, friends and the donors who make awards possible.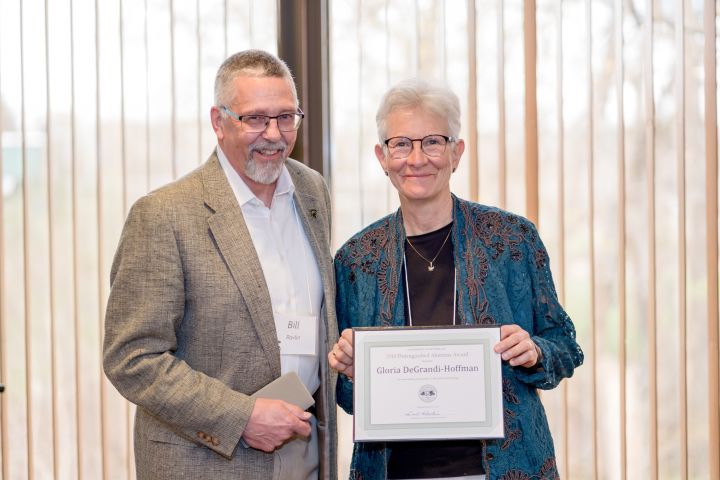 The Department of Entomology's annual awards reception is a great way to end the academic year and 2019 was no exception. On April 25, we celebrated hard work, determination and generosity as embodied by our award recipients and donors. Congratulations, all!
View more images in our 2019 Awards Ceremony photo gallery.

Department of Entomology Distinguished Alumnus Award
Gloria DeGrandi-Hoffman for outstanding achievement in the field of entomology.
Graduate Fellowship Awards
Courtney Larson, Gordon E. Guyer Endowed Fellowship in Aquatic Entomology.
Joseph Receveur, Merritt Endowed Fellowship in Entomology.
Nicole Wonderlin, Roger and Barbara Hoopingarner Endowed Graduate Fellowship in Entomology.
Gabriela Quinlan, Rhodes (Gene) Thompson Endowed Fellowship.
Rachel Osborn and Nicole Wonderlin, Robert R. Dreisbach Endowed Memorial Fellowship.
Ben Savage, Paul Wooley Endowed Fellowship.
Research Proposal Awards
Joseph Receveur, D. Hutson Endowment Research Proposal Award for "Does Wolbachia impact the behavioral responses of Ae. Aegypti?"
Zinan Wang, D. Hutson Endowment Research Proposal Award for "Genetic mechanisms underlying desiccation resistance in desert fruit flies."
Patrick Stillson, S. Hutson Endowment Research Proposal Award for "Carrot Preference in Aster Leafhoppers (Macrosteles quandrilineatus)."
Logan Appenfeller, S. Hutson Endowment Research Proposal Award for "Examining the effects of soil mulch residues on nesting behavior and offspring survival of the hoary squash bee, Peponapis pruinosa."
Department Awards
Anne Johnson, Outstanding Undergraduate Student Award.
Holly Hooper, Outstanding M.S. Student Award.
Margie Lund, Outstanding Ph.D. Student Award.
Emilie Cole, Outstanding Graduate Student in Extension Award.
Erica Fischer, Eugenia McDaniel Award.
Jen Riebow, Outstanding Staff Award.
Bug House Fellows
John Kole, Margie Lund, Allison Zahorec for outstanding assistance in the Bug House.
J.E. and Jean M. McPherson Graduate Student Travel Award
Awarded to graduate students to attend either the NCB-ESA or annual ESA meetings: Logan Appenfeller, Erica Fischer, Holly Hooper, Rachel Osborn, Joshua Snook, Patrick Stillson, Nicole Wonderlin.
Thank you, donors!
Gordon and Mary Guyer
Roger and Barbara Hoopingarner
Ray and Bernice Hutson
Larry and Beverly Olsen
Richard and Pamela Merritt
Mark and Kathleen Scriber
E. and Jean M. McPherson
Did you find this article useful?
---