Entomology postdoc Graham enters "The Conversation" about importance of wild bees
Kelsey Graham's column aims to increase public understanding that wild bees are key pollinators and some species are disappearing.
June 14, 2018 - Author: Joy Landis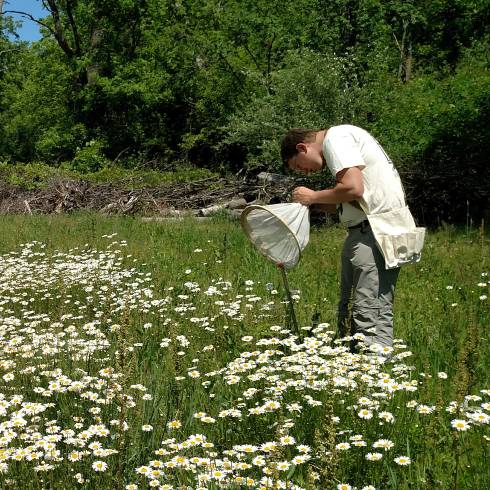 Kelsey Graham is a postdoc working with Rufus Isaacs who provides oversight for a USDA NIFA project aimed at improving Great Lakes landscapes to support healthy pollinators. Based on this project and her years as a student, Graham observed that the general public loves the concept of helping bees. However, most are unaware that native bees are significant pollinators and, like honey bees, face serious challenges.
Graham wrote a column about the efficiency of native pollinators, the threats to their existence and her project team's efforts to understand how Michigan's landscapes affect them and could be changed to improve pollination. The column was accepted for publication by The Conversation, an independent news and commentary collaboration between editors and academics for the general public. Read her column: "Beyond honey bees: Wild bees are also key pollinators, and some species are disappearing."
---