Entomology's department newsletter Bugged now available for fall 2018
The Fall 2018 issue of Bugged showcases recent news, honors and awards of faculty, staff and alumni within the Entomology Department.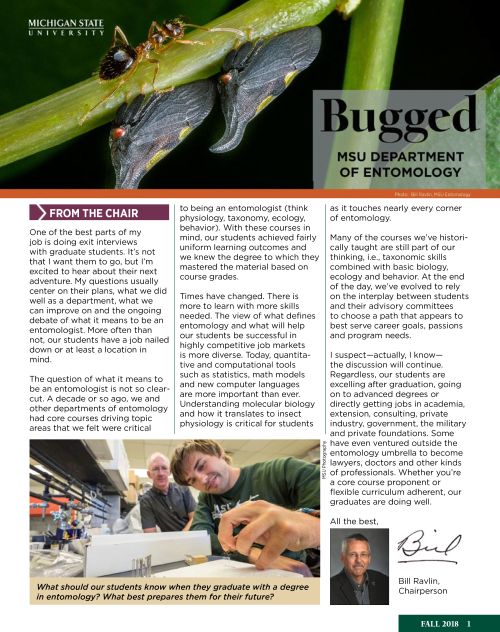 When discussing "why study entomology," an oft-mentioned strength is that it can lead to diverse fields and areas of study. While this can be a challenge in determining how best to prepare our students, it is an integral part of the attraction to a degree in entomology. See Entomology Chairperson Bill Ravlin's column for some of that discussion and then look inside at this Fall 2018 issue of Bugged where:
Barry Pittendrigh is the new PI for the $13.6 million USAID Feed the Future Legume Systems Research Innovation Lab. This international collaboration builds on a long-time partnership of scientific advancement that has benefited both Michigan dry bean farmers and smallholder farming communities abroad.
Rufus Isaacs' work with invasive pest management and wild pollinator conservation has earned him an ESA award for his efforts and inclusion in a "Highly Cited Researchers" list of distinction.
A post-doc in Will Wetzel's lab, Andrea Glassmire, has published work indicating plants with diverse chemical defenses can better ward off pests, a find that may change thoughts about pest management in our single crop monoculture agriculture.
Students Elisabeth Darling and Toby Petrice tell their answers to "why study entomology."
Alumna Mollie McIntosh remembers studying the authors' photo on "The Aquatic Insects of North America" book while wondering who they were and how did they get jobs like that?
Duke Elsner retires from MSU Extension after over 30 years of working with fruit farmers and gardeners in the Traverse City region of the state.
You'll see the people side of the Department in this issue, too, with picnics, weddings and shout-outs for newcomers and our hardworking lab staff. Enjoy the issue at: bit.ly/bugged12-2018
Did you find this article useful?
---
You Might Also Be Interested In