Everyman and woman's job: Part 2
Curbing runoff pollution, the leading threat to the nation's waters, is everyone's work.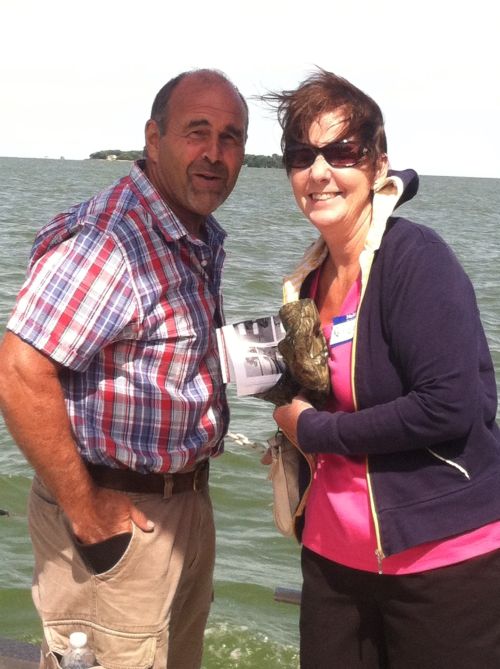 Inspired by a Great Lakes tour, the Weidmayers provide local leadership to reduce nonpoint agricultural sources. MSU Extension tells this Western Lake Erie Basin success story of agriculture sector Great Lakes education and action.
People everywhere care about water supplies, yet few know what actions they can take to protect them. Since 2011, forward-looking education programs operated out of the Lenawee Conservation District in southern Michigan have galvanized optimism among farmers, telling them how they can play a part in restoring Lake Erie.
Equipped with a field-scale nutrient loss modeling tool, farmers are analyzing the potential for runoff pollution reduction on their land. In its pilot year, the program is scheduled to be available to any producer in the South Branch of the River Raisin Watershed by January 2017. The tool takes out the guesswork of how to most effectively reduce polluted runoff. Still in the startup phase of the grant, the project team is continuously improved as more is learned about the effects of different conservation practices.
Through their combined effort and leadership in reaching peers, these farmers are charting new ground in the River Raisin Watershed for agricultural water quality protection work. Their can-do attitudes show the power and promise of ordinary people.
John and Renee Wiedmayer learned first-hand about the connections between agricultural runoff and Great Lakes health through a visit to Lake Erie organized by Amy Gilhouse, MAEAP technician with the Lenawee Conservation District. At the farmer-to-farmer meetings, John considered Pay for Performance, a runoff pollution reducing effort underway in the South Branch of the River Raisin supported until 2018 by the Great Lakes Restoration Initiative. Impressed with the potential of the project, John organized a meeting at his farm in the spring and invited his neighbors to learn about the opportunity.
Nine neighbors came to the meeting and began the process of finding out what practices might be helpful on their property. So far, fields totaling 750 acres have been run through the model. If each farm were to choose the most effective practice or combination of practices, the tool estimates that 450 pounds of phosphorus could be saved during year one. Some of the practices that are showing the most promise are rye cover crops and sub-surface fertilizer application.
Pay for Performance appeals to farmers because it…
Avoids red tape.
Offers options that can be evaluated to find the most efficient path to reaching the desired results: reduced phosphorus and nitrogen losses from fields.
Incentivizes the practices that have the most positive impacts on reducing pollution. The payment to the farmer is based on how many pounds of nutrients are kept out of waterways.
Estimates relative impacts from any number of options, allowing farmers to maintain independent decisions about what works best for their operation.
Helps mitigate risks by compensating farmers for trying something new.
The bottom line is a direct, efficient and cost-effective route to voluntarily reducing pollution.
Curbing pollution from runoff is essential if the Great Lakes waters are to be safeguarded for current and future generations. Each person's decisions for how he or she manages the landscape will have some impact on the water in the environment. This landscape may be limited to a lawn and a driveway or it may involve thousands of acres of row crops. Regardless, each personal choice comes together with everyone else's, culminating in a downstream water environment that may or may not be acceptable. When each person focuses on maximizing the potential for ensuring clean runoff, then they have done their job. The Weidmayers set a great example for others to follow.
The MSU Extension article How to increase farm income while protecting water provides more information about Pay for Performance.